What's on the agenda for 2018?
For the American Express 2018 Global Meetings and Events Forecast, more than 600 meetings and events professionals from around the world completed surveys about their expectations for the meetings and events industry looking ahead to 2018. We present here the meetings and events forecast for the Asia Pacific region
Meetings Activity and Characteristics
Stable numbers
Meetings activity is expected to remain stable in 2018 within Asia Pacific, with small decreases of 0.8 per cent to 1.2 per cent in numbers of senior leadership and board meetings as well as advisory and incentive meetings. China and Hong Kong reflect the broader regional numbers, while Singapore stands out with predicted decreases of 1.4 per cent to 2.2 per cent for most meeting types.
Sales and marketing meetings comprise the greatest portion of expected meetings activity in the region at 20 per cent, with even higher numbers in Australia at 27 per cent. Product launches, advisory meetings, and incentives happen less frequently across the region, with incentives comprising 4 per cent of meetings activity in Australia and advisory meetings at 4 per cent in China and Hong Kong and 5 per cent in Singapore. While conferences and tradeshows are predicted to account for less than 20 per cent of meetings activity in the region, they represent one-third of planned activity in Singapore.
Meeting size
Half of the meeting types are expected to remain stable in terms of number of attendees in Asia Pacific. Sales and marketing meetings are expected to increase slightly in size, with respondents in Australia suggesting that this increase might be as big as 2.4 per cent. Respondents expect that all meeting types, except training meetings, in Australia will grow in size in 2018, while most meetings types in Singapore are expected to be smaller.
Holding steady
Meeting length is predicted to remain essentially unchanged throughout the region overall. Respondents in China do, however, anticipate minor increases in the length of training meetings and product launches. In line with predicted attendee declines in the country, Singapore is expected to see small decreases of less than  one per cent in days per meeting for several meeting types as well.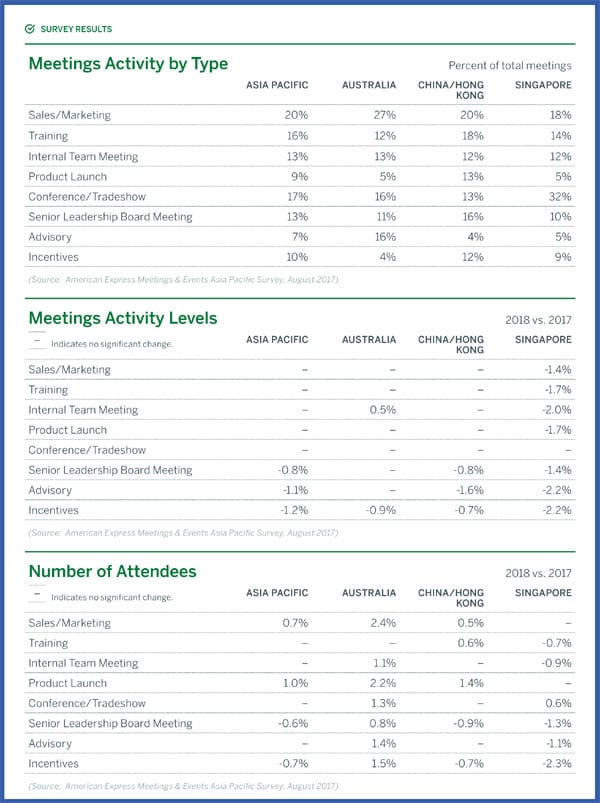 Meetings Budgets and Planning
Budget
Predictions suggest that meeting spend in Asia Pacific will decrease by one per cent . Within the region, Singapore may see the largest decreases of up to 3.7 per cent; Australia is the exception with expected budget increases of 1.9 per cent. With hotel rates expected to increase this is likely to create pressure on individual event budgets.
Spend visibility and cutting costs
One planner in the region explains that while cutting costs is a priority for clients, it is often difficult to achieve comprehensive visibility on spending. She suggests that, "Meeting spend is definitely decreasing in the region but tracking spend can often be challenging. Price per person is something everyone wants to cut but in terms of what the meeting is trying to accomplish this might not be the best route. Planning an alternative meeting or combining two meetings into one might the most effective choice. The first step, however, is to get that visibility into spend".
Relatively flat
Cost per attendee is expected to remain relatively flat in 2018 across the region. Within the region there is a marked difference, however, between Australia and Singapore. While respondents in Australia expect cost per attendee to increase by nearly one per cent  for half of meeting types, and up to 3 per cent for incentives, respondents in Singapore expect cost per attendee to decrease across all meeting types, from 2.4 per cent for conferences and tradeshows up to 4 per cent for incentive meetings.
Product launches, conferences and tradeshows, and senior leadership and board meetings are expected to have the higher costs per attendee in the region. According to respondents, cost per attendee in China and Hong Kong tend to be higher across all meeting types than cost per attendee in Australia and Singapore. Expected cost per attendee in Singapore is lower across most meeting types than cost per attendee in other countries.
Preferred spending
When asked where they would cut costs in meeting budgets and still maintain the customer experience, one-third of respondents reflect those in other regions in suggesting off-site optional activities as the first to be cut. 13 percent each suggest that reducing the number of nights and room drops would be their first choice.
When asked if overall meetings budget increased 10 per cent where they would make changes, one-fifth of respondents suggest that the preferred area of investment would be to increase the number of meetings and another fifth selected number of attendees at meetings. Nearly one-third stated that they would increase the budget for meeting content and production. These priorities reflect the emphasis we are seeing globally on more attendee-focused meetings with enhanced value.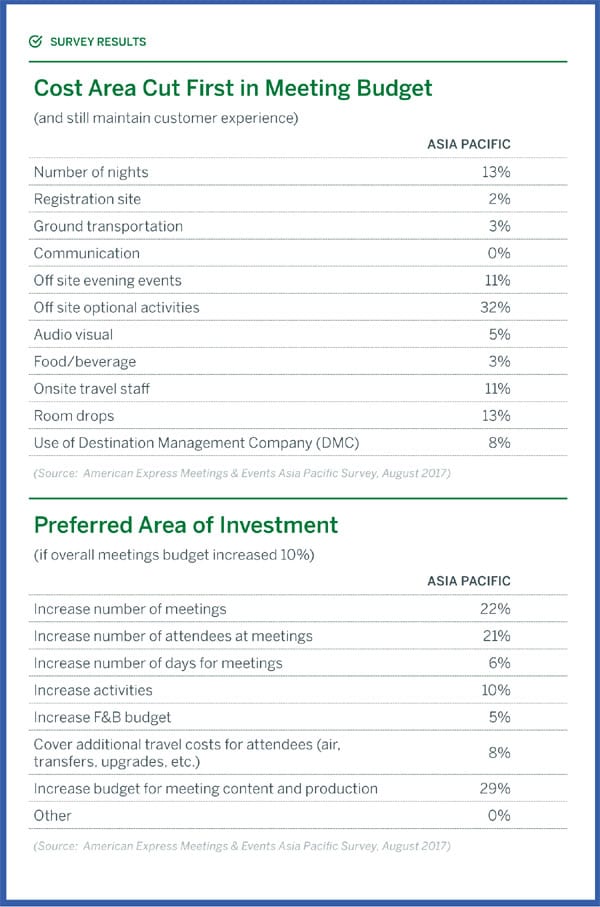 Meeting Location
Large cities lead. Unlike other regions, nearly all respondents in Asia Pacific indicate that the primary locations for meetings are large cities. Only 3 per cent identified second-tier city locations as primary for meetings. One survey respondent in Australia suggests that while large cities continue to be top of the list, there may be a need to look beyond them going forward. She explains, "I foresee availability as a challenge in the next 3-5 years. In the past there were clear peak and off-peak periods; now there is consistently high capacity through the entire year."
The top cities
The top 10 cities in Asia Pacific based on meetings and events activity remain largely the same as last year, with Bangkok moving into third and pushing Kuala Lumpur into fourth. Mumbai makes an entrance on the list this year in ninth position, taking Beijing's place
Location choice is complex
One planner in Australia explains that clients look at destinations outside of Asia Pacific but they are often uneconomical. She states, "In the past we've looked mainly at countries in Asia. We are increasingly seeing a desire to go beyond the region, more for smaller meetings and incentive meetings. Attractive destinations out of Australia include South Africa, a few locations in the US, Italy and France. But those destinations are often unattainable from the Australia region, especially for larger meetings". She and others indicate that location choices are always complex. One planner in Hong Kong explains that location choices are very much tied to corporate policy, whether in regard to spend, preferred suppliers, or duty of care. He felt, "Clients are being more conscious about the locations they are choosing and paying close attention to how specific locations fit with their meetings policies."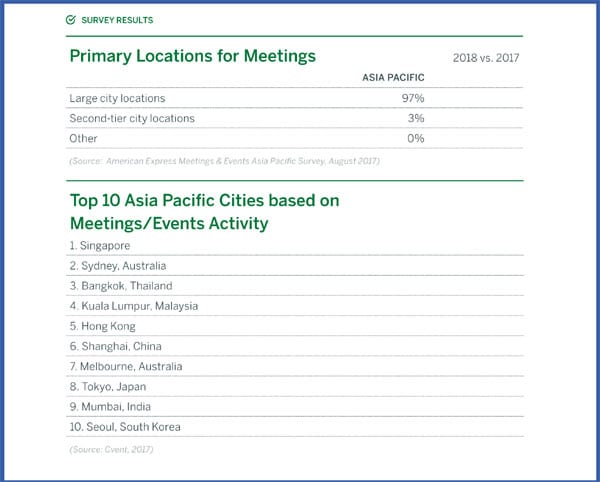 Pricing Trends
Increasing rates. Respondents suggest that 2018 group hotel rates will increase slightly by 1.4 per cent across the region. Those in Australia expect increases up to 5.7 per cent, setting Australia apart across the region.
Property types. As with other regions, meetings professionals point to the growing range of possibilities to meet the increasing demand for unique venues. One survey respondent points out that 'new options for non-traditional venues allow for greater flexibility and creativity in planning meetings and events'.
The Asia Pacific region stands out once again as a more frequent user of luxury properties. One planner in the region speaks to this: "The growing trend is unique venues and high end luxury properties, often with all suites. And meeting owners are more and more considering a range of venues to satisfy the desire for something different".
Partnership and negotiation Meeting planners in the region indicate that a growing trend toward building relationships among planners, suppliers, and owners is a positive development going forward. One explains, "It is exciting to see new relationships with suppliers in the region and being able to play a greater role in terms of negotiation for our clients."
Courtesy: American Express Meetings & Events