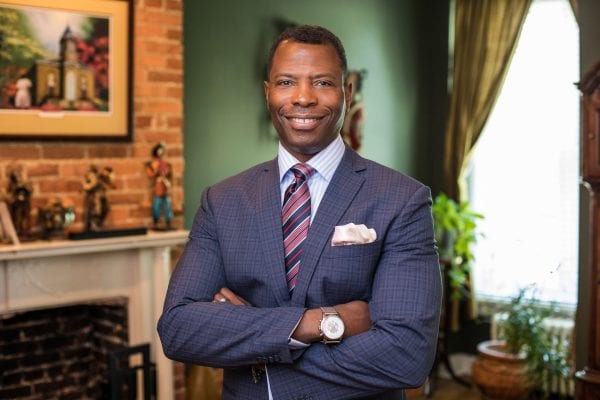 "We'd like to achieve a longer length of stay from Indian visitors in the District"
Elliott L.Ferguson, II, president and CEO of Destination DC, the official destination marketing organization for Washington, DC, articulates about the region's opportunities and also few challenges it faces to promote itself in the India market. By Reema Lokesh
How would you describe the evolution of DC as a tourism destination over the last decade in connection with the India market? What's India's performance like when compared to other regions in Asia Pacific and what's India's ranking as a market?
With a 67 percent increase in visitation from 2015 to 2017, India has proven to be one of our most successful growth markets, ranking fourth in overseas visitation in 2017 for DC. Additional airlift to Washington, DC plays an important role in increasing tourism. Air India's non-stop service connecting New Delhi to Washington, DC began in July 2017. Washington, DC is popular for its iconic monuments and memorials as well as the Smithsonian museums on the National Mall which is a must when in the U.S. The most attractive part about this area is that travelers can do all of this for free. Apart from iconic parts of DC, the city offers insight into its culture and history through the dynamic neighborhoods. DC boasts one of  the nation's greatest collections of riverfront communities including Georgetown and the newly developed Wharf in Southwest. DC's new tourism campaign, "Discover the Real DC," is born from the organization's desire to convey the authentic DC experiences that visitors can have in these areas and beyond.
What are the primary challenges you face while highlighting DC especially as a tourism product?
Many people think DC starts and ends with the federal government, but this 68-square-mile city has so much more to offer. Indian visitors often just spend a night or do a day trip to Washington, DC without taking in the wide range of cultural experiences that are available in the city. Visitors can find amazing events taking place all year long in DC. We encourage visitors to explore everything from annual festivals and holiday celebrations to new museum exhibits, concerts and so much more.
What is the USP of your destination, which has gone unnoticed?
Washington, DC offers attractions and activities for every visitor, whether traveling on a budget or looking for added value. With unmatched access to incredible free museums, monuments, memorials and one-of-a-kind events, DC is in a class all on its own. We encourage visitors to discover the real DC, created by the people who live here: our artists, theater community, musicians, athletes, restaurateurs and creators. There's so much to love about each one of DC's neighborhoods, from history on Capitol Hill and high-end boutiques in Georgetown to performing arts in Penn Quarter and a 24-hour diner in Adams Morgan.
Is there a specific target market you aim to attract or is it more generic in terms of your messaging?
As the District has so much to offer, we're focused on encouraging visitors from across all segments to visit and stay in DC especially families. There are over a hundred free things to do for a traveller in DC which is headlined by Smithsonian Institution museums, the National Gallery of Art, the monuments and memorials and annual events and festivals. With a number of media and trade outreach programs, we are encouraging visitors to discover their version of DC which can be anything from a the diverse dining, a cultural powerhouse with a number of theatre and music performances, or an art district for young artists.
What is your take about India as a market for DC?
Indians are looking for experiential travel combined with a reason to travel to the particular destination, be it a special performance by an artist, or during the popular National Cherry Blossom Festival. Indian travelers are looking for ways to participate with the local culture in different ways such as trying out diverse cuisines, visiting a performance at an open theatre or an open mic or kayaking in the Potomac River. Indian travelers also appreciate good food options that fit their dietary preference. The District is rolling in accolades, as the city received its second Michelin Guide and was named restaurant city of the year by Bon Appétit and hottest food city by Zagat in 2016.
Any comments on flight connectivity?
India's national carrier, Air India, currently flies to DC from New Delhi non-stop, three times a week. In addition, there is fantastic daily connectivity from Tier I and Tier II cities in India to DC through other carriers including Etihad and Emirates.
What is your 5 year of similar business building strategy in terms of inbound from India?
The Indian market consists of discerning travellers to the Americas as well as first time travellers. We will continue to encourage travellers to go beyond the National Mall and experience more of what the neighborhoods have to offer. We'd like to have visitors come back for something new every time. Ultimately, we'd like to achieve a longer length of stay from Indian visitors in the District. Through our continuous efforts with trade and PR initiative as well as marketing opportunities, we hope to attract visitors from the growing Tier II and Tier III cities in India.
Any niche areas you wish to promote, which are yet to be explored?
The Wharf is the latest addition to DC's vibrant neighborhoods, conveniently located only four blocks from the National Mall. Home to the nation's longest continually operating open-air fish market, The Wharf has transformed into one of DC's most exciting waterfront destinations. The sustainable entertainment, local grown dining and retail connects the rest of the District to the Southwest Waterfront. The Wharf features four piers, each with their own theme and activities, three live music venues, 20+ restaurants and a water taxi connecting visitors to the region.