New roles for the industry's movers and shakers
TravelClick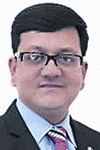 Debanjan Kundu has been appointed as director of Sales – India for TravelClick. He brings with him a cumulative experience of more than 15 years in hotel Sales & Marketing. His astute business acumen along with TravelClick's repertoire of services will help hotels to maximise profitability. In his last role as the director of Sales & Marketing of The Ritz-Carlton, Bangalore, Kundu successfully drove revenue of the luxury brand's first and only hotel in the Indian subcontinent which he had joined from Sheraton Grand, Bangalore. He has also worked in different capacities with Westin Hyderabad and The Oberoi Grand. He started his career with food and beverage operations as a corporate trainee at Hyatt Regency, Kolkata. Kundu is a gold medalist from IHM Kolkata and has won many accolades for his leadership including FHRAI Young Hotel Sales and Marketing manager and Hotelier India – sales person of the Year. He has a Masters degree in Business Administration from the University of Wales, Lampeter.
---
Sheraton Grand Bangalore Hotel at Brigade Gateway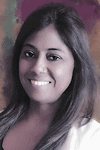 Sheraton Grand Bangalore Hotel at Brigade Gateway further strengthens its management portfolio by appointing Neesha Mohapatra as director of Human Resources. Having worked with some of the renowned names in the hospitality industry, Mohapatra comes with an impressive track record of over two decades in the Human Resource domain. In her new role she will promote the desired work culture around the core values of the organisation by creating human resource culture as a strategic and supportive business partner. She will focus on formulating human resource and talent development policies, conceptualising, designing and setting up of appropriate systems, which could be productively incorporated into the organisational climate in alignment with the organisations goal and targets.
---
IndiGo
IndiGo, India's passenger airline is pleased to announce the appointment of Wolfgang Prock-Schauer as the chief operating officer, subject to regulatory approvals. An accomplished industry leader with more than three decades of experience in civil aviation, Prock-Schauer has held senior leadership positions with leading airlines across Europe and Asia. In his role, he will be responsible for operational aspects of IndiGo such as Flight Operations, Maintenance and Engineering and Inflight Services directly as well as Airport Operations and Operations Control Centre. He will be reporting to Aditya Ghosh, president and whole time director, IndiGo. Prock-Schauer is a graduate from the University of Economics, Vienna. He is an experienced international executive having a total professional experience of over 36 years.
IndiGo is also pleased to announce yet another addition to its leadership team with appointment of Rajagopalan Raghavan as the senior vice president of the Human Resource department. Raghavan is joining from April 1 and brings with him not only deep functional expertise in the area of human resources and talent management but also learnings of best practices from world class companies. In addition to HR, he will be also responsible for the administration function and will also oversee ifly – IndiGo's learning academy. Raghavan earned his undergraduate degree in Economics from University of Madras and Master's in Personnel Management and Industrial Relations at Madras School of Social Work. He is currently with Amazon heading its Human Resources and supporting the launch of several businesses and technology development centers in the country.
---
Thomas Cook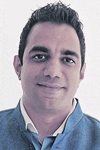 Thomas Cook (India), India's integrated travel and travel related financial services company, has announced the appointment of Deepesh Varma as head of Sales and Relationship Management for its Foreign Exchange business, based in Mumbai. Varma brings with him 15 years of robust experience across multiple lines of businesses and functions. He has been associated with Thomas Cook India for about five years, commencing with the E-Business team, where his primary role was to set up call centre opportunities. Following this, he headed the Company's Project Management Team, for the last two years, and has been responsible for successfully executing several strategic projects for the Thomas Cook India Group. Varma has completed his Executive Management Program from IIM Calcutta and holds a Bachelor's degree in Hotel management from IHM, Trivandrum.
---
Taj Fort Aguada Beach Resort & Spa, Goa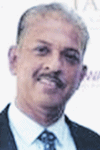 Taj Fort Aguada Beach Resort & Spa, Goa welcomes Albert Rebello as its new general manager. An established leader in the hospitality industry, Rebello brings more than 35 years of hotel experience to the resort perched atop the ramparts of the 17th century Portuguese coastal fort. In his new role, he will be responsible for the continued success of the hotel, overseeing the day-to-day operations and providing exceptional guest service at one of India's most luxurious holiday destinations. He has undertaken a number of different assignments through his 35 years at Taj, notable among which were his appointments as the general manager of five hotels namely Taj Residency Indore, The Gateway Hotel, Manjarun, The Gateway Hotel, Vishakhapatnam; The Gateway Hotel, Bangalore and The Gateway Hotel Hinjawadi Pune. Being an avid golfer, Rebello makes sure that he takes time out of his busy schedule to play a round of golf every day. He enjoys hiking, a hobby which he undertakes whenever time permits and also loves spending time with his family.
---
Hyatt Place Goa/ Candolim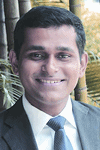 With over 10 years' of experience in Hospitality Sales and Business Development, Sunishchal Parasnis has joined Hyatt Place Goa/ Candolim as the director of Sales & Marketing. He has vast knowledge of Goa's hospitality business and its trends. At Hyatt Place Goa/Candolim, he is responsible for the sales and marketing process to ensure competitive positioning of the hotel through strategic agendas, planning sales and distribution strategies in relevant domestic and international markets as well as identifying valuable emerging markets. Parasnis started his career with Sarovar Hotels & Resorts and then moved to Hyatt Hotels in the year 2007. His first assignment at Hyatt was with Grand Hyatt Mumbai as sales executive. He then quickly moved up the ladder to associate director of Sales, and then joined Park Hyatt Goa Resort & Spa as the director of Sales, a position he held before joining Hyatt Place Goa/ Candolim. His strengths lie in strategic planning analysis and implementation, foreseeing market trends, retention and acquisition, customer relationship management, talent acquisition and training, coaching and mentoring.
---
JW Marriott Jaipur Resort & Spa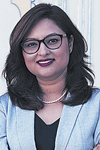 Sarah Raina has been appointed as the director of Sales & Marketing at the JW Marriott Jaipur Resort & Spa. Raina is a seasoned hotelier with over a decade of experience in various roles across prestigious hospitality brands. Her last held position was of director of Sales at the Grand Hyatt Goa. She started her career as a management trainee with Marriott in 2004. Given her exceptional performance and in-depth understanding of sales, Raina was promoted to the position of assistant sales manager in 2007 and subsequently, she was promoted to her new role as the cluster sales manager, Marriott India in 2009.  Her strong business acumen and excellent interpersonal skills, enabled her to successfully essay her last role as the director of Sales, Grand Hyatt Goa. At the JW Marriott Jaipur Resort & Spa, her core responsibility will be to maximise the resort's revenue from various market segments and work with the team to conceptualise and implement innovative sales and marketing strategies. In the days to come, she will also work towards positioning the resort as one of the most luxurious destinations in Rajasthan.
---
Sheraton Hyderabad Hotel Gachibowli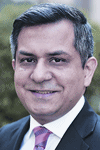 Sheraton Hotel Hyderabad Gachibowli is glad to announce the appointment of Vikas Sharma as the general manager. With over twenty years of versatile experience, Sharma is known as a strategic business leader in the industry. Before joining Sheraton Hotel Hyderabad Gachibowli, he was the director of Operations at The Ritz-Carlton Bangalore. He started his career at The Oberoi, Cecil, where he was largely responsible in assisting the F&B department. Post this, he was associated with the Trident Hotels for a period of four years, where he started as an F&B Supervisor and went on to become a Food & Beverage manager. He was also the F&B manager for The Leela Palaces & Resorts, Wildflower Hall, The Oberoi Group of Hotels. It was with the experience of just a little over a decade that he became the director of F&B at Four Seasons, Mumbai.
---
Taj Hotels Palaces Resorts Safaris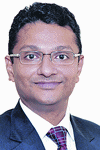 Taj Hotels Palaces Resorts Safaris announced new appointments at its hotels in Pune. Suju Krishnan will take charge of Vivanta by Taj – Blue Diamond, Pune. He is a Taj loyalist, having spent 24 years with the company. His journey with the Taj began in 1994 when he joined the organisation in Front Office as part of the Taj Graduate Training Programme at Taj Bengal, Kolkata. After working across roles and cities, Suju's first general manager posting was at The Gateway Hotel Fatehabad Road Agra. Prior to Pune, he was the general manager of The Gateway Hotel Marine Drive Ernakulam.  A law graduate from Bangalore University, Krishnan is passionate about the Taj brand and believes in leading his team by example. He enjoys Indian and Western classical music, reading and most outdoor activities.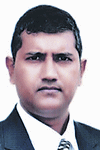 Jayanta Das is the general manager at The Gateway Hotel Hinjawadi Pune. Das moves to Pune from his role as the general manager at the Taj Kumarakom Resort & Spa, Kerala where the hotel under his leadership won two National Tourism Awards. He began his career with the Taj in 1993 at Taj Bengal, Kolkata. He studied Hotel Management from The Indian Institute of Business Management, Patna. He also has a bachelor of Arts degree from the Tripura University. In his spare time, Das enjoys listening to classical and non-classical music and reading non-fiction books. His hobbies also include travelling to exotic destinations.
---
Holiday Inn Express & Suites Bengaluru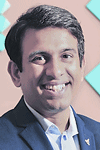 The newly opened Holiday Inn Express & Suites Bengaluru welcomes Varun Kamra as the director of Sales & Marketing. With an experience of over 14 years in the hospitality industry, Kamra has worked with brands like The Park, Hilton, Blooms hotel and InterContinental Hotels Group. At Holiday Inn Express & Suites Bengaluru Racecourse his role would be to ensure smooth operations of revenue, sales and marketing. His responsibilities will involve leading & motivating the team to achieve the sales targets for the property & the group, along with being actively involved in strategising & planning of marketing initiatives. Prior to joining Holiday Inn Express & Suites Bengaluru Racecourse, Kamra worked as the director of Sales and Corporate Development at Blooms Hotel Group. He started his career as a sales executive with IHG in 2003 and his hard work and passion helped him work his way up to become the director of Sales with Hilton Garden Inn in 2011.
---
Wyndham Hotel Group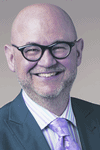 Wyndham Hotel Group, the hospitality giant with a global portfolio of more than 8,400 hotels, announced the appointment of Dimitris Manikis to the role of president and managing director for Europe, Middle East, Eurasia and Africa (EMEA). He will be based at the company's London offices. Manikis will be responsible for the development of all of Wyndham Hotel Group's brands in the EMEA region as well as maximising the performance of all new and existing franchise and managed hotels. He will focus on driving the strategic objectives of Wyndham Hotel Group including quality and technology solutions as well as loyalty, sales and marketing. A 27-year veteran of RCI, the worldwide leader in vacation exchange with more than 4,300 affiliated resorts in nearly 110 countries, Manikis possesses deep knowledge of the hospitality industry, an extensive network and strong relationships with developers and customers across the EMEA region.
---
Vivanta by Taj – Rebak Island, Langkawi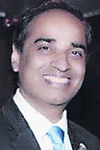 Vivanta by Taj – Rebak Island, Langkawi announces Ravi Nischal as the hotel's new general manager. After beginning his career with renowned hospitality chains, Nischal became a part of the Taj family in the year 2004, when he joined the organisation as the director of Catering Sales at the flagship hotel, The Taj Mahal Palace, Mumbai.He loves exploring new places and calls himself a travel buff. Apart from his exploratory spirit he also likes to run marathons and has competed in several half marathons including the Mumbai Marathon.