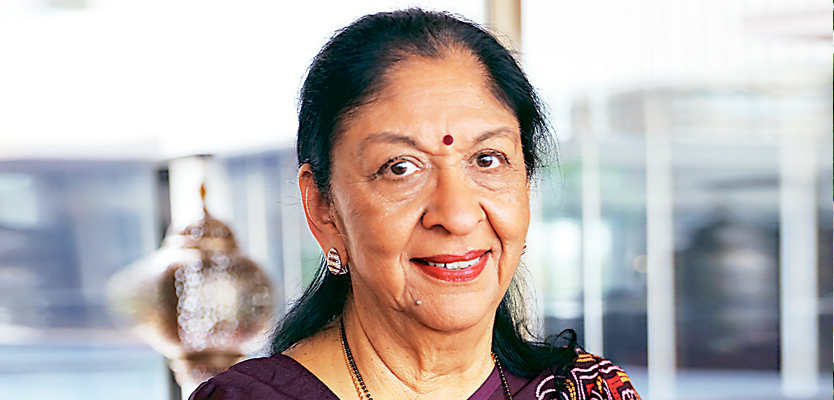 Rapid growth requires talented human resources: Radha Bhatia
Radha Bhatia, chairperson-Brid Group, firmly believes that the industry has far greater potential than is being tapped. She shares her articulate views on the industry and its future. By Reema Lokesh
How would you describe your journey in the tourism sector?
My journey of 45 years has touched almost all parts of travel, tourism and aviation industry. It's been an exciting journey, with challenges to overcome everyday.
What are your key learning and findings over the period of time as an industry professional?
There is no alternative to quality. If you are able to provide value to the customer, they become your best spokespersons.
What are the pressing concerns that causes the bottlenecks in the industry?
The industry has far greater potential than is being tapped. Rapid growth requires talented human resources, shortage of which causes a bottleneck. We need to be able to build a pipeline of skilled workforce to overcome this. We also need the industry to focus on a common agenda.
Any  suggestions to face today's challenges that can bring in a stable tourism environment?
World over India is famous for our culture. India's food, monuments etc. We need to showcase our rich and varied heritage to domestic and inbound tourists. Creating greater awareness, providing better infrastructure and multiple options to cater for different interests, budgets would lead to a stable tourism environment.
With AI and ML ruling the game, is there a view you wish to share on the same?
We need to adapt. This involves updating our processes and up-skilling our people. Innovative training to enable multitasking, continuous upgrading to stay in touch with fast changing technology and dynamic market requirements.
What are the focus areas of development and new initiatives at your company, that will be spearhead by you in the future?
We are looking for growth organically, and inorganically if required in order to keep pace with global standards. But I firmly believe that growth has to be well thought out and planned in detail. We are ideally placed to grow with the anticipated growth in aviation, tourism and hospitality having significant footprints in all these areas. We also intend to grow our skills development and education practices to meet our own demands as well as those of the industry.
There are businesses within the sector that have lost faith in the potential and ROI this industry promises to bring in? There is more complains than confidence?
Consistency has to be maintained by stakeholders. Advanced planning of two years has to be done. Two way awareness of market, maintaining credibility at all costs.
Industry verification and certification of practitioners to avoid complaints.
M&As are said to be rather extensive in the near future. What's your thought on it.
It's a global phenomenon. If properly planned doesn't affect consumer. In fact it adds to offerings. Pooling of strengths to provide better experiences to the customers is always a good strategy.
What are the future trends in travel?
Consolidation, finding new destinations, promoting new facets of our culture. Technology as an enabler. Social media as platform to share travelers personal experience.
What's your take on the future of MICE and also that of India in the tourism world order?
New opportunities like golf tourism, culinary tourism, exhibitions. We have infrastructure to support MICE at major destinations. We should look at creating this at smaller destinations as well.