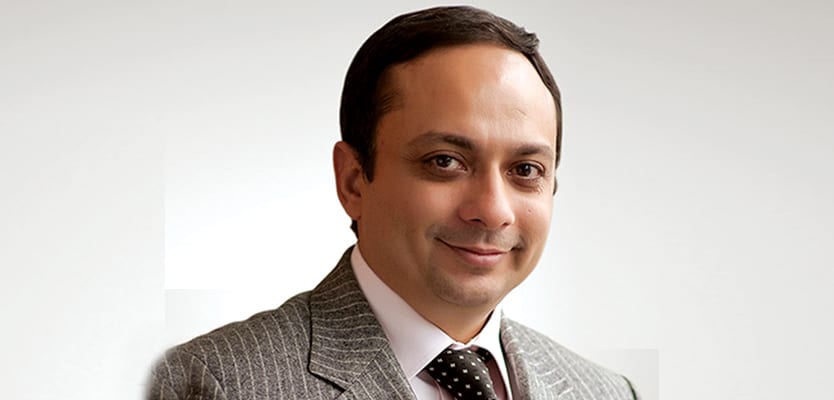 Digital transformation will have a clear impact on the traditional models: Zubin Karkaria
Travel service providers, even for us in the visa services space, will have to adapt to these changes in consumer behaviour, innovate and be first movers in bringing fresh solutions driven by technology to customers, elucidates Zubin Karkaria, CEO, VFS Global Group
Travel service providers, even for us in the visa services space, will have to adapt to these changes in consumer behaviour, innovate and be first movers in bringing fresh solutions driven by technology to customers, elucidates Zubin Karkaria, CEO, VFS Global Group By Reema Lokesh
Your contribution to the travel and tourism industry has been path breaking. What are your key understandings from the sector?
I started out in this industry back in college, over 30 years ago – first, helping out a friend in his travel firm, then being part of India's foremost travel companies – and all along it's been quite a journey – literally and figuratively! These were the years that coincided with the emergence of a newly liberalised economy in India and an overwhelming growth in the number of outbound travellers. Somewhere along this way, tourism pivoted from being the pastime or aspiration of a few, to a sort of must-do requirement for most urban citizens, not just in India but around the world. Judging by the record high in the numbers of global visa applications VFS Global witnessed in 2018, this tribe is growing! Technological innovation and changes in customer expectations in just the last decade or so have dramatically changed the way the industry functions. But what remains the same is that the Customer is still the undisputed King, more today than ever before, demanding conveniences and services delivered to his doorstep, or his smartphone! The sector is fast-changing, with new solutions being introduced in some part of the globe or the other with great frequency – each one raising the bar in convenience higher than the last.
As an industry professional, what are your key learning and findings?
The industry has evolved over the last decade, not just in the visa space, but across the tourism industry as well. Across the board, governments and citizens alike are  demanding better, convenient, seamless solutions and higher service standards. This trend is expected to continue, driven by a new breed of consumers who expect and appreciate more agility and convenience in all manner of services, even in the closely regulated visa process. Developing more customer-centric services will remain as the cornerstone of all services within the travel sector, and the same goes for the visa industry.  For instance, the Visa At Your Doorstep Service is one such service that effectively brings the entire visa application process, including biometric enrolment, to the applicant's doorstep. Another service launched recently in February 2019, is the Thailand eVisa On Arrival (eVOA) service developed in collaboration with Thailand Immigration – using this service, applicants no longer have to stand in the long Visa On Arrival queues at major Thai airports.  We also launched the first transactional mobile app (for UAE evisas) through which applicants can apply for e-visas through their mobile devices.  We truly believe only those that innovate will be able to retain a competitive edge.
What according to you are the pressing concerns that cause the bottlenecks in the industry?
Certainly a challenge that keeps us on our toes is the continual change in technology, and the pressing need to keep up with the ever-changing landscape of the business as a result. For example, when we started biometric enrollment for applications back in 2007, we knew that a decade later it would become a key security element in many visa and citizen services processes.  Rather than pinpoint bottlenecks, I would say the fast-changing advancements in all services have forced companies, ourselves included, to adapt and expand. It is not easy to achieve this, and only the fittest – and most forward-looking – will survive! On the government side, as more governments adopt the model of outsourced visa processes, we have seen increasing professionalization of the tendering and contract awarding process by governments. In fact, governments are recognising the immense benefits of assigning higher importance to quality of the solution, technology and security in the selection process, and reducing the importance on pricing.
Any suggestions to face today's challenges that can bring in a stable tourism environment?
I would say commitment to innovation and adapting your business to put the customer's needs at the front and centre of your business strategy would contribute to a more evolved tourism environment. With a plethora of mobile and web-based options for consumers in the travel and tourism sector, it's a very busy marketplace. In a fairly short period of time, the travel business has undergone a transformation on many levels. As the platforms of consumption go online, mobile and social, the traditional tour operating models will need to change the way they do business to capture the modern traveller who is sophisticated, independent, and getting all the information he needs at the click of a button! Despite some mergers, travel industry continues to be a highly fragmented one worldwide, and is expected to remain so, especially among online travel agencies. We do expect to see some more disruption especially in emerging or fast-growing markets, such as South Asia, and China. It's a highly competitive space, and companies will need to shift focus, innovate and add value to customer experience if they are to stay relevant for the new travel consumer. And even in an online world, a trusted customer-focused and specialised travel agent will always find his clients to serve. Also, as regulation around data management becomes a frequent subject of discussion in many countries, it becomes important for companies in this sector to ensure the overall integrity of their operation – this is particularly relevant in the highly sensitive visa services industry.
With AI and ML ruling the game, is there a view you wish to share on the same?
As digital technologies take hold of the world's industries and our daily lives, digitization hasn't just become a necessity, but a somewhat urgent reality across business lines. While Artificial Intelligence and Machine Learning are buzzwords today, at VFS Global, we have already been making significant investments in these areas since some time. Last year, for instance, ViVA, the first-ever visa services chatbot, and VFS Global's first digital employee, was successfully launched on the website for Australia visa services in India, and is being rolled out for other client governments.
What are the focus areas of development and new initiatives at VFS Global, that will be spearheaded by you in the future?
Technology has always been a key business driver at VFS Global. Today, with digital transformations happening in every sector, our digital vision aims to be always one step ahead, with constant upgrades happening in line with on-going dynamic changes in the marketplace. The focus will be to introduce faster and better services and products. Speed and time-to-market are critical success factors.  In addition to expanding our visa services, we also see strong growth potential in our Identity and Citizen Services (ICS) vertical.  Currently, there are some significant applicant-facing developments happening on the digital front. For instance, we have worked very closely with UK Visas and Immigration to set up brand new visa application websites in the over 50 countries where we manage UK visa services.  Similarly, highly personalised visa services and products, such as Premium Lounges or Visa At Your Doorstep services, or centres that stay open outside the regular hours – are offered very commonly today in all regions where we are operational. Mobile apps for visa application or e-visa solutions – such as the UAE visa for Emirates Airline, the Brazil eVisa, and Thailand eVOA – 'paperless' processing solutions for our client governments, biometric enrolments for millions of applicants that come through our centres annually – these are some of the solutions aimed at easing the process for the modern traveller who is far more sophisticated, aware and prefers speed and comfort at every step of his travel process. Ensuring data protection and quality control on systems across people and geographies – 24×7, 365 days of the year – in an uncompromising manner, is also one of our biggest focus areas.