flydubai: Ready for business in India
flydubai is ready to spread its wings further in the India market and is all set to work with India's aviation sector to work in the North East region. By Reema Lokesh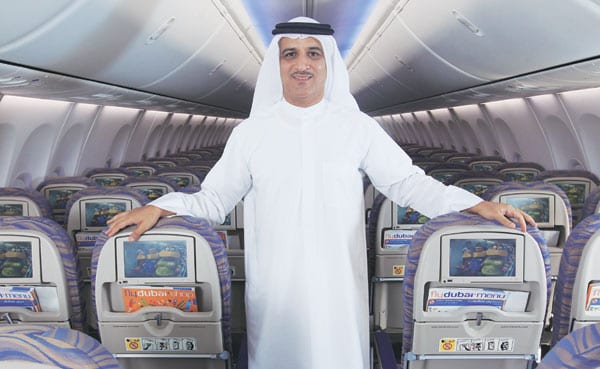 flydubai is aggressive in its growth and expansion plans for India and the world. The airline is ready to explore unexplored regions and destinations. flydubai as they say is ready for business. "We are extremely positive about the India market and ready to explore new territories like the North East," says Sudhir Sreedharan, senior VP – Commercial Operations (Indian Sub-Cont/GCC/Africa). flydubai has expressed keen interest to support the Government of India's aviation policy Udaan and also the development of greenfield airports. They airline works on a clear objective, says Sreedharan, to give its passengers a seamless and valued experience. The airline works on a model that provides it's clientele value for money service and with facilities, which are better than a low cost carrier model. A striking example is that the airline takes off and lands in the home country's main airport and not secondary airports. From business travels to leisure clientele, the airline offers value added services. Sreedharan also feels that the airline does well in connecting and reconnecting people and places. From family celebrations to work trips, the diverse network helps people connect to where they wish to go. "We have the potential to connect Dubai to a population of over two and a half billion people, creating opportunities for our passengers to enjoy new connections in trade, tourism and travel," he adds. We're opening up the world; go explore it, is what the airline conveys as its strong message.
Fast track service
For business travellers, the business class facility and fast track service works well as it gets you out through the entire airport formalities seamlessly. On the personal front, from a touch down at 7.15 am to being out of the airport by 7.33 am, the experience was truly fast track. From ground handling to on board service experience, flydubai offers its passengers a choice from the palate to loyalty programmes.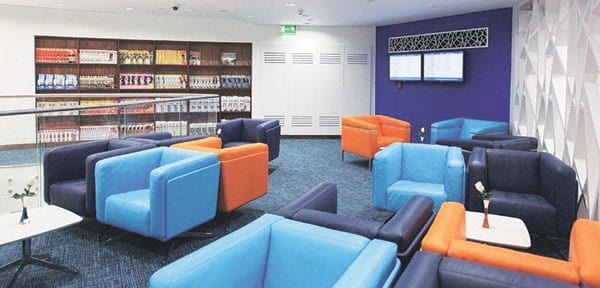 From its home in Dubai, flydubai has created a network of more than 90 destinations and over the next decade the airline will see its fleet grow up to 296 aircrafts. Since commencing operations in June 2009, flydubai has been committed to removing barriers to travel, creating free flows of trade and tourism and enhancing connectivity between different cultures across its ever-expanding network. Flydubai has created a network of more than 100 destinations in 48 countries across Africa, Central Asia, The Caucasus, Eastern Europe, The GCC and The Middle East, and the Indian Subcontinent. It proudly speaks about its forte in serving underserved markets. It has opened up more than 70 new routes that did not previously have direct air links to Dubai or were not served by a UAE national carrier from Dubai. It operates a single fleet-type of 61 aircrafts, including Boeing 737 MAX 8 and Next-Generation Boeing 737-800 aircraft. The company carried 10.9 million passengers across its network in 2017.
The website is yet another add-on in its product portfolio. It is designed to make holiday planning and booking easier and more affordable.
flydubai fleet
The fleet continues to grow. The airline received delivery of aircrafts from the order announced at the Dubai Airshow in 2013 for 100 Boeing 737 Max 8s and 11 Next- Generation Boeing 737-800s. In 2017, an order to purchase 175 additional 737 MAX aircraft was finalised, the largest single-aisle jet order in Middle East history. This order allows flydubai to take advantage of the 737 MAX family's flexibility and commonality, while using the unique size and range of the MAX 8, MAX 9, and MAX 10 to suit its growing network. flydubai was the first airline in the Middle East to receive the Boeing 737 MAX 8 which entered into service in the second half of 2017.
The flydubai experience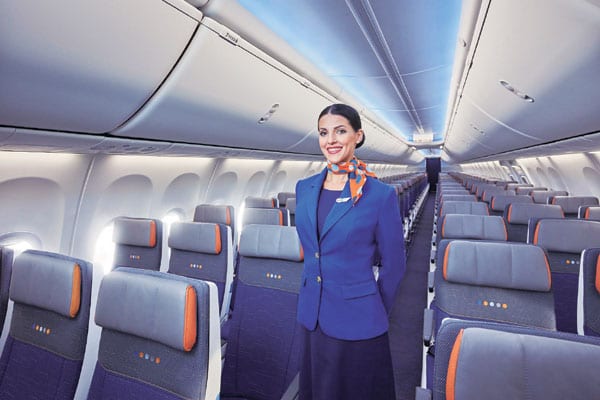 Over the years, flydubai has gained loyal customers from all around the region because it is dedicated to providing a better travel experience. The cabins are bright and airy. Combined with the benefits of the Boeing Sky Interior and a lighting system that helps minimise jetlag, the onboard environment allows you to stay relaxed while flying. As for the cabin crew, they're friendly and well-trained and have a passion for making your flight as enjoyable as possible. You can explore the onboard entertainment and catch up with the latest movies, TV shows and music. The airline has not forgotten its younger flyers with hours of entertainment dedicated just to them. Stay connected with the Wi-Fi packages and access the internet using your phone, tablet or laptop. There's also an option to purchase live TV during the flight.
Business Class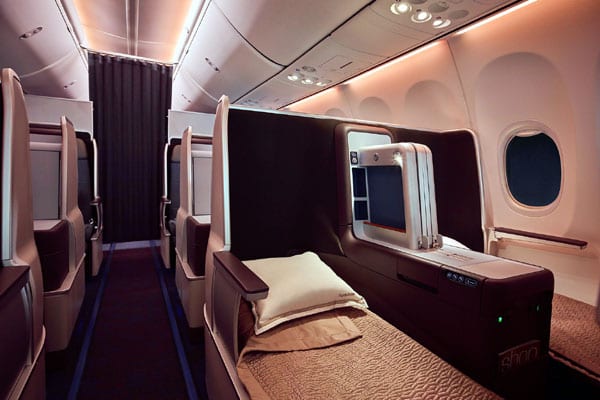 flydubai Business Class offers a more relaxed and personal flying experience. On the ground, you'll benefit from faster check-in and priority ground services including a dedicated check-in desk, boarding gate and bus service. You can relax before your journey in the Business Class lounge at Dubai International Terminal 2 and at airport lounges across most of the airlines' network. On board, you'll enjoy a personal, professional and friendly service from a member of the crew dedicated to the Business Class cabin. Choose a delicious meal from an internationally inspired menu for flights over nine minutes. For shorter flights, lighter cold meals will be served.
Next-Generation Boeing 737-800
The seats are exceptionally comfortable and spacious. Made in soft Italian leather, with built-in lumbar support, generous recline and extendable leg-rests, they provide the perfect opportunity to relax. And don't forget the 12.1-inch personal touchscreen so you can enjoy hours of great inflight entertainment.
Boeing 737 MAX 8
The MAX business seat takes comfort to a new level; you can work on board, enjoy something to eat, or simply get some shut-eye with a fully flat bed which measures 78 inches from top to toe. To keep you entertained, every seat has a 15.6-inch HD touchscreen so that you can stay up-to-date with the latest movies, TV and music.
Economy Class
In Economy Class, one can expect an affordable and relaxing journey. There's a variety of food options available on board – snacks can be purchased on all flights, while on select flights over 90 minutes, the airline offers delicious hot meals which can be pre-purchased when you book. And because every seat is fitted with an individual state of the art HD touchscreen, you are in full control of your entertainment experience.
Next generation Boeing 737-800
The seats are innovatively-designed to optimise legroom and maximise comfort. The increased overhead locker space and mood lighting system create an atmosphere that allows you to sit back, relax and enjoy your flight.
Boeing 737 MAX 8
With a generous seat pitch, gentle recline and a bottom cushion that adjusts for support and comfort, the design of the MAX economy seat is just one of the reasons the travel experience with flydubai is hard to beat.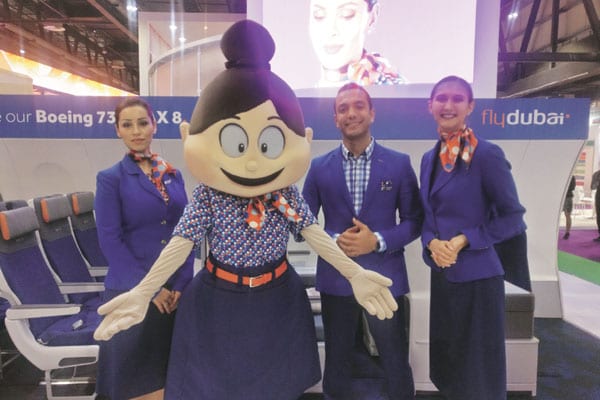 In July 2017, Emirates and flydubai announced an extensive partnership which saw the two Dubai-based airlines join forces to offer customers unmatched travel options. The partnership offers flydubai customers seamless connectivity to Emirates' worldwide destinations spanning six continents while Emirates' customers will enjoy access to flydubai's regional network and previously under-served destinations. The innovative partnership goes beyond code-sharing and offers greater frequency and easier access to more global destinations with the advantage of connecting baggage to the final destination. This is an exciting first step in unlocking the benefits of the partnership for passengers who will have the opportunity to enjoy the unique advantages each airline offers as well as greater choice and flexibility when connecting via Dubai. This is just the start and there will be many more opportunities for both airlines' passengers to explore the world together.