With the new government in place, Confederation of Indian Industry (CII) Tourism Fest 2014, witnessed discussions on various opportunities for the tourism and hospitality sectors in India By Archana Sharma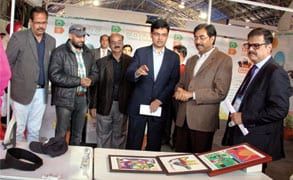 The second edition of the Confederation of Indian Industry (CII) Tourism Fest 2014, focussed on providing a platform to discuss various opportunities to overcome hurdles enabling growth of the tourism and hospitality sectors in India. Held in Chandigarh from December 5 – 7, the fest witnessed participation from over 60 exhibitors along with countries- Abu Dhabi, China, Japan, Mauritius and Thailand. The fest was held in partnership with the ministry of tourism (MoT), Government of India, with Chandigarh as the host city and Punjab as the principal partner state, in addition to participation from various states. Talking about the changes in the second annual event, Ankur Bhatia, chairman, CII Tourism Fest 2014 and executive director, Bird Group, exclaimed his delight with the involvement and turnout. "We had a lot more participation from international buyers this time as well as the local state governments. Many exhibitors have said that they would exhibit at the next event as well," stated Bhatia.
Enabling growth
Highlighting the importance of tourism as one of the main contributors for development of the country, R V Deshpande, tourism minister, Government of Karnataka stated, "The tourism sector can generate eight times more employment as compared to the manufacturing or any other sectors, but unfortunately the same has not been explored in India to the fullest. It contributes around 15-20 per cent in various countries as compared to six per cent in India." He also discussed options for partnering up with the state of Karnataka for sustainable travel and tourism. "We have 1400 acre land bank available with us which can be adopted, developed and converted into top tourist spots," he mentioned. Also highlighting on the importance of mutual co-operation between MoT and private sector players, Deshpande added that concepts like eco-tourism, lifestyle tourism, weekend tourism, farm tourism and medical tourism should be developed further, as with innovation and creativity the tourism industry can be taken to new heights.
Deshpande also suggested various measures that should be taken by the government and industry for the sustainable development of the travel and tourism sector in the country. "Seamless travel should be facilitated across integrated circuits through introduction of integrated taxation regime, linkages between various public transportation modes and improvements in highway infrastructure such as petrol pumps, clean drinking water kiosks and sanitation facilities, road signages, etc. Development of single integrated tourism circuit across states can provide solution to numerous problems of the tourism industry. All states levy huge interstate taxes on tourists to earn higher revenues but it harasses tourists. States should collaborate instead of competing with each other like in the European Union," he said. Adding to this, Jaideep Ghosh, partner and national head, transport, leisure and sports, KPMG India, stated, "Though the tourism sector scenario in India is improving and growth can be seen, we still require micro level leadership as well as cohesiveness between various industries and government. Travel should be made seamless and taxation process should be simplified and an integrated taxation regime should be implemented."
Also believing in combined efforts of the public and private sector, Major Vijay Singh Mankotia, vice chairman, Himachal Pradesh Tourism Development Board, said, "The private sector should improvise, innovate and work with governments and build up necessary infrastructure related to the hospitality sector, set up more budget hotels, upgrade infrastructure in religious and scenic destinations to leverage domestic tourists. Government can play a role of a catalyst or facilitator for the private sector. The private sector can leverage on the Himalayas, scenic coastline, Eastern and Western Ghats and unexplored destinations." He also requested the industry to invest and partner with the state and adopt hill stations and build theme parks, hotels, restaurants, etc, for which space and land will be provided. "We have earmarked huge land under our tourism department, which can be purchased by outsiders i.e. non Himachalis, non agriculturists now," Mankotia opined.
Deshpande also released a CII – KPMG Report on 'Renewed Outlook on Tourism' and CII JLL Report on 'Performance of the Hospitality Sector' on the occasion.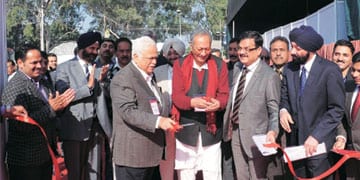 Showcasing destinations
The event witnessed participation from Goa, Karnataka, Madhya Pradesh, Maharashtra, Himachal Pradesh and Chhattisgarh, who showcased their special tour and travel packages, tourist destinations. Talking about promoting north India more, Darpan Kapoor, chairman, CII Chandigarh, and council and vice chairman, Kapsons Group, stated, "Tourism is the fastest growing sector and contributes in a major way to the economic growth of the country. The northern region is an important part of tourism in India with places like Himachal Pradesh and Punjab for leisure apart from the already well known Jammu and Kashmir, and it is these areas that should be promoted now."
Elaborating on the tourism potential of Chandigarh, Anil Kumar, home secretary and secretary tourism, Chandigarh Administration, stated, "We are working hard to get Chandigarh nominated and declared as Trans Border UNESCO World Heritage site, as part of the famous French architect Le Corbusier's many works in January 2015." He also said that Chandigarh's Capitol Complex is already called as modern heritage and the new building of Chandigarh International Airport is also under construction, which should help in boosting tourism further in the city. He also stated that Chandigarh has tremendous untapped potential as a filmcity to cater to the Punjabi and Bollywood film industry and therefore efforts are underway to promote it as an ideal film city. "Chandigarh acts as a gateway to the other states like Punjab, Himachal Pradesh, Haryana, Jammu and Kashmir, etc," he added.
Also looking at creating more tourist spots, Deshpande stated that they are looking at adopting various tourist spots under the two per cent CSR mandated for corporates with the central government. "We have already shortlisted 46 spots out of the total estimated 319 travel destinations mainly beaches, as of now," mentioned Deshpande.
Mankotia shared that they have plans to develop five hill stations due to the oversaturation of Shimla, Dalhousie, Dharamshala, Kasauli and Manali. "In Chamba district, a new hill station is proposed to be developed at Jot located at an altitude of 8,000 feet between Dalhousie and Chowari, while in Mandi district, the plan is to develop Jatingri, erstwhile summer capital of Mandi ruler located at an altitude of 5,500 feet, as a new hill station. In Sirmaur district, a hill station is proposed to be developed as a new tourist destination between Rajgarh and Haripurdhar, while in Shimla district, a new destination would be developed in Pabbar valley between Larot and Chanshal, which has the best free skiing slope of 10-11 km in Asia," informed Mankotia.
Promoting outbound destinations in India, Li Qiango, deputy director, China National Tourist Office, said, "India is one of the top 10 source markets for China and there has been a 3.2 per cent increase in the period of January-October, 2014 with over 5.88 lakh Indian visitors." Commenting on the same, Bejan Dinshaw, country manager, Abu Dhabi Tourism and Cultural Authority, stated, "There was a 33 per cent increase seen till October 2014, in the number of Indian travellers visiting Abu Dhabi. We hope to welcome a total of 25 lakh visitors by the year-end, not counting the 10 lakh people arriving for just a day." Further adding to it, Anuj Singhal, manager trade sales, Mauritius Tourism Promotion Authority, informed that they have more than 60 per cent Indian residents and are one of the top 10 wedding destinations along with being one of the top wellness destinations in the world.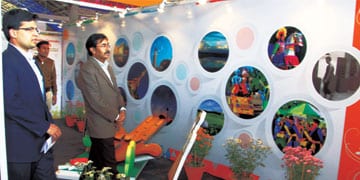 Development opportunities
Calling for a change in the outlook of stakeholders, Man Mohan Singh Kohli, co-chairman, CII Tourism Fest 2014 and CEO, Aroma Group, believes that the need of the hour is polite but authoritative management employees who are capable of redefining courtesy and enabling transparency in all operations. "We must aim to make our product more inviting and affordable and stay away from unrealistic rack rates in hotels. We must also concentrate on conveying obligations to ensure cleanliness and bridging the gap between mass tourism and responsible tourism," he said.
Talking about the lack of adequate infrastructure and limitations of the terrain, Mankotia said, "We require proper roads and highways to ease the ecological and traffic issues. Also, we need more air and rail connectivity, with more airports. Shimla base should be reconnected." He also believes that it is time to move to bed, breakfast and beyond rather than just the usual bed and breakfast.
According to Gaurav Rathore, director-commercial, AirAsia India, tourism is renewable and in India even though it is a year-round business, still about half of the destinations are underdeveloped. "Going by the hand-in-glove policy, we should aim to develop infrastructure through collaboration and focus on inclusive tourism. Taxation should be simplified and yield should be optimised and not maximised," he said.
Also stressing on the need for focusing on the domestic market, Romil Pant, vice president and head-domestic holidays and distribution channels, MakeMyTrip, shared that weekend breaks and trips are increasing and to cater to the growing demand, new destinations and different getaways should be developed as many are still left undiscovered. "There are over 572 islands in Andaman & Nicobar Islands, but only four are open to tourists. Moreover, cell phone network is a big issue in Goa besides 3G network connectivity in Andaman and running hot water in Ladakh," he said. He also suggested that stakeholders should jointly conduct training initiatives to inculcate courtesy initiatives among the frontline staff and as the role of online and social media is on the rise, a social media team should be created to handle the online market demand.
Role of travel agents and associations
Talking about the role and significance of travel and trade associations in promoting tourism, Akshay Kumar, president, Adventure Tour Operators Association of India (ATOAI) said, "We hold the technical knowledge and therefore we should educate the local tour operators about sensitivity and consideration while dealing with travellers as most foreign tourists prefer to deal with a tour operator who is recognised by an association." Commenting on the same, Saurabh Bhargava, general manager, sales-north, Taj Hotels, Resorts and Palaces, said, "A travel agent who is recognised by a travel trade association signifies quality and adds a credible image to his business as they get associated with the identity of the organisation or body."
According to Rajesh Mudgill, managing director, Planet India Travels, "An association plays a much broader role in addressing issues of concern, pooling in talent, holding buyer-seller meets and coming up with research papers for the welfare of agents. We need to train our future workforce with the help of seminars and conferences, not just about sensitivity but also with specialised training as guides." Adding to this, Amaresh Tiwari, honorary treasurer, Indian Association of Tour Operators (IATO), said, "The listed operators are able to provide professional services mostly because of the help of the organisations or bodies that they are part of, providing quality holidays and experiences." He also informed that over 180 members have been enrolled by IATO so far this year.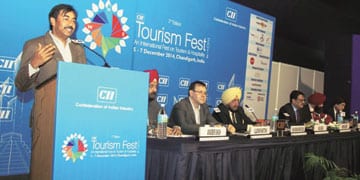 Hospitality sector
Observing the mid-segment hotels to attain the maximum growth so far, Sajid Mahmood, hospitality consultant, said, "The growth in luxury segment hotel business has slowed down due to the rise in price-sensitive domestic traveller. But the concept of the 'Zero Service' or 'Limited Service' also doesn't work in India, not just yet at least." Commenting on the same, Raj Rana, CEO-South Asia, Carlson Rezidor Hotel Group, stated, "The pace of hotel construction has slowed down as hoteliers are evaluating the best time to launch, however, the demand and supply will change as the margins will improve."
Talking about the challenges faced by the hospitality sector, Mandeep Singh Lamba, managing director-India, hotels and hospitality group, Jones Lang LaSalle Property Consultants, said, "Over the past seven years, luxury properties have seen a downturn from 65 per cent to 55 per cent whereas mid and economy segment has gone up from 35 per cent to 45 per cent. For growth in hotel supply across all categories, the government has to provide the adequate thrust so that we can borrow at a lower rate and get a longer duration to pay back, because in the present scenario due to the land rates, only luxury hotels are being built up to cover up the investments." Adding to this, Kavita Singh, managing director, Chandigarh Industrial and Tourism Development Corporation (CITCO), asserted that taking a vacation is no longer a luxury but a necessity. "The expectations of people are rising not just at the top level but executive clients are also demanding the same," mentioned Singh.
Promotional strategies and challenges
With the rise in disposable income, people are looking at more experiential vacations. Kumar opined, "Standard trips are losing their charm, as people are now looking at adventurous trips with lot more activities, and therefore we need to create specialised and innovative packages to meet this demand." Asserting the same thought, Vijay Thakur, chairman-core group, CII Tourism Fest 2014, stated, "This year we are trying to package things in a different and more attractive manner. The destinations, monuments, circuits are the same but the need of the hour is to promote them with experiences."
According to Mankotia, "Promotions should be done for adventure tourism with slogans like 'Niravana in the Himalayas' and involve the Indian youth." Adding to this, Arun Rawat, chairman, Himachal Pradesh State Council and CEO, Hail Himalayas, believes that it is time for inclusive tourism and people participation by not only giving them training but also equity and tourism awareness and knowledge. "The Himachal Pradesh government has exempted hoteliers from Luxury Tax for 10 years. Such measures can also be taken by other states along with technological innovation in the sector," he said.
According to Jatinder Paul Singh, senior vice president-leisure travel (outbound), Thomas Cook India, "The recent E-visa initiative would increase over 23 per cent inbound traffic to India but the domestic tourism market should also be tapped better as a huge opportunity lies in this segment."