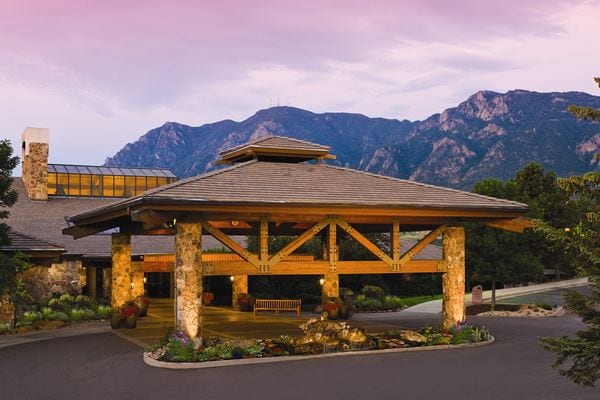 Wyndham Hotel Group adds 370,000 sq ft of meeting space in 2017
Wyndham Hotel Group has announced the latest addition to its expanding Dolce Hotels and Resorts brand: Cheyenne Mountain Resort Colorado Springs, a Dolce Resort. Growing Dolce's portfolio of group and meetings destinations, the resort represents a step forward in the company's mission to increase its diverse offerings for meeting planners. The new addition becomes the fourth resort to join the Dolce brand since it was acquired by Wyndham Hotel Group. The new resort also builds on the company's growth momentum in the group and meeting space: in 2017, Wyndham Hotel Group opened 415 hotels adding 150 new meeting spaces in the US alone.
"Wyndham Hotel Group partners with meeting and event planners on every type of meeting – whether a major convention, an intimate board meeting or something in between – across our expansive portfolio. As demand for meetings travel continues to grow, we will continue expanding our unsurpassed portfolio with unique and flexible spaces in the most coveted destinations," said Barry Goldstein, chief marketing officer, Wyndham Hotel Group.
Cheyenne Mountain Resort Colorado Springs, a Dolce Resort, offers 316 guest rooms and suites with mountain views across 200 acres of southern Colorado landscape. The resort is home to more than 40,000 sq ft of flexible event space alongside a 35-acre private lake and golf course. The hotel is owned by Dr Kiran Patel, Florida philanthropist and frequent partner developing some of Wyndham Hotel Group's most known hotels including the striking Wyndham Grand Clearwater Beach opened earlier this year.
New spaces
With meeting planners in mind, Wyndham Hotel Group is continuing the growth of its upscale, lifestyle and meetings-focused brands. This year, the company has added more than 370,000 sq ft of meeting space and opened several additions to its portfolio:
Wyndham Grand Clearwater Beach, US: Opened in January 2017, this two-tower resort offers direct Gulf Coast views and more than 22,000 sq ft of event space – including the Dunes Ballroom, the largest in Pinellas County
Wye River, a Dolce Conference Center, US: Home to two historic estates and 4,900 sq ft of flexible meeting space, this hotel offers guests dedicated conference support, farm-to-table cuisine and working space across the estate's landscape including two 18th-century English gardens
Wyndham Surabaya, Indonesia: This hotel, which opened in February 2017, is located in the heart of Surabaya's financial centre. It offers 20,472 sq ft of meeting space across eight venues including a ballroom accommodating up to 1,000 attendees
Wyndham Beijing North, China: Opened on September 9, 2017, this hotel is the first under the Wyndham Hotels and Resorts brand in Beijing. It is home to more than 20,000 sq ft of meeting space across six meeting rooms. The hotel's largest meeting room is approximately 11,700 sq ft
TRYP by Wyndham Dubai, United Arab Emirates: Opened in August 2017, this hotel boasts 650 rooms and 3,200 sq ft of meeting space including NEST, an urban co-working space fusing creativity, technology and hospitality
Ramada Plaza Thraki, Greece: This beachside hotel offers views of the Aegean Sea and the island of Samothraki alongside a conference hall featuring 10 meeting rooms totaling 20,450 sq ft of meeting space
Wyndham Loutraki Poseidon Resort and Ramada Loutraki Poseidon Resort, Greece: Together, these co-located hotels offer nine conference rooms with total capacity of 650 people and an open-air amphitheatre on the beach which can accommodate up to 900 people
Wyndham Garden Astana, Kazakhstan: This hotel offers four conference rooms at 10,500 sq ft and is convenient to the Astana International Airport (TSE) and the Korme Exhibition Centre and EXPO 2017 Exhibition Center
Ramada Encore Kuwait City, Kuwait: Located in Sharq District, Kuwait City's financial hub, this recently opened hotel offers two multipurpose meeting rooms at 6,000 sq ft as well as a rooftop swimming pool
Wyndham Hotel Group has also curated a global pipeline of more than 1,200 hotels scheduled to open in 2018 and beyond. Planners can anticipate the following additions to the Wyndham portfolio in the next several years:
The Summit, A Dolce Hotel, US: This new-construction hotel and conference centre is located less than 10 miles from downtown Cincinnati, Ohio. Scheduled to open in 2018, the hotel will have an eight-story atrium; a rooftop garden; a health club; and 22,000 sq ft of function space, including 16 individual meeting rooms
Wyndham Suzhou Fenhu, China: Anticipated to open later this month, this hotel offers 40,000 sq ft of meeting space across 12 meeting rooms accommodating up to 1,500 people. The largest meeting room is 19,500 sq ft
Wyndham Grand Nevis, Nevis: When completed in 2019, this resort will boast 170 suites, condominiums and villas; a private beach club; five dining areas; infinity pools; more than 10,000 sq ft of meeting space; a spa; and more
Wyndham Grand Ambergris Caye, Belize: This hotel will offer 7,000 sq ft of meeting space and an onsite excursion centre. It puts guests within just yards of Belize's Barrier Reef, the world's second largest coral reef system which runs the length of the country, and is just three miles from San Pedro, the island's only town
Ramada Islamabad, Pakistan: This 108-room, new-construction hotel is located next to the Islamabad Club with a view of the Rawal Lake from its rooms and roof-top restaurant. The hotel features 16,619 sq ft of meeting space comprising four meeting rooms accommodating up to 600 guests
Wyndham Doha West Bay, Qatar: Located in the heart of a business, exhibition, conference and leisure district, this 40-story high-rise will house both rooms and apartments alongside banquet, conference, ballroom and individual meeting spaces comprising 19,375 sq ft, all located on the 1st floor podium