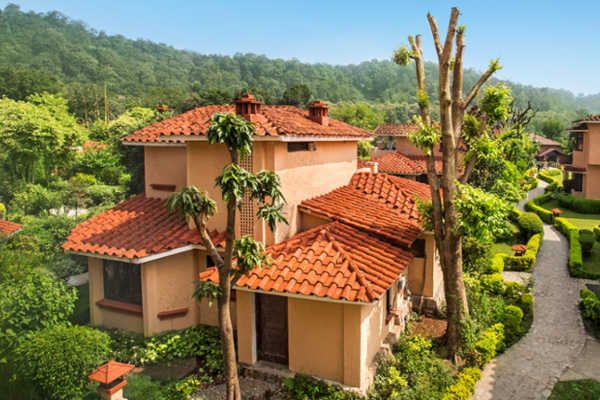 The Riverview Retreat now largest MICE hotel at Jim Corbett National Park
Leisure Hotels Group, the largest luxury hotel chain in Uttarakhand, with additional presence in Himachal Pradesh, Uttar Pradesh & Goa has added 30 new rooms to its luxury wildlife resort.
With the largest available banquet facilities that can accommodate up to 400 guests, the Riverview Retreat has now become the largest MICE Resort in the Corbett National Park.
The Riverview Retreat, a wildlife resort situated along the banks of River Kosi, spread over nine acres, now offers 90 well-appointed rooms & private villas of two, three, four bedrooms or independent and duplex rooms. Almost every room in the resort has a breath-taking view of the hills. The sloping tiled roofs, cool stone floors with throw rugs, and block wood furniture creates a wild natural ambience. The rooms are very tastefully designed & decorated with plenty of daylight. The resort offers an intimate ambience with private sit-outs and garden, offering a complete family holiday experience.
Emphasising that The Riverview Retreat, makes for a key MICE destination, Vibhas Prasad, director, Leisure Hotels Group, said, "Corbett is well connected with many major North Indian cities, which enables convenient travelling. It could be thrilling for corporate employees to mix business with pleasure by lazing around, meditating and playing etc., in luxury accommodations such as the The Riverview Retreat.
The villas have private garden and entrances. Besides meeting sessions amidst scenic & serene environs surrounded by nature & wildlife, the luxury wildlife resort has on offer activities & leisure, all in one location, for everyone to indulge in entertainment nights with live performance, cocktails and bonfires, bird watching, fishing, safaris, nature walks/ treks/ hikes, and much more.
The Riverview Retreat also offers an exciting destination for green weddings, incorporating ecologically and socially responsible products and services into all aspects of the planning and festivities. The property offers the largest river front lawns along the banks of the Kosi River surrounded by rolling hills & the forest, to accommodate as many as up to 700 guests. It also offers spa facilities for those interesting in indulging themselves to further relaxation.
"While we understand certain protocol for weddings, we also have our sister properties adjacent to us, should arise to allot separate accommodations for the Bride's and the Groom's family & friends, so groups are housed separately while being next to each other," elaborated Prasad.
The luxury resort includes one of the best restaurants in the expanse -'Gurney House', which lives up to the expectations of a true gourmet. It has an Al-Fresco of a guest seating capacity of over 120 guests. The Riverview Retreat is amongst the very few properties to offer round the clock in-room dining. "Conferencing facilities are equally taken care of to meet your business agendas," further stated Prasad.