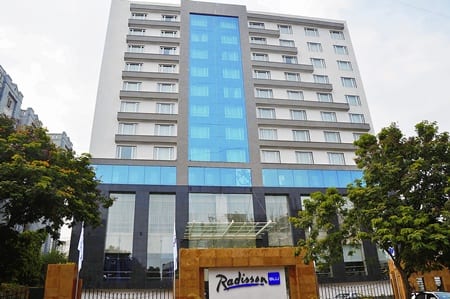 Even as Ahmedabad is being cautious about the new supply of rooms courtesy the many international hotel chains that are making a beeline to this city, existing brands like Radisson Blu Ahmedabad are carving their own niche in the market to stay in the race By Steena Joy
Not many people know that Gujarat's largest city Ahmedabad is the second largest producer of cotton in India, and its stock exchange is the country's second oldest. What people do know is that the city is making headlines as an emerging hotspot for industrial investment, driven by PM Narendra Modi's 'Make in India' initiative. Honda is setting up a two wheeler plant, expected to open in early 2016 at Vithalapur, 80 km from Ahmedabad. Plans are also on for a four wheeler plant in the same location. Once operational, the Vithalapur facility will be the largest scooter-only manufacturing plant in the world. A new company Suzuki Motors Gujarat is also being set up.
Located strategically in the heart of the city, Radisson Blu Ahmedabad is all set to capitalise on these new business opportunities. This upscale hotel which opened in September 2012, is 3.4 km from the 16th-century Sidi Saiyyed Mosque and 12 km from the Sardar Vallabhbhai Patel International Airport.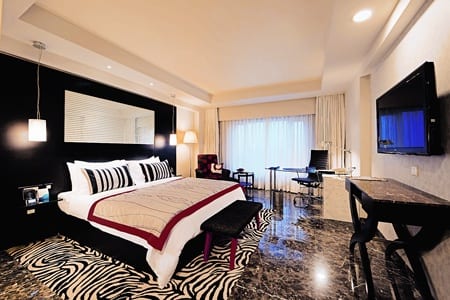 The hotel also provides easy access to the Indian Institute of Management in Ahmedabad (IIM-A) and Gujarat University Exhibition & Convention Centre. While each of the hotel's 116 rooms and suites includes perks like complimentary Wi-Fi, the 24 Business Class rooms also offer access to the exclusive Business Class Lounge. The hotel also has eight Executive Suites excluding six Business Class Suites and one Presidential Suite.
The hotel's conferencing facilities totals over 3982 sq ft, including two ballrooms – Antra and Raag – which can accommodate 220 and 120 guests respectively and a boardroom, Manthan, which can accommodate 16 people. The hotel has the O2 Spa for guests to relax and rejuvenate.

Ahmedabad is expected to witness an inventory addition of 1,250 keys over the next five years. Commenting on the hospitality market in the city, Alex Koshy, general manager, Radisson Blu Ahmedabad, says, "Ahmedabad's hospitality scene is very vibrant and dynamic. 2015 was a good year for us. But 2016 may be slow. At the moment supply is more but by 2017 the market will stabilise and then a good hotel will do 70 per cent occupancy and ARRs will also rise. In 2013 the occupancies were in mid 40s, in 2014 it climbed to 54 and in 2015 it touched 61. Ahmedabad is going the Pune way."
Thanks to a location close to C G Road, S G Highway and Ashram Road, guests enjoy proximity to Sabarmati Ashram and Kankaria Lake. They can begin their day with the expansive breakfast buffet at Timpani (which means 'drum'), the all day dining with 110 covers, and then sample Indian favourites at the award-winning The Great Kabab Factory (TGKF) for dinner. Koshy recommends, "When dining at TGKF which has 54 covers, make sure to try the paan ice cream, a speciality of the restaurant. There is also the Cake Place (pastry shop) for those with a sweet tooth."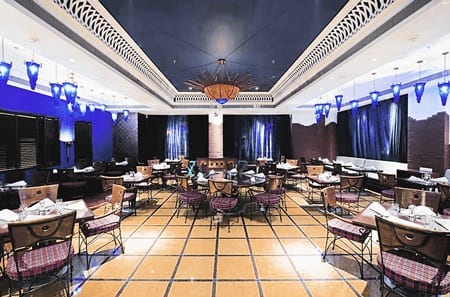 According to a Jones Lang La Salle report, by 2020, the hotel room inventory in Ahmedabad is expected to grow by 45 per cent (over 2014 numbers), with 54 per cent of the pipeline stock only within upper upscale segment of properties – a number demonstrating the growing interest of the global as well as the domestic business and tourist community in the emerging metropolis.
Recently, major impetus has been given to the information technology/ information technology-enabled services (IT/ ITES) and financial services industries, with major special economic zones (SEZs) coming up in and around Ahmedabad. SEZs in engineering, pharmaceutical and textile sectors have also been planned in the Ahmedabad district. The report states that the manufacturing hub Sanand (a satellite town of Ahmedabad) has investments proposed to the tune of Rs 3,200 crore as of April 2015, from over 18 domestic and international firms for which land has already been allocated.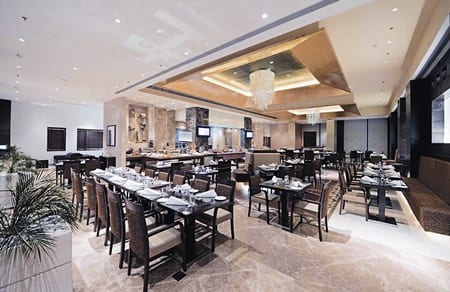 Koshy informs, "Our main customers are the corporate clientele. Our feeder markets are 40 per cent from Mumbai and Delhi and 15 per cent are foreigners. We get a lot of Japanese guests. We sent 12 of our associate staff to Japan for training so that we can interact with these guests better."
Ahmedabad is very experimental with food, opines Koshy. "In the last couple of years, the room revenue to F&B sales has been 60:40. But this year has shown a slight increase in F&B sales to bring the ratio to 55:45," he says.