India says 'tres bien' to Salon RDVF 2018
The recently concluded Salon Rendez-vous en France, French tourism industry's international B2B trade show held in Paris, welcomed for the first time India's largest contingent of 30 tour operators and agents from across the country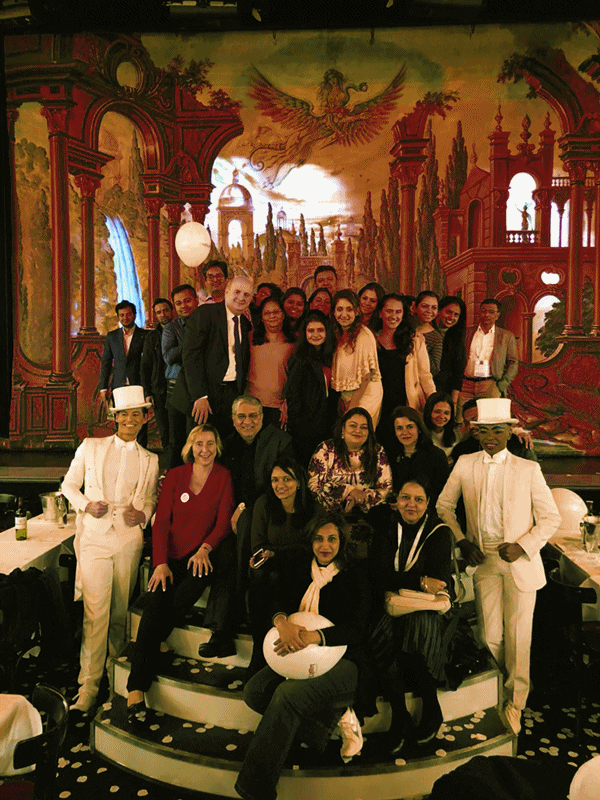 From being an eye opener to an eye catcher, from learnings to yearnings, Salon Rendez-vous en France 2018, proved to be all this and more for those who were on field at the venue Parc des Expositions, Porte de Versailles. It was an intense workshop as both buyers and sellers gathered under one roof for some serious knowledge sharing and networking. It was the ideal platform to understand and upgrade one's understanding of the destination and its diverse product offerings. The two day workshop, witnessed 750 French exhibitors, 947 influencers, 37 journalists from 69 countries, 380 international tour operators and 13 French destinations. According to Christian Mantei, MD, Atout France, "In a highly competitive environment, marked by a resurgence in tourism in France, this event represents a unique opportunity for French exhibitors to promote and sell their products to a high quality international panel of buyers."
The welcome event for international buyers at Les Puces de Saint Ouen, was by invitation of the Paris Convention and Visitors Bureau and their partners. After a stroll around the biggest antique market in the world, spread across seven hectares, 14 markets and 1,700 stall-holders, the delegates experienced a unique sit-down welcome dinner  in the heart of the market. For the official 'France' soiree, Atout France welcomed delegates both, exhibitors and visitors, to La Seine Musicale. A new symbol of Parisian culture, this musical temple is an ideal backdrop for an evening celebrating French music and culture, with a focus on a variety of contemporary artistic expressions. The spotlight of the event was the Centre-Val de Loire destination, which is celebrating "500 years of Renaissance(s)" in 2019. The event also showcased French gastronomy and culinary specialties. For the Indian delegation, the farewell dinner was hosted by the Atout France- India team at the Paradis Latin, a unique cabaret in the heart of Paris.
India director's perspective
For the Indian contingent, led by Atout France-India, director, Sheetal Wadhwa Munshaw, the feedback and the take home has been both encouraging and positive. India had its largest delegation this year of 30 tour operators and agents and two media professionals. Though Rendez-vous had all of France and its hallmark destinations well represented, within that there were six unique regions, which were offered to the Indian travel consultants to explore and promote. From Occitanie in South West France to Northern France, from Champagne Alsace to Auvergne-Rhone Alps, from Normandy to Bordeaux, the sellers had to zero in on their destination in terms of its potential from their respective clientele. Speaking further on the event, its focus and future, Munshaw states, "The interest toward France and its various regions is only growing with time. It is not just the regular but the special interest tours that are gaining popularity. This demand is not only restricted to India's leading cities but also from the Tier II and Tier III cities. Hence we took a conscious decision to invite agents and operators from across the country. The source market is diverse and this trend will only grow with time." She further added, "The event Rendez-vous is the perfect platform for those who wish to get the best insight on the region, up close and personal. It is all about meeting the suppliers in person, dealing with the right people and also getting the feel of the place first hand."
Buyer's buzz and seller's story
From the Indian tour operators and agents perspective, the event was the ideal zone to both learn and unlearn, to erase doubts and build confidence. From seasoned players and tourism professionals to new entrants in the business, each one had their own unique take home from the event. For Sudhir Patil, founder director, VeenaWorld, the entire experience was worth it as it provided him with a deep insight of the interior regions of France. He is confident the workshop and the destination learning will assist perfectly in converting the learnings into business. Voicing his opinion is Ajay Chhabria, director, Intime Travels by Design Mumbai, he felt the entire experience was fabulous in terms of the take home as a tour operator. Clients today are looking for experiences, which are out of the ordinary and France he feels, has the right ingredients to tap the discerning traveller, though Paris is always a must see on any itinerary, be it group or FIT.
Urjit Thaker, founder & CEO, World Wide Travels, shares his perspective and some interesting facts on the Gujarat market. He states that, "The Gujarat market is one of the largest and fastest growing markets for outbound travels. This trip will certainly help me promote France beyond Paris and certain parts of Southern France, which are popularly sold in this market. Post my visit to Rendez-vous 2018, we are keen to promote other regions of France which remain unexplored in our market. Our meetings at the event with local suppliers, hotels and each regional tourism office & representative were very helpful in making different sets of itineraries to promote France's wine regions, ski resorts, heritage, culture etc. We have already closed 45000 Euro business for France after visiting the workshop and the destination for Rendez-vous." Atout France India is also focused to offer the Indian market authentic and well crafted tourism experiences through various specialised programmes, including gastronomy.
The Indian delegation received an encouraging response from sellers on the floor. From hotels to attractions, from destinations to DMCs, the India market has gained confidence amidst the French tourism sellers. From shopping zones like La Vallee Village, Galeries Lafayette to destinations such as Normandy, Champagne-Ardenne Tourisme, Auvergne Rhone-Alpes and more, from attractions such as Disneyland Paris, to CV sightseeings, from chateaus to hotels, the feedback has been buoyant with respect to the India market. Sellers who have strong links with India are keen to further strengthen their spread and ties with the market, while those who are new entrants are hoping to understand and explore more with respect to the trends and demands that emerge. For Laurent Cormier, deputy director, Auvergne Rhone Aples tourism and Barbara Breheret, India representative of the region, India is a important source market. They feel their destination, which is attractive in terms of adventure sports beyond skiing  is ready for Indians. Patrick Allais, business development manager, Value Retail, is focused on India and has been constantly engaging with the India market. Paradis Latin, also has an Indian chef on board to cater to the Indian palate.