Hideaway in blue paradise
Whether seeking a rejuvenating holiday or active adventure, an exotic backdrop for  pre/ post wedding events or a family staycation, Hideaway Beach Resort & Spa is an idyllic haven in the blue paradise called Maldives, just an hour and a half flight away from India
A short speedboat ride away from the Hanimaadhoo International Airport in Maldives, lies Dhonakulhi, a large crescent-shaped island which is home to one of Asia's most exclusive all-suite beach resorts, Hideaway Beach Resort & Spa. Nestled amidst the impossibly blue and green waters that Maldives is known for, the resort is also accessible by seaplane, and yacht owners who choose to cruise and arrive in style directly to a world-class marina on the island.
The domestic airport was upgraded to an international airport in February 2012, with the introduction of direct flights to Thiruvananthapuram in India by Maldivian, the national airline of the Maldives. Talks are also on about an Indian low cost carrier (LCC) planning to start chartered flights to Male, the capital city soon.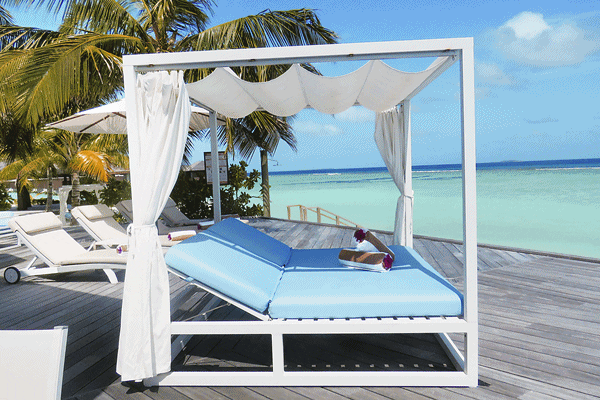 –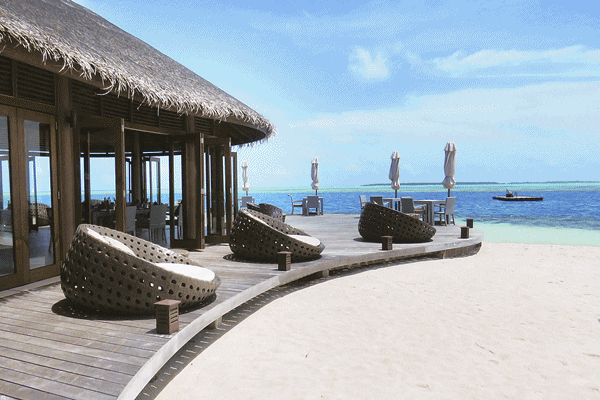 Space and privacy is a hallmark at Hideaway which has some of the largest luxury beachfront villas in the Maldives. The 103 suites are either set on the beach amongst coconut groves and lush vegetation or on stilts over the beautiful lagoon on the Haa- Alifu Atoll.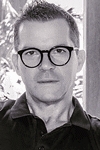 Michael Wieser, CEO, Lily Hotels, the flagship company that owns the Hideaway brand, says, "The resort is 19 years old and has been recently refurbished. Our main feeder market used to be Europe but not anymore. This season we had guests from China, Korea, Taiwan and also from India. Middle East is also strong on numbers – many guests from Saudi Arabia, Dubai and Kuwait." He feels that being far away from Male is a big advantage. "We are far from the hustle and bustle of city life. But this ensures absolute privacy which is our USP.  Marine life is exceptional. Villas in other properties are very close to each other, but here they are far apart. Only eight per cent of the entire land is built up." The guest to staff ratio is very high – 1:5 (one butler and four housekeeping staff).
Exclusive privacy
Each of the resort's 103 villas offer uncompromised privacy. The 10 categories of villas, ranging between 130 sq m and 1420 sq m, with private beach areas ranging from 320 sq m to 1150 sq m, are amongst the largest in Maldives. There are seven units of  the sunset beach villas and 50 units of the deluxe water villa with pool. Raised on wooden stilts over Dhonakulhi Island's blue lagoon, the deluxe water villas are very popular with guests from the India market. Then there are the seven units of the deluxe sunset beach villas with pool admeasuring 190 sq m each. For bigger families, there are three 1200 sq m units of family two -bedroom villas with pool.
Then of course there are two Hideaway Palaces that represent the epitome of exclusivity, privacy and refinement. The Hideaway Palaces measuring a total area of 1,420 sq m each, feature a spacious indoor dining pavilion with a roof-terrace.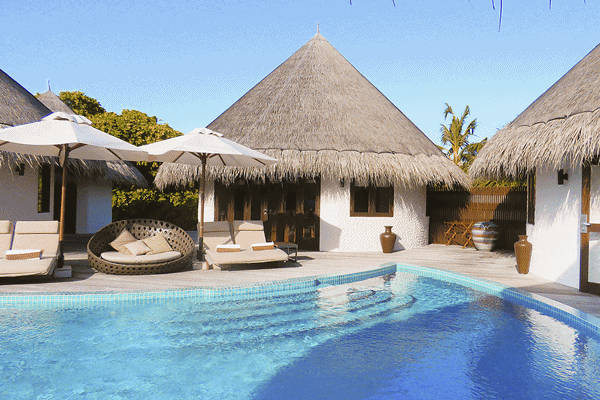 –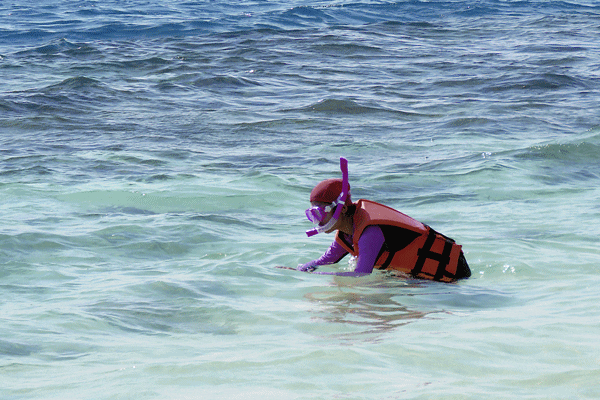 Speaking of India, Wieser says, "India is a big potential market for us, especially due to its proximity (just a one an a half hour flight from Thiruvanathapuram). Last year we had 200 room nights from India. This year we expect to touch 250 room nights."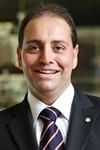 Ricardo Leal, general manager of the resort adds, "The India market has a huge potential for the Maldives in general, and for Hideaway Beach Resort & Spa in particular. And for sure, we are the right choice for the affluent Indian traveller. For one, due to the direct flights from Thiruvananthapuram to Hanimaadhoo, our local airport, from which it takes you only 20 minutes by speedboat, but for sure also thanks to our Indian culinary delights and our knowledge of the Indian culture and their likes and dislikes."
The resort is keen to focus on MICE. "Recently we hosted a big wedding group from China. We can even rent out the whole island. We can accommodate upto 200 to 300 pax. For the India market, we also serve Jain food," Wieser informs.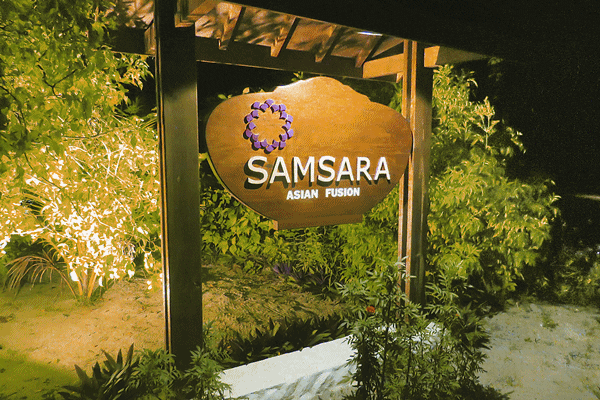 –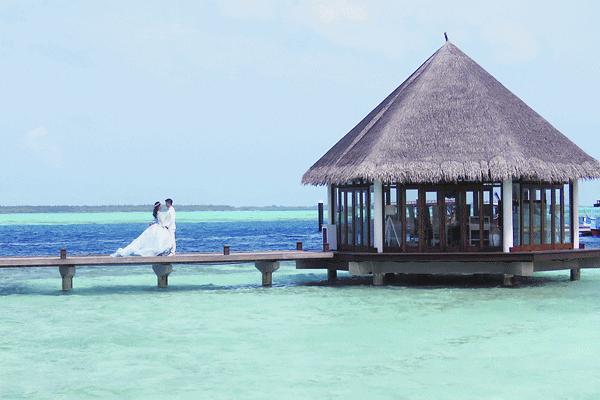 Most of the resort's food supplies come from Male or are imported. "We import most of our fruits from Dubai and Germany. We have our own island where we do farming for the hotel – vegetables, poultry and fruits. The surplus is sold in Male. We are also looking to farm our own organic vegetables," Wieser adds.
The resort has varied F&B options to suit every palate and each of these make very interesting spaces for holding events and wedding functions. Matheefaru restaurant offers a wide choice of refined international cuisine, themed buffets at night featuring live cooking stations as well as two private over water pavilions for intimate dining.
A casual place to unwind by the pool, Meeru Bar & Grill has one of the largest whisky and fine champagne collections in the Maldives. Samsara, the Asian restaurant has an open-air terrace, perched over the blue lagoon. The menu offers a fusion of Thai, Indian and Japanese influences. Another interesting dining spot is the Sunset Pool Café – Beach Club which serves Mediterranean cuisine and has a poolside that offers stunning views of the sunset and is therefore very popular with honeymooning guests. The resort also offers tailor-made culinary experiences where guests can stroll out to a nearby tiny, unmapped sandbank to enjoy a private romantic candlelit dinner under the stars. Couples who want to leave a testimony behind can buy signposts of little wooden hearts carved with their names on it. As one drives around in the buggies, one can see these signposts placed all over the property. The resort is also known for pre-wedding and post- wedding photoshoots. There is even a Rolls Royce wedding buggy for that authentic and exclusive image. Wieser adds, "We are not an international brand so we have to fight much harder for the market. And we have to let the world know about our wonderful product. Seventy cent of our guests are repeat customers. Guests come back to us because of the total privacy we offer." The resort is also home to one of Asia's award winning spas with intimate treatment rooms and trained therapists.
Adventure ahoy!
The resort offers a range of activities. Diving and snorkelling are of course the most popular. Apart from all inclusive packages for divers, the Meridis Dive Boutique offers snorkeling and diving equipment for a very nominal fee. For those who are novices, the dive centre also offers the services of a trained guide. While indulging in these activities, couples with kids can leave them at the Tender Hearts kid's club where babysitting by a trained nanny is provided on request for a fee.
For those who are less adventurous, there is the cruise on the Hideaway Princess, a luxury yacht. Guests can indulge in traditional hand line fishing and be served the catch of the day. Dolphin watching on the high seas is another thrilling activity. Kids will love riding in the Penguin, the Maldives' first semi-submarine (can hold upto five pax) offering amazing views of the reef and the marine life therein to kids who don't want to get their feet wet!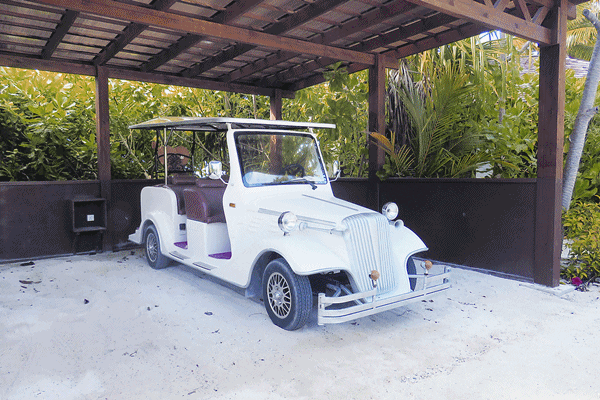 –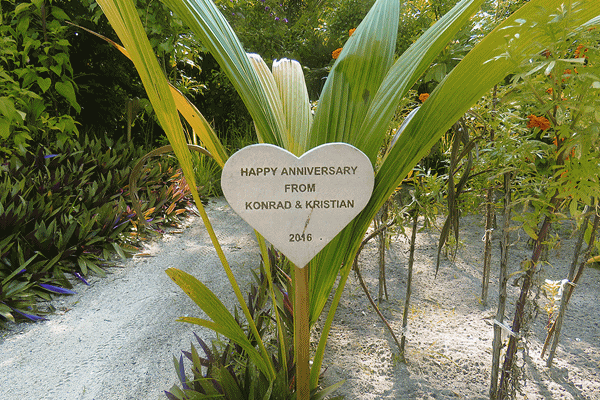 The resort is also very close to Utheemu Island, just a 10-minute speedboat ride away. Utheemu is the historical and cultural capital of the Maldives with its palace and history of uprising against the Portuguese 200 years ago. Guests can visit the Utheemu Palace on a guided tour and later walk around the village, the village school and a virgin beach, taking short breaks on rope hammock chairs that are typical of Maldives.
With 20 more resorts planning to come to Maldives including Ritz Carlton, Rosewood Hotels and Kempinski Hotels, Wieser is apprehensive for the island country.  "I don't think the government has a proper Master Plan. My advice to them is, please do not overdevelop," he concludes.
With a lot of international hotel brands making a foray into Maldives, what will be the strategy to stand apart from the competition? Leal informs, "Well, I do believe that we, as an individual and privately owned resort, are more flexible and quicker in adopting our strategies to the changing market conditions than some of the big brands. We can react faster and be much more personalised to the demands of our partners and guests, without having to satisfy, or sacrifice international brand guidelines."