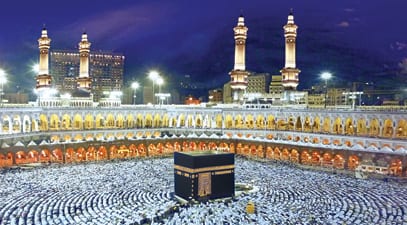 600 people across 20 offices pan India and still raring to go, Creative Tours & Travels (I) is growing with a clear vision. Established in 1979, it takes pride in diversifying creatively but also cautiously in today's challenging business environment By Reema Lokesh

The journey of Creative Tours & Travels (I) began way back in 1979. Its founder VS Abdulkareem stepped out of his home town Kerala in 1976 to establish the parent company Creative Enterprises in the Nagpada area of Mumbai as a travel consultant business. From its humble beginnings to the present strength of 20 offices pan-India, with over 600 plus staff and with an annual turnover of around Rs 800 crore, this company has come a long way. In an industry such as travel and tourism, which especially in today's time is highly volatile and competitive, one is compelled to ask visionaries of such long playing companies as to what keeps them going. The man behind this establishment V S Abdulkareem confidently says, "It's all about being totally focused on your business and to survive the business downs, the key is to diversify surely but steadily. You cannot afford to put your eggs in one basket as it is important to strike the right balance and manage your business prudently. One should not be rigid and must change with time and must not depend on just one source of revenue especially in our kind of industry. One can easily diversify within the tourism portfolio." When the parent company was established, the entire business scenario of the country was different. They sensibly tapped what made business sense during that era. Ticketing was a strong business option and hence the company ventured into the ticketing space under the Creative Enterprises banner. As times changed the company adapted accordingly and in 1993 the company applied for IATA accreditation and was recgonised as an IATA accredited travel company under the name Creative Tours and Travels. However in 1997, the company further underwent change and was finally called Creative Tours & Travels (I).
Focused approach
The group ventured out aggressively into the tourism business the moment they sensed that that the ticketing business will soon not give in enough of revenue due to the trend of diminishing airline ticket commission since 1995. Predicting this decline, the plan to get into organising tours for both, groups and FITs made business sense, which clicked well. The outbound market showed promise and growth. Eventually the company diversified into providing ancillary services, like insurance, etc as it firmly believes that diversification does help the business better especially in this trade. Another interesting niche that the company focused on was on religious and pilgrim tours. As official agents of Haj, Umrah and Ziyarat tours, the company also does well in the Christian tours space. It offers special packages of 21 days Christian tour for six Schengen countries that covers Vatican and ends in Paris. Under the pilgrim and religious tourism portfolio the company caters to a large number of countries, namely Israel, Jordan, Damascus, Turkey, Iran, Iraq, Egypt, Uzbekistan amongst others. Having successfully established its outbound business, the company is also strengthening its place in the inbound and domestic space further.
The domestic connect
Sensing the power of 'India' as a strong tourism destination and also a peaceful country for tourism, the company is focused on growing its inbound division and also promote India further in the Middle East market. Abdulkareem says, "I belong to the state of Kerala and we are keen to work as a full fledged destination management company to promote Kerala along with other parts of India, both for the domestic and inbound market. We are doing very well with Kashmir as well. However, in 2009 we started with our plans to market Kerala to the Middle East clientele." The company has a strong presence across India as the founder feels that a physical presence in other cities helps to connect locally as each market has its own share of demands and requests. Technology has changed the style of business but the connection with the people that a local office has cannot be replaced, feels Adbulkareem especially in India's emerging town and cities which is the future. The future looks bright for this well established travel and tourism company as it is not being over ambitious and moving ahead with time and embracing change rightly. The next in line in business, Adl Abdulkareem, the son of the founder has entered the business arena but as a management trainee to learn on the job. The company is scheduled to open two international offices in 2016, one in Dubai and the other in Saudi Arabia, to promote India in the international markets. The company is surely growing and diversifying creatively and cautiously rather than competing in an environment that is challenging in today's times.