With value oriented services as their core objective, The Riya Travel Group Enterprise has emerged as one of the leading travel organisations in India. GMJ Thampy, chairman and managing director, Riya Travel & Tours talks about his journey in establishing this billion dollar company and the market dynamics By Kahini Chakraborty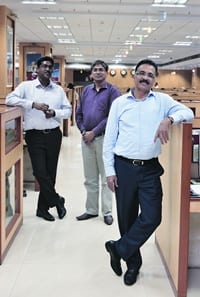 Starting with an initial investment of Rs 1000 for a 100 sq ft of rental space with a small table and chair in 1981, GMJ Thampy's Riya Travel & Tours today has grown to become a billion dollar company. In the last 32 years the company has established its name amongst corporates, agents and multiple vendors. Reminiscing about the earlier days of his business, Thampy modestly states, "My thought process when I started my career in the travel industry was a 'big zero'. Survival was my main motto after I left my hometown Pathanamthitta village in Kerala in 1976 in search of opportunities in Mumbai at the age of 20. I had prior work experience before starting my own company at the age of 25. At the rented place I needed another chair and a table and typewriter for which I took a loan from someone with a commitment to pay it off within three months. The only money that I had with me at that time was the deposit amount of Rs 1000 for two years which I paid to the landlord for starting my establishment. My asset from then to now has been the confidence of my customers." Making a beginning with three staff, today Riya Travel & Tours has about 2600 staff members. He has been the mentor behind multiple acquisitions, new ventures and various other successful initiatives.
As the chairman and managing director of the company, Thampy believes in investing in his manpower. "Any businessman who is looking at growing his venture has to overcome challenges. The biggest asset that I have today are my faithful, hardworking employees. We invest in our employees which I believe is very important for a company. Last year the business turnover was Rs 8500 crore and this year we are expecting to do more than Rs 10,000 crore," he asserts. From the initial days of establishing the company, Thampy states that he has been upgrading himself along with his team to overcome challenges. "Even today we look at the necessary prerequisites needed to bring a change in our style of work, attitude as well as add new verticals to cover up for the competition in the market," he informs.
Business talks
For the last two years, the company's main focus has been on the corporate vertical which has been seeing a 15 per cent year-on-year growth. "This year also we will grow in the same pace," confidently states Thampy, adding that, "We re-branded our corporate vertical as Riya Business Travel last year. Our parent company is Riya Travel & Tours which is our overseas manpower consultancy vertical started in 1984. In 1994 we entered into the ticketing line and thereafter subsequently from 2007 onwards launched Riya Holidays, Riya Corporate, Riya Connect, Riya Education and Riya Academy to cater to the changing needs and demands of the market. We ensure that any new vertical launched is managed by the specific professional team."
The company does not just work on a brick and mortar model but follows a hybrid model. Manoj Samuel, director, Riya Travel & Tours points out, "We would be the few traditional companies who are on the ERP systems for our back-end operations. We believe in automation." Talking about the need for quality manpower, Samuel opines, "There is talent crunch in the market. Largely students connect this course with an MBA and expect to get a decent job in the travel industry right after their education. There is a need to expose the reality of the industry to the students at the institutional level itself so that there is no room for wrong expectations among students. This industry prefers people with experience." The company has approximately 55 offices pan India and 13 offices abroad- nine office in the US, three in Canada and one in Dubai.
When asked about how does the company deal with competition in the market, Thampy stresses, "All the online companies at some point associate with us. We have now 23,000 partners. We never see anybody as a threat. On the contrary we learn what they are doing and guide them on how to associate with us where they can get some benefit and which will automatically benefit us as well." According to Samuel, "Weekend break product has become huge not just domestically but internationally as well. However, the weekend break product is affecting the long stay leisure business. Earlier travellers would take one or two long breaks but now they are taking short six to seven breaks. We are the only company today having a team with quality control. We audit every ticket issued."
Future view
Thampy is open to doing B2C business as well in the future. "In the next five years the corporate and holiday segment will be growing," he opines. The way the ticketing business is conducted has changed over the years. "Today, travellers are hooked on to their smartphones and can book their tickets through apps. On a lighter note, I think after 10 years everybody will have a chip in their hands and things will be completely automated," he says. Thampy strongly feels that the travel business is here to stay as travel consultants have their own value. "Even though the market will see changes in the travel and demand patterns among travellers, travel consultants will still be the path to guide customers on how to travel. Competition is going to drive you to move ahead," he opines.