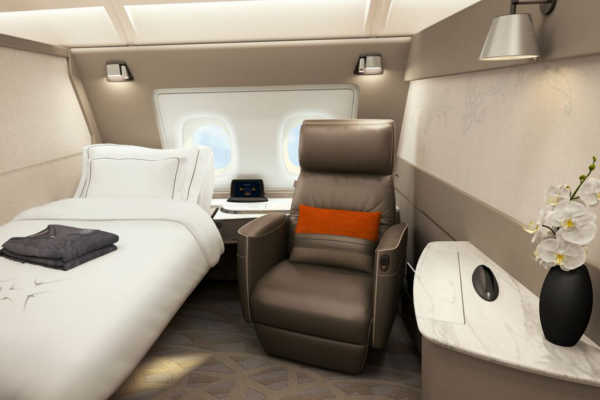 Singapore Airlines unveils new cabin products on A380 fleet
Singapore Airlines has unveiled its new cabin products which will be fitted to its Airbus A380 fleet starting from next month, following an extensive four-year development programme. In line with the theme of 'Space made personal, experience the difference', the new cabin offerings provide more space and privacy in all classes, featuring bespoke elements. The new cabin products will enter into service next month on the first of five new A380 aircraft entering the fleet. Retrofit work will also take place on 14 existing aircraft, to ensure product consistency across the Airline's entire A380 fleet. The new Singapore Airlines A380 will be configured with 471 seats in four classes, featuring six suites and 78 business class seats on the upper deck, as well as 44 premium economy class seats and 343 economy class seats on the main deck. The research, design, development and installation of the new products on 19 Singapore Airlines A380s represents an investment of about US$ 850 million.
Retrofit work will start in late 2018 on the 14 existing A380s that will be fitted with the new products, with all targeted for completion in 2020.
"Singapore Airlines set new industry benchmarks for premium full-service travel when we introduced our first A380s in October 2007. A decade later we continue to receive highly positive feedback about the travel experience on the aircraft. The introduction of our all-new cabin products is intended to ensure we retain our product leadership position. The significant investment in the new product and service offerings demonstrates that we are always listening to our customers, and ensuring that we continue to deliver the world's best travel experience," said Marvin Tan, senior vice president – product and services, Singapore Airlines.