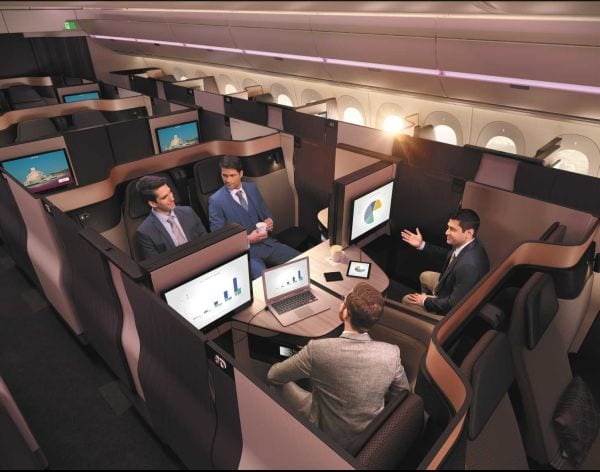 Qatar Airways launches QSuite on Mumbai and Bengaluru routes
Qatar Airways has announced that its award-winning Business Class experience, Qsuite, is now available on flights to and from Mumbai and Bengaluru. Patented by Qatar Airways, Qsuite features the industry's first-ever double bed available in Business Class, as well as private cabins for up to four people with privacy panels that stow away, allowing passengers in adjoining seats to create their own private room, a first of its kind in the industry. Adjustable panels and movable TV monitors on the centre four seats allow colleagues, friends or families travelling together to transform their space into a private suite, allowing them to work, dine and socialise together.
Akbar Al Baker, chief executive, Qatar Airways Group, said, "Since its launch, Qsuite has received tremendous attention globally, and we are delighted to introduce this revolutionary product on our Mumbai and Bengaluru routes. With Qsuite, Qatar Airways has transformed premium travel by bringing a First Class experience to the Business Class cabin. We are thrilled to be offering our loyal customers this unique product, which is unlike anything they have experienced before. The features that Qsuite offers provides the ultimate customisable travel experience that enables passengers to create an environment that suits their own needs. We look forward to welcoming passengers from Mumbai, Bengaluru and points beyond onboard."
Flights on the Mumbai and Bengaluru routes will be served by a Boeing B777 aircraft, with one aircraft flying daily to Chhatrapati Shivaji International Airport and Bengaluru International Airport. Qsuite is currently available on select Qatar Airways' Boeing 777-300ER, Airbus A350-900 and A350-1000 aircraft. The expansion to Mumbai and Bengaluru follows the introduction of the product to various destinations around the globe, including London, Paris, New York, Chicago, Houston, Shanghai and Canberra.