Annandale, a luxury homestead in New Zealand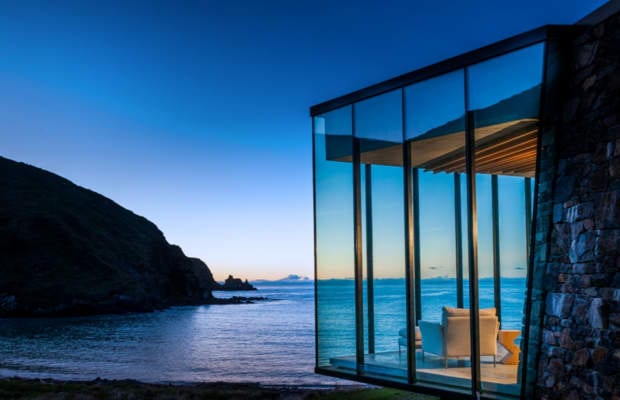 Less than two years since Annandale opened its doors to welcome guests to New Zealand's Banks Peninsula, the luxury accommodation has received top honours at the 2015 World Travel Awards Grand Finale ceremony in Morocco. The coastal villa accommodation is set on the shores of the Banks Peninsula on the east coast of New Zealand's South Island less than two hour's drive from Christchurch. Annandale provides guests New Zealand experience through the overall setting of a 4,000 acre coastal farm, farm-to-table local cuisine, numerous activities, historical significance and preservation of the buildings and local fauna, and interaction with locals.
The private experience of Annandale features a working coastal farm and four luxury villas which are nested between the hills of the Banks Peninsula and the Pacific.
The homestead was built in the 1880s and has been restored to include modern luxuries while retaining its charm. The five-bedroom home is in a private setting and features gardens, a swimming pool and spa pool.
Scrubby Bay is a completely private setting for gatherings of up to 14 guests and only accessed by helicopter or a 40-minute drive across the farm. The isolated location is on the shores of its own private bay, in a valley on the edge of the Annandale property.
The Shepherd's Cottage offers uninterrupted views of the Pacific Ocean and Kaikoura Ranges in the distance.
Annandale has a garden which has up to 50 varieties of vegetables and herbs. A private chef is available for guests who want to enjoy fine cuisine from local produce.
Annandale is less than a two hour drive from Christchurch International Airport. There are a number of activities available on site including nature cruising, kayaking, mountain biking, scenic heli-trips and much more.