Changing the face of adventure travel in India
While training how to fly, Captain Swadesh Kumar, founder, Shikhar Travels, soon found his true passion in conquering the mountains of India. Having led numerous expeditions in the Himalayas, he speaks to Express TravelWorld on his journey and the transformation of adventure travel in the country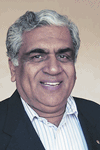 With over 40 years of experience in the adventure travel industry, Captain Swadesh Kumar has not only unraveled some pristine locations to adventure seekers from across the world, but also witnessed a massive expansion of the segment. As the founding member of Adventure Tour Operators Association of India (ATOAI) and also the president, he believes it is time he gives back to the industry which is yet to reach its full potential in India.
When asked what inspired him to start his own venture despite being a licensed pilot, he says, "The display of mountaineering equipment by an expedition team at college ignited my curiosity towards adventure travel. My active participation in the National Cadet Corps (NCC) gave me further motivation to head in the same direction. Being a member of the Delhi Mountaineering Association gave me my first trek opportunity in 1970 which cultivated into a training at the Himalayan Mountaineering Institute in 1974. I was one of the fortunate people to be trained under Tenzing Norgay himself. After working with Cox and Kings and providing lectures on mountaineering all across the world, I decided to follow my passion and start Shikhar Travels."
Remembering his training days, he adds, "Apart from learning how to manage the most difficult situations as a leader, I also learned the importance of enjoying the moment from Norgay." Kumar has led many expeditions of international delegations and represented India's adventure potential at numerous international forums. Later, adventure tour operators decided to come together as an association and work as a team in solving the problems of the industry. "We will continue to work upon the challenges as we add more members to strengthen our association. We hope to include state associations who can represent the local problems and give suggestions while we market adventure tourism at the international level," he mentions.
The year 2018 is going to be celebrated as the year of adventure in India and Kumar is bringing together small initiatives that can help raise awareness about new adventure activities. From monthly meetings in every state to Adventure Travel Summit in April, he has some massive plans unfolding the growth potential of this segment. He comments, "Many states have now come forward and shown interest to develop adventure activities in new locations. The definition of adventure has also changed with as many activities that involve the local communities being termed as soft adventure. Adventure travel in India is bound to grow leaps and bounds, we will only be accelerating it through our efforts."
Kumar, who shares a deep concern for sustainable and secure travel, mentions, "There is a very thin line between adventure travel and sports tourism. As tour operators, we manage huge amount of responsibility regarding the safety and security of our clients. However, the unorganised growth in the sector has degraded the standard of operations to an alarming situation. Many do not follow guidelines and operate without proper equipment. With no rescue centre in place it is difficult to provide immediate help in case of an accident."