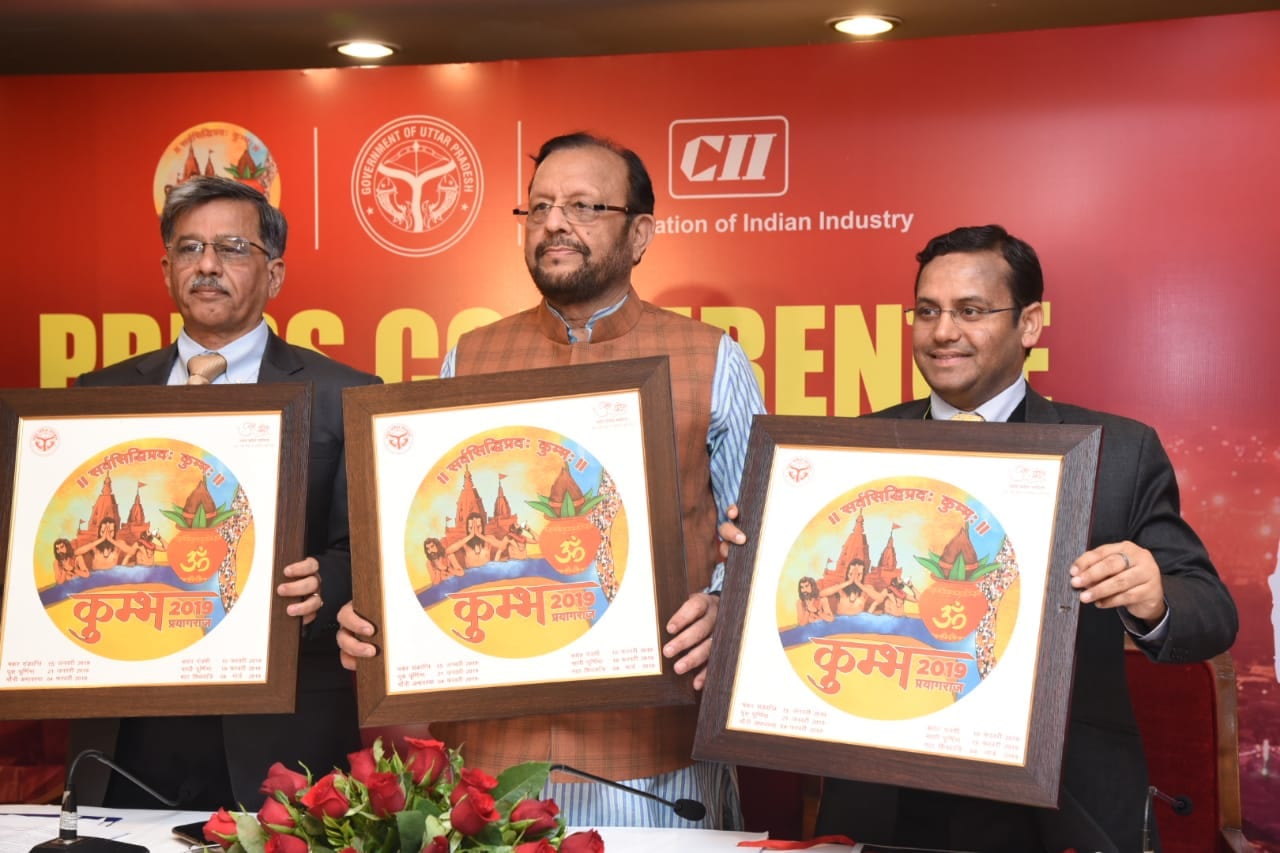 Sanitation and security takes priority at tech savvy Kumbh 2019
The entire Mela is being executed via a PPP model, with local tour operators and travel agents being part of the promotional plan.
Twelve crore expected visitors, INR 2,900 crore investment, 30 km periphery area done up with amenities and visitor facilities and around 3200 hectares assigned for the core mela, the Prayagraj Kumbh Mela 2019 starting January 15 in Uttar Pradesh is pitched to be a mega showstopper. Sanjay Kumar, special secretary – urban development, Government of Uttar Pradesh, in an exclusive with Express TravelWorld stated that, "Sanitation and security takes utmost priority at the Kumbh this year. It is unlike any in the past and it has many firsts. It is the first highly tech savvy Kumbh, connected on the digital platform, from security systems and services, to visitor information and facilitation and more." He further informed that ambassadors from around 71 countries visited the region in December to get the first hand feel of what is expected in terms of services to the 10 lakh estimated foreign nationals. From the previous 34,000 public sanitation facilities to around 1,22,000 public sanitation facilities, the forthcoming Mela promises to offer a seamless and tourist friendly experience to its visitors. The government has also put into place around 20,000 premium tent accommodation facilities in the tent city, which is being set up for the first time in the region. The hospitality industry along with the local homestay owners will all contribute in terms of services to the visitors.
The entire Mela is being executed via a PPP model, with local tour operators and travel agents being part of the promotional plan. 20,000 police officers, CCTV cameras and also nonuniform support staff will be deployed for the safety of tourists. Allahabad airport has also been recently upgraded with a new terminal to cater to the incoming arrivals. From setting up of mobile ATMs, to aerial security, to road widening and other infrastructure development work, this Kumbh has invested in giving its visitors quality service, added Kumar.
He added that the Mela Adhikari, Vijay Kiran Anand, has been on the project since the last three months to get things going on ground, as the work can begin on site only after the monsoons end and the water dries up. It calls for some pathbreaking work to be done in record time.
Highlighting details of Prayagraj Kumbh Mela 2019 urban development minister Suresh Kumar Khanna said, "This event is organised at four places in the country. The event held at Prayagraj itself is a subject of attraction and curiosity for the country and the world. UNESCO has included Kumbh in the list of Intangible Cultural Heritage of Humanity."
Confederation of Indian Industry (CII) has joined hands with the Government of Uttar Pradesh in promoting one of its kind event 'Prayagraj Kumbh Mela 2019.' Sunil Khanna, past chairman – CII Maharashtra State Council and president and managing director, Vertiv, said, "CII is proud to be associated with one of the kind events which showcases Indian traditions and is of historical and mythological relevance."
Khanna also spoken about aviation connectivity. Prayagraj has been connected through air route to the country's several main cities like Bengaluru, Indore, Nagpur, Patna, etc. A heliport is also being set up here and arrangements are being made to provide the facility of helicopter joy rides to tourists.
To ensure representation of every cultural discipline of the country in Kumbh arrangements are being made for 30 thematic gates, over 200 cultural programmes of high quality, laser show on cultural topics, food court, vending zone, exhibitions and tourist walk. Facade lighting is also being done at prominent places. To showcase Indian culture, 'Kala Gram' and 'Sanskriti Gram' are also being set up.
However, tour operators and travel agents are still skeptical on what will unfold and whether plans will be effectively executed during those critical days. Tour operators who were invited to work as partners feel that few logistical issues need to be looked at closely, namely moving from the tent city to the `Shahi Snan' areas, where pilgrims and visitors gather in large numbers. This is also a photographers delight. They also feel that there needs to be flexibility in the arrangements rather than tight schedules. Voicing her opinion, Shibani Ahuja Kapoor, founder, Wander Globe, saíd, "Though the government is making efforts to improve the Kumbh experience, we still have a long way to go in terms of putting out the PPP synergies effectively. The entire approach with the tour operators has been rather last minute. Few logistical issues need to be looked into, namely the travel from the tents to the main zone (Shahi Snan), food facilities etc. The international traveller, which we also cater to is looking for a seamless experience and we hope this Kumbh can offer the same. A last minute approach with the tour operators is not a prudent move."