Ministry of Tourism organises 'Swachhta Hi Seva' activities across the country
The ministry of tourism (MoT) is organising the 'Swachhta Hi Seva' campaign at various important tourist sites across the country. The campaign which was launched on September 15 will go on till October 2, 2018. Cleanliness and awareness activities are being conducted through regional offices of the MoT with active participation from local communities, institutes of the ministry, state governments and stakeholders. The campaigns are being popularised at 47 tourism sites in the country. Following are some of the major Swachhta activities carried out so far:
September 15, 2018
Dighalipukhuri, Guwahati: Swachhta Hi Seva campaign launched at DighaliPukhuri, Guwahati by India Tourism Guwahati in association with Assam Tourism Department Corporation. Students of IHM also performed a street play (Nukkad Natak) for spreading awareness among public on cleanliness.
Indian Museum, Kolkata: India Tourism Kolkata in association with Indian Museum, IHM Kolkata and members from travel trade including guides undertook Swachhta Hi Seva cleanliness drive in and around Indian Museum and Sadder street.
Porbandar, Gujarat: India Tourism Mumbai launched the Swachhta Hi Seva campaign from Porbandar, the birthplace of Mahatma Gandhi. The Prabhat Pheri began from Kirti Mandir and over 300 school children, travel trade members, Swachhta workers and local administration team participated. The cleanliness drive culminated at Porbandar Beach with the cleaning of the beach.
Western Group of Temples Khajuraho, MP: A tour guides heritage walk for tourists and students and Swachhta awareness rally was organised for locals by India Tourism Indore.
Tipu Sultan Palace, Bengaluru: India Tourism Bengaluru in close collaboration with IHM Bengaluru undertook a cleanliness drive at Tipu Sultan Palace.
Mamallapuram Shore Temple and Beach, Tamil Nadu: Cleanliness activity was undertaken by India Tourism Chennai and students of IHM Chennai at Mahabalipuram. Sensitisation drive on cleanliness was also organised for the local shopkeepers along with Tourist Police. All the above events were organised in co-ordination of Tamil Nadu Tourism Department.
September 16, 2018
Elliot's Beach, Chennai: India Tourism Chennai and IHM Chennai jointly undertook the cleanliness activities at Elliot's Beach behind Astha Laxmi Temple and Velankanni Church.
Golconda Fort, Hyderabad: India Tourism Hyderabad and ASI Hyderabad jointly organised a Swachhta drive at Golconda Fort with India Tourism staff, guides and ASI staff.
Lingaraj Temple, Bhubaneswar: Swachhta Hi Seva campaign organised at Lingaraj Temple, foreign and local tourists also joined in cleanliness drive.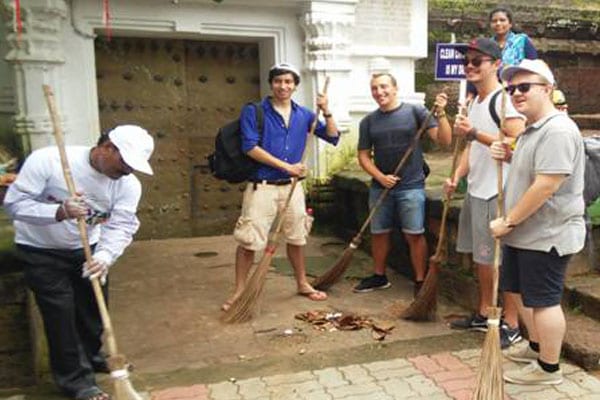 Victoria Memorial, Kolkata: India Tourism Kolkata in association with IHM Kolkata, Victoria Memorial, IATO, ADTOI and HRAEI organised a Heritage Walk from Victoria Memorial to Indian Museum. Cleanliness activities were undertaken at Victoria Memorial and India Museum.
September 17, 2018
Dona Paula Jetty & View Point, Goa: A cleanliness drive undertaken by Institute of Water Sports Goa at Dona Paula Jetty and View Point by the students of IITTM, Gwalior.
Gwalior Railway Station: Swachhta Hi Seva campaign was organised by 45 IHM students in association with railway staff members of GRP at Gwalior Railway station.
Gandhi Ghat on River Ganga, Patna: India Tourism Patna with tourism stakeholders organised cleanliness drive at Gandhi Ghat. A stretch of 500 mtrs of the Ghat area was cleaned by the participants and awareness created among locals.
Gwalior Fort, MP: India Tourism Indore organised a Heritage Walk and awareness campaign for tourists and shopkeepers in association with Taj Usha Kiran Palace Hotel at Gwalior Fort.