Ministry of Tourism, Jharkhand to organise Jharkhand Travel Mart 2018
A presentation and roadshow event was organised by Department of Tourism, Government of Jharkhand at Hotel Hindusthan International on March 9, 2018. It was held to promote and advertise Ministry of Tourism, Jharkhand's upcoming travel event 'Jharkhand Travel Mart 2018' which is from March 23 to 25, 2018 at Mega Sports Complex, Khelgaon, Ranchi, to gathered media and representatives from tour operators association and individual tour operators.
The event will host around 150 buyers and media from over 20 different markets in India. Around 500 travel agents, 75 exhibitors from Jharkhand and other parts of the country from over 10 diverse tourism segments and as many as 10,000 holidaymakers are expected to turn up at 'Jharkhand travel Mart 2018', as per Jharkhand Tourism department. The event will be organised by Sphere Travelmedia & Exhibitors.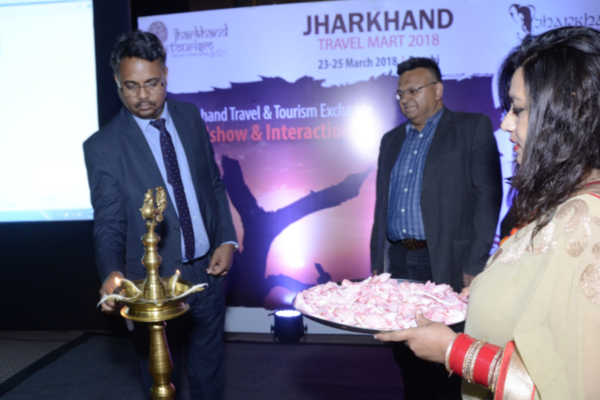 Briefing the media persons and gathered tour and travel fraternity, Sanjiv Kumar Besra, director, Department of Tourism, Government of Jharkhand said that, "This initiative has been taken by the government to attract the attention of private stakeholders, tour agencies and operators associations to brand Jharkhand as an all-around tourist destination owing to the immense potential that it encapsulates because of its diversity. From temples to forests and from waterfalls to wildlife reserves, Jharkhand offers a tourist, destination, and activities of his choice. "
According to the data provided by Ministry of Tourism, Jharkhand, there was an unprecedented increase in Domestic Tourist Arrival's (DTAs) by 21 percent from 2011 to 2016 in Jharkhand whereas the Foreign Tourist Arrival (FTAs) increased by 700 percent between 2011 to 2016.
Apprising the gathering about the ideology behind this event, Besra, informed that, "With the help of this travel event, we hope that we will be able to tap down the interest of tour operators, destination, and holidaymakers so that they can make use of Jharkhand's natural beauty and resources. Till now Jharkhand was known for a couple of tourist attractions mainly religious in nature like Deoghar, ShaktiPeeth and native tourism activities like tribal tourism, paintings but as of now we intend to promote Jharkhand as a world-class tourist destination that will offer tourist activities based on different themes like wildlife, adventure, water, festivals, medical, destination management, handicrafts and religious tourism activities etc."
Informing about the role of government and ongoing tourism infrastructural development, Besra stated that, "Kerala was the first state to organise travel mart to promote its natural heritage followed by Gujarat, Rajasthan, Madhya Pradesh, Goa and Himachal Pradesh. Jharkhand's USP is its vibrancy and serenity and the governments need the private sector to provide a helping hand in the marketing and promotion of Jharkhand as a destination brand. Few of our upcoming projects are Development of Eco-Tourism circuit in Jharkhand under Swadesh Darshan scheme and Development of Deoghar under Prasad scheme. Patratu will be developed as a mega destination and five circuits have been coined based upon different aspects like distance, geography, climate etc and will be developed accordingly for tourists."
By Shivasheesh Srivastava