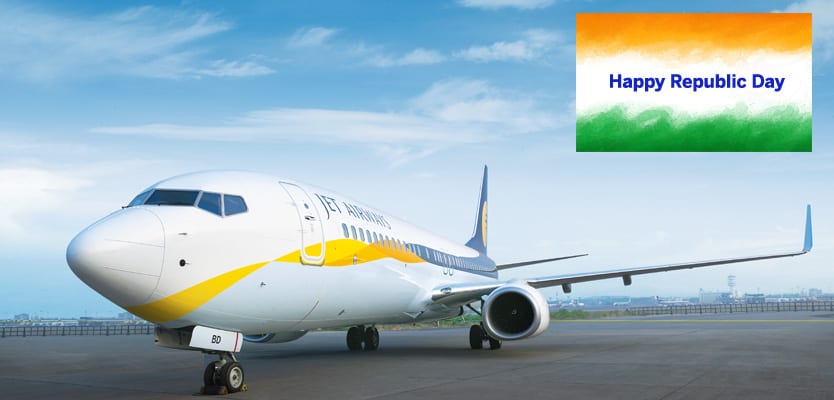 Jet Airways celebrates India's 70th Republic Day
Jet Airways, India's premier, full-service international airline, has announced an attractive seven-day fare sale to commemorate India's 70th Republic Day wherein guests can avail discounts of up to 50 per cent on their bookings with the airline.
The limited period offer is valid for both one-way and return journeys for Premiere and Economy travel across the airline's domestic as well as international network including the airline's gateways in Abu Dhabi, Amsterdam-Schiphol, London-Heathrow and Paris Charles De Gaulle.
Guests making their bookings with the airline can enjoy substantial discounts for travel to select destinations within India as well as airlines' international network including those of its codeshare partners' Air France and KLM Royal Dutch Airlines from India. These include destinations in South Asia, Far East, Gulf (excluding Muscat and Sharjah), Europe including Manchester, and Toronto in North America.
The mega Sale is available across all booking channels of the airline till midnight of January 30, 2019. Additionally, guests booking directly on the airline's website at www.jetairways.com and the airline' mobile app, can avail exclusive benefits, including earning 250 Bonus JPMiles on every flight booking, Zero Cancellation Fee for changes or cancellations made within 24 hours of booking, as well as locking a preferred fare with a very nominal fee for up to 72 hours to safeguard against fare change. Guests can also avail discounts of up to 20 per cent on pre-purchase of excess baggage via bookings made on the airline's website and its mobile app.
While guests travelling internationally can commence travel with immediate effect, Premiere guests undertaking domestic travel can commence travel with effect from February 1, 2019. Guests making bookings for domestic travel in Economy can commence travel effective February 8, 2019. However, tickets for domestic travel must be purchased at least 08 days prior to departure for Premiere cabin and at least 15 days prior to departure for Economy cabin.
While guests from India can choose to travel to any 66 domestic and international destinations served directly by the airline or to a host of onward destinations in Europe on flights operated by the airline's codeshare partners via its gateways in Amsterdam and Paris and vice versa, those from the Gulf can also book their travel to destinations in India, South Asia and the Far East under this scheme. The limited period offer is also valid for guests making bookings from Nepal and Bangladesh for discounted travel to India, Gulf, UK including London and Manchester, while those from Sri Lanka can avail it for travel to Europe in addition to India, Gulf and UK. Guests from the Far East can travel to India, Gulf, SAARC, UK and Europe while those from Europe and Toronto can avail this discounted offer for travel to destinations in India.