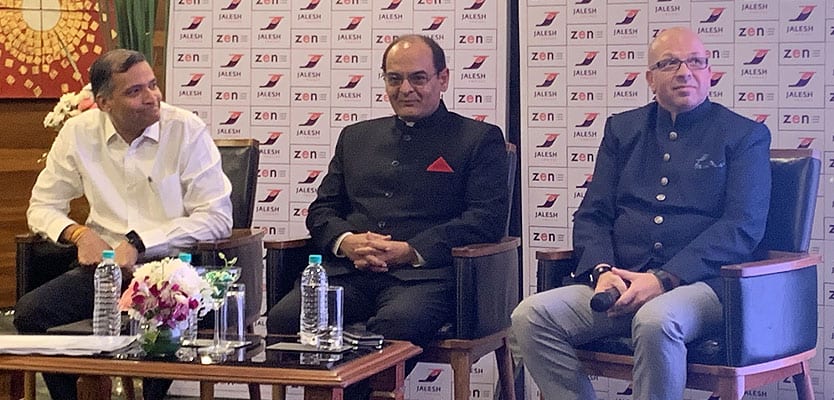 Jalesh by Zen Cruises aims to bring in sea change in the cruise tourism sector in India
The cruising sector in India seems to be undergoing a sea change. From plans to finally the propellers starting to move, Mumbai is scheduled to witness the christening of India's first established passenger cruise liner, dedicated as a cruise tourism initiative on April 19, 2019 in Mumbai. Jalesh is being launched by Zen Cruises, an Essel Group Enterprise. The cruise promises to offer its clientele both domestic and international itineraries along with a host of entertainment and a complete Indian and international experience from cuisine to culture. The ship also promises to be user friendly to senior citizens and differently abled passengers, following the required guidelines. Jalesh Cruises, a 2,000 passenger capacity vessel aims to target vacationers, corporates, wedding planners and event organisers to offer new experiences customised for Indian audiences.
Jurgen Bailom, president and CEO, Zen Cruises said, "Zen Cruises is pioneering cruise holidays for Indian passengers in both domestic and international waters. Our premiere brand Jalesh Cruises believes in upholding the spirit, culture and values of 'Incredible India' by contributing to the growth of tourism and allied businesses in India. Jalesh Cruises will be a wholesome experience to cruisers who will get the best of culinary experiences, accommodation, wellness and retail therapy, adventure and entertainment, all packed together in one exotic vacation."
Bailom added, "Zen Cruises wants to grow the cruise market as a whole in India.  Our aim is to touch, delight and fulfil the lives of a million Indians and make them travel worldwide by 2025."  
To give a wholesome experience of vacation to cruise passengers, Jalesh Cruises will also offer onshore destinations and excursions across Indian port cities including Chennai, Kochi, Mormugoa, Mumbai, Vizag and international locations including Abu Dhabi, Colombo, Dubai, Muscat, Penang, Ras Al Khaimah and Singapore.
Speaking exclusively to ETW about this India initiative in the cruising space, Sanjay Bhatia, secretary, Govt of India, Mumbai Port Trust, said, "We are ready to welcome the ship. Keeping in view the competitive environment we have reduced the port charges for the vessels and are now open to more business in the passenger cruising space. We are also putting in the right and much needed infrastructure in place to strengthen the cruise tourism initiative in India." 
Supporting his views, Ashish Kumar Singh, principal secretary, transport and port home department, Government of India, said, "The Maharashtra Government is providing complete support to develop this sector in the state. We are ready to develop more ports along the Konkan belt and give visitors a quality experience."