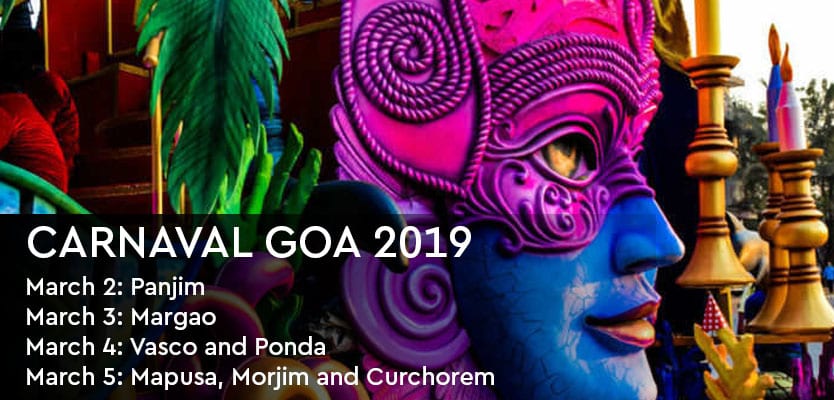 Goa is gearing up for Carnaval 2019
Goa is gearing up for Carnaval 2019 which is one of the most awaited festivals of the year. Carnaval would begin on March 2 starting from Panjim, March 3 at Margao , March 4 at Vasco and Ponda and March 5 at Mapusa, Morjim and Curchorem. This year Carnaval is expected to be bigger with an increase in the number of floats. We see a lot of tourists both domestic and International visiting the state to experience this festival exclusively. Goa Tourism has been promoting this festival on a huge scale every year and there is an overwhelming response from both domestic and international visitors to the state.
Carnaval is Goa's most famous festival and has been celebrated since the 18th century. The origins of carnival are apparently the hedonistic feasts of ancient Rome and Greece. It made its appearance in the Spanish and Portuguese colonies, where it metamorphosed into the very Latin singing-dancing bouts. The carnaval is presided over by King Momo, who on the opening day orders his subjects to party.
Carnaval is meant to be a feasting-merrymaking occasion just before the 40 days of Lent; a time of abstinence and spirituality. It begins from the capital city of Goa- Panjim. The entire state will be seen with colourful floats and decorations. The exciting and fun-filled four-day non-stop extravaganza of fun, frolic, song, music and dance that is uniquely Goan is a Pagan festival popular in Latin American countries that were colonies of Portugal at some point in time. It is a typical Latin, song, music and dance and precedes the "Lent". During this festival, huge parades through the cities are organised with bands, floats and dances and balls in the evenings.
The USP of this festival is the uniqueness that it has. Goa is the only state to celebrate a distinctive festival like Carnaval. The highlight of the exotic frenzy of merriment is the appointment and arrival of "KING MOMO" and his retinue to the capital city Panaji on "Fat Saturday", the eve of Carnaval. They form the head of a parade of colorful floats and troupes of masked revelers attired in gorgeous costumes singing and dancing in gay abandon to lively music that is usually performed live. The best floats are given handsome prizes. It assumes a unique form of creative spontaneity wherein folk songs/Cantars are sung from door to door in villages by troupes of mainly Christian peasants inviting everyone to join in the celebration. Huge parades through the cities are organised with bands, floats and dances and balls in the evenings.