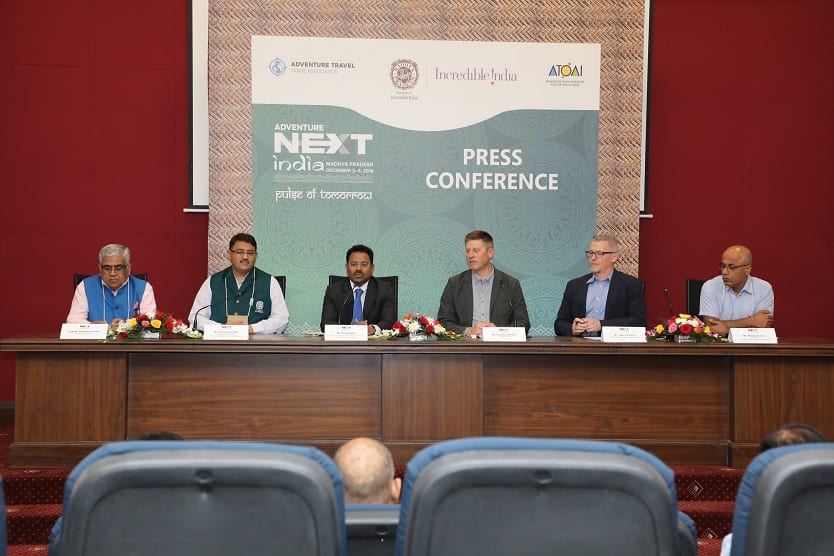 Bhopal was venue of AdventureNEXT's Asia debut
The international event specialised in adventure travel, AdventureNEXT, made its Asia debut from December 4 -5, 2018 at the new international convention centre – Minto Hall in Bhopal, Madhya Pradesh, India. It focused on adventure tourism by combining marketplace (Chowk Bazar), meetings, networking opportunities, inspirational speakers and educational sessions together for national attendees as well as overseas delegations.
The successful convention attracted nearly 200 attendees including global buyers, international/national media representatives, sellers and office bearers of the ATOAI, hotels, hospitality and tour operators who came to expand their knowledge spectrum and itinerary offerings. To grace the event, Suman Billa, joint secretary, ministry of tourism; Swadesh Kumar, president of ATOAI and Akshay Kumar- chairman of AdventureNEXT committee were also present.
Speaking on the occasion, Hari Ranjan Rao (IAS), principal secretary, tourism and managing director, Madhya Pradesh Tourism Board said, "Madhya Pradesh is truly honoured and privileged for being the ever first host of AdventureNEXT in Asia. We thank ATTA and all the respected international buyers, felicitators, media and national delegates who came together to make this event a grand success. The AdventureNEXT not only brought together the networking sessions but it also gave a unique definition to the hidden treasures of adventure tourism in India. With this we focus to promote the adventure travel aspect with full pace in Madhya Pradesh as well".
Speaking on the same, Shannon Stowell, CEO, ATTA said "We were honoured and proud to present the world AdventureNEXT with MP Tourism. The extraordinary variety of adventure travel Madhya Pradesh preserves is worth experiencing. AdventureNEXT captured India's religious heritage, mythological, historical, wildlife, and beautiful architectural spots clubbed with physical activities and journals for the attendees. This is just the beginning, ATTA also plans to introduce more tours which are adventure driven panning across the unexplored exploratory destinations of India."
The two days long event encapsulated the theme "Pulse of Tomorrow" indulging delegates to explore future-driven business opportunities from Madhya Pradesh, the heart of incredible India. The indulgent agenda featured trending topics such as economics of wildlife tourism and immersive technology while the educational workshops like traditional Gond Art show kept attendees engaged. For the prestigious event, the cultural programmes included performances of popular Indian dances – Bharat Natyam, Mohini Attam and tribal folk dances. Madhya Pradesh also organised pre and post familiarisation trips to various destinations.
Established in 1990, ATTA is widely recognised as a vital leadership voice and partner for the adventure travel industry. The association's constituency of more than 1,300 member organisations in 100 countries is made up of tour operators, tourism boards, specialty agents, and accommodations all sharing a vested interest in the sustainable development of adventure tourism. With specialised expertise in research, events, education, media, and promotion, the ATTA's business services and events division, Adventure 360, delivers a portfolio of strategic solutions and robust ecosystem of global events.