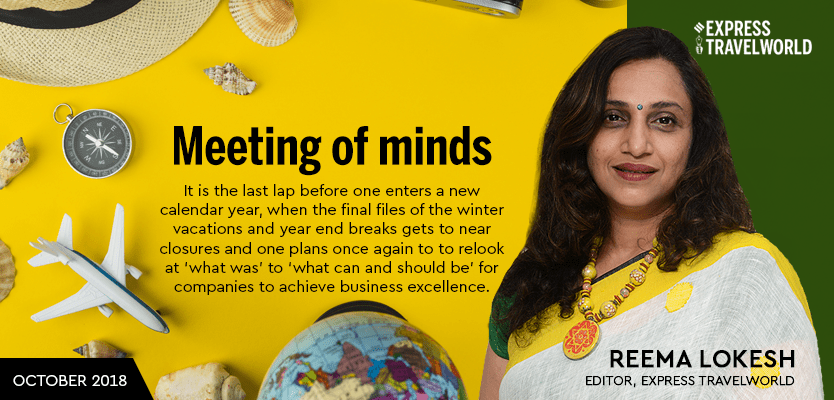 This is time of the year when the travel fraternity goes in for some reflections. It is the last lap before one enters a new calendar year, when the final files of the winter vacations and year end breaks gets to near closures and one plans once again to to relook at 'what was' to 'what can and should be' for companies to achieve business excellence. Rules are written, rewritten and unwritten, strategies formulated and both learning and unlearning taking place irrespective of the size or turnover of the company, or area of specialisation, namely inbound or outbound business.
The reflective mode continues further, as it is also the time, when most associations have completed their annual mandatory conventions and conferences. One sits back and analyses the findings and the take home from the event. The good news is if the meeting of minds resulted in some progressive action, if not then, well, it calls for some serious introspection. When it comes to travel agent specific conventions the airline agent relationship was a topic that was numero uno on the agenda. However, it would always end on a note of hope without concrete solutions. Well this time so, the discussions may gain a new flavour. For travel agents whose core business is ticketing and outbound, October 1, 2018, would hold significance and value. The International Air Transport Association (IATA) rolled out its NewGen ISS programme in India. This programme is expected to deliver faster, safer and more cost effective and relevant financial settlement services and solutions to airlines and travel agents that rely on the IATA Settlement Systems (ISS). Our lead story in this issue gives you the primary highlights of the programme as it promises to bring in a positive change in the way business will be conducted in the future. The story speaks about the advantages of the programme and it's future applications. The agent airline relationship has been a part of most discussions since close to a decade and this programme aims to bring in a better understanding in terms of business dynamics between the two players. Travel associations feel that initially there could be some adaptability issues but have welcomed the move for the benefit of the trade. Travel Agents Fraternity of India (TAFI), recently concluded its annual convention in Abu Dhabi. Redefining the offline travel environment, was the key convention theme. For further details, do look through the story in this issue to get more insights on the convention. The Travel Agents Association of India (TAAI) and Yunnan Provincial Tourism Development Commission (YPTDC) have also signed an MoU for organising TAAI's 65th convention in Kunming in Yunnan province from November 27 to 29, 2018.
Finally, our cover story takes you on an Island journey to reflect and reconnect on the changing dynamics in the travel and tourism space.
REEMA LOKESH
Editor
[email protected]