Islands have always been seen as exotic destinations due to their isolation and their exclusivity. Express Travelworld lists out ten of these havens that are Nature's tourism jewels
Maldives
Consisting of 26 natural atolls, the Maldives archipelago nestled in the Indian Ocean is the planet's lowest lying nation, rising no more than three meters above the sea at its highest point, a measurement that shrinks every year. With a total area approximately the size of Portugal but a land area comprising islands and sandbanks about the size of Singapore, the ocean forms over 99 per cent of the country.  Luminous aquamarine waters with a crystal clarity offer the best scuba diving and snorkelling sites. Surfers also flock here to ride the uncrowded breaks. The domestic airport was upgraded to an international airport in February 2012, with the introduction of direct flights to Thiruvananthapuram in India by Maldivian, the national airline of the Maldives. Now GoAir also operates flights to Male. A holiday in the Maldives is a chance to gain an insight into this unique country, by exploring island villages, sourcing local handicrafts, visiting heritage sites and the National Museum.
With ten domestic airports, travel between islands can be swift and comfortable by scheduled flights. . If you want to hop between resort islands, that can be done by using Ibrahim Nasir International Airport as the hub, arriving on one resort boat and leaving on another. The easiest way for guests to visit other islands while staying at a resort is to take one of the resort's guided tours. These typically include a visit to an inhabited island with an escorted walk around the sandy streets, an opportunity to buy souvenirs, taste local cuisine and watch cultural performances. Some tours take in a visit to a genuinely uninhabited island, for a chance to swim or for a picnic. Some resorts will organise a daylong Robinson Crusoe experience on an islet or sandbank. Since boats are the taxis of the islands it's possible to hire one to get from one island to another. From Male, you can easily visit the residential islands of Hulhumale or Vilingili by inexpensive ferry running regularly from their Male terminals. If you are in a group wanting to visit several islands, then chartering a LiveAboard safari vessel for a few days is the best way, as you can arrange with the boat's skipper to visit islands off the tourist trail.
Mauritius
The island of Mauritius is relatively young geologically, having been created by volcanic activity some eight million years ago. While Mauritian Creole is the mother tongue of most Mauritians, most people are also fluent in English and French. Port Louis, the cosmopolitan capital city of Mauritius is full of cultural and historical treasures that should not be missed. Beyond the central market, are many historic sites including the Champ de Mars – the oldest race course in the southern hemisphere. The Sir Seewoosagur Ramgoolam Botanical Garden, commonly known as the Pamplemousses Botanical Garden near Port Louis is also the oldest botanical garden in the southern hemisphere.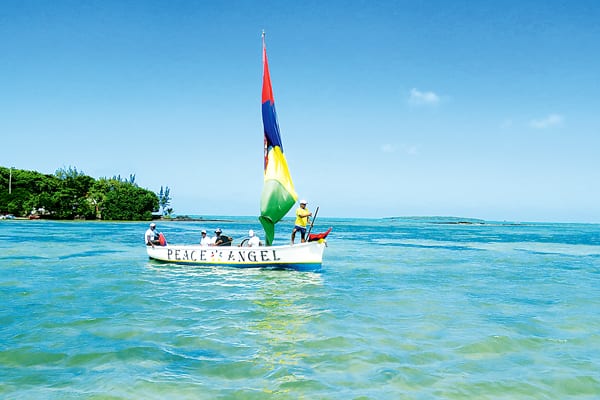 Located on the shores of the country's biggest lagoon, Mahebourg is a coastal town that is closest to the island's only airport. Its unique amalgam of colonial and Creole architecture, and its local markets makes Mahebourg a must visit. Founded in 1805, the town was named after the famous French governor Mahé de Labourdonnais.
A small complex of buildings on the seafront in Port Louis, Aapravasi Ghat was the place where the first indentured workers arrived into Mauritius. Between 1834 and 1920, almost half a million indentured labourers arrived from India at Aapravasi Ghat (now a UNESCO World Heritage Site) to work in the sugar plantations of Mauritius. At present, less than half of the Immigration Depot area as it existed in 1865, survives.  However, some of the key original structural components still stand. These include the remains of the sheds for the housing of the immigrants, kitchens, lavatories, a building used as a hospital block and the symbolical flight of 14 steps through which all immigrants entered the Immigration Depot.
Grand Bassin is a crater lake about 550 meters above sea level with a depth of between 50 and 55 feet. In 1972 a priest from India brought sacred water from the Ganges and amid much ceremonial poured the holy water into the lake. From then on the lake has been known as Ganga Talao. Ganga for Ganges and 'Talao' means 'pool'.
Chamarel is a mountain hamlet, home to the famous Terres de 7 Couleurs (seven coloured mud), a natural phenomenon and a prominent tourist attraction. The rolling dunes of multi-coloured earth have long intrigued geologists. Chamarel is also known for its world-class rum. En route to the seven coloured earth lies La Rhumerie de Chamarel Distillery, one of the rare distilleries that cultivates its own sugarcane for its rums. There are guided tours ending with rum tasting.
Andaman Islands
Once a hill range extending from Myanmar to Indonesia, these picturesque undulating islands, islets numbering around 572, are covered with dense rain-fed, damp and evergreen forests and endless varieties of exotic flora and fauna. Most of these islands (about 550) are in the Andaman Group, 28 of which are inhabited. The smaller Nicobars, comprise some 22 main islands (10 inhabited). The Andaman and Nicobars are separated by the Ten Degree Channel which is 150 kms wide. The islands are prominently featured in Arthur Conan Doyle's Sherlock Holmes mystery, The Sign of the Four, as well as in M M Kaye's Death in the Andamans.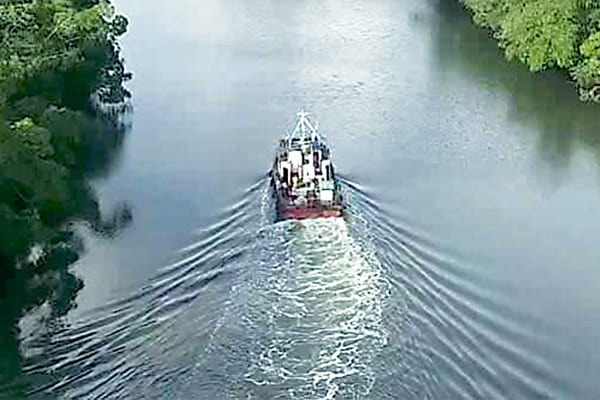 These islands also boast of freedom fighting days' historically significant landmarks viz. Cellular Jail, Ross Island, Viper Island, Hopetown and Mount Harriet. The Andaman and Nicobar Islands have been declared as two of the 218 endemic bird areas of the world. Port Blair, the capital town offers water-based activities like snorkeling, scuba diving, sea-cruises, and glimpses of the history and culture of the region. The Aberdeen Bazaar forms the centre of the town. Havelock island is a picturesque natural paradise with beautiful white sandy beaches, rich coral reefs and lush green forest. It is one of the populated islands in the Andaman group.
Neil Island is known as the 'vegetable bowl' of the Andamans. The settlers named the beaches after mythical characters of the epic Ramayana (Bharatpur, Laxmanpur, Sitapur, Ramnagar etc).  You can walk the whole island in about two hours. Lalaji Bay beach is a beautiful, sandy beach on the west coast of Long Island. One has to take a boat from Rangat jetty to reach there. Situated in north Andaman, Diglipur provides rare experience for eco-friendly tourists. The place is famous for its oranges, rice, forest wealth and marine life.
Baratang island between South and Middle Andaman has beautiful beaches, mangrove creeks, mud-volcanoes and limestone caves. Forest and PWD guest houses are available.  A couple of private accommodations are also available.
Lakshadweep
Located some 400 km off India's west coast into the Arabian Sea, Lakshadweep is known for its exotic and sun-kissed beaches and lush green landscape. The name Lakshadweep in Malayalam and Sanskrit means 'a hundred thousand islands'.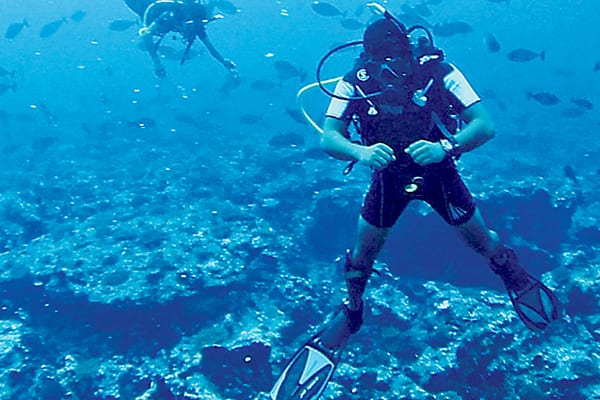 India's smallest Union Territory Lakshadweep is an archipelago consisting of 36 islands with an area of 32 sq km. It is a uni-district Union Territory and is comprised of 12 atolls, three reefs, five submerged banks and ten inhabited islands.The islands are typically accessed from Kochi (Kerala) and a permit is required to visit (for all tourists including Indians). The capital is Kavaratti and it is also the principal town of the UT. It doesn't have its own airport and can be accessed from Agatti, the nearest airport. In fact, Agatti is the only island belonging to the Lakshadweep group with its airport that makes the island destination extremely accessible from major parts of the world. Scuba diving and glass bottom boat rides are incredibly famous on Agatti island.
Also known as Bunnagara in the local language, Bangaram island has a population of only 10 and just one beach resort,The Bangaram Island Beach Resort which was inaugurated in 1974. One can go canoeing, kayaking, water skiing or windsurfing. There are also provisions for diving and snorkelling.
Minicoy island was earlier the part of Maldives group of the islands until it was acquired by the Republic of India. It is known for its vibrant coral reefs, quaint white-sand beaches, luxury beach resorts and also for its dance tradition, known as the lava dance.
The islands are well connected by regular flights from Kochi. Helicopter transfer is available from Agatti to Kavaratti throughout the year. Lakshadweep has a tropical climate and it has an average temperature of 27° C – 32° C. October to March is the ideal time to be on the islands.
Fiji
Fiji is an archipelago of 333 sun-kissed, picture perfect islands tucked away in the South Pacific, close to Australia and New Zealand. Home to the recently upgraded international airport, the multi-cultural town of Nadi is the gateway to Fiji. When you land at the Nadi International Airport, you are greeted with smiling faces that chant 'Bula'. Bula (pronounced as boolah) is a word in the Fijian language that literally means 'life' and is most commonly used as a greeting. Offering perfect weather all year-round , this sun-kissed collection of more than 300 volcanic islands surrounded by azure-seas and coral atolls, Fiji is home to the friendliest people on the planet. You can choose to relax and unwind in one of Fiji's world-class spas and beaches or indulge in the many activities and experiences – skydiving from 14,000 ft over coral reefs, or testing your skills on Fiji's most iconic wave, the world-famous Cloudbreak, from dirt biking to river rafting, scuba diving, trekking and cultural tours. Jet skis, SUPs and Hobie cats are readily available at most resorts. For land-based thrills, there are off-road vehicle tours, skydiving and zip lining.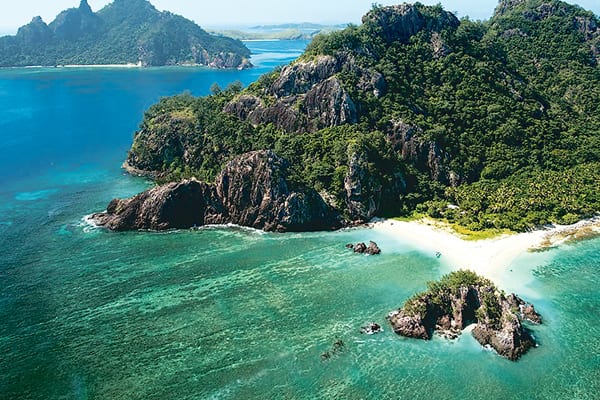 At nearby Denarau island, there are excellent golf and tennis facilities plus a huge waterpark for the young and young at heart. You can also set sail from Port Denarau for a day trip to the nearby Mamanuca (featuring in the classic Tom Hanks film Cast Away) and  theYasawa islands. Visiting the Yasawas was once limited to cruise ships, and passengers were forbidden to actually set foot on these islands until the 1950s. Thanks to a government ecotourism initiative, the islands are now dotted with accommodation options. In the northern part of the island group, the limestone caves of Sawa-i-lau are a great destination for a day trip. Or, for the more adventurous, you can dive with manta rays on Drawaqa island and snorkel with sharks on Kuata island.
Seychelles
Seychelles is a archipelago country in the Indian Ocean. In 1971, with the opening of Seychelles International Airport, tourism became a significant industry.  Mahe is the largest and the most developed island in Seychelles, home to the capital city of Victoria. Praslin, La Digue, Fregate, North Island, Silhouette Island, and Cousine Island are a few of the other islands in the archipelago. Spectacular reefs, colorful corals, and exciting shipwrecks, all make diving and snorkeling, popular activities in Seychelles.Seychelles has two types of islands – coral and granite which feature UNESCO-listed jungles and thriving coral reefs. Almost half the total land area of these equatorial isles is protected, and many of the islands lie within fish-rich marine sanctuaries. The Seychelles also feature some of the planet's richest fishing grounds, making this a top destination for anglers. On Mahe island, Cousin Island Special Reserve is a superb example of eco-tourism. It is one of the best protected sites for nesting Hawksbill turtles and the highest density of lizards per hectare in the world. It is visited by 300,000 nesting seabirds each year and home to five endemic land birds.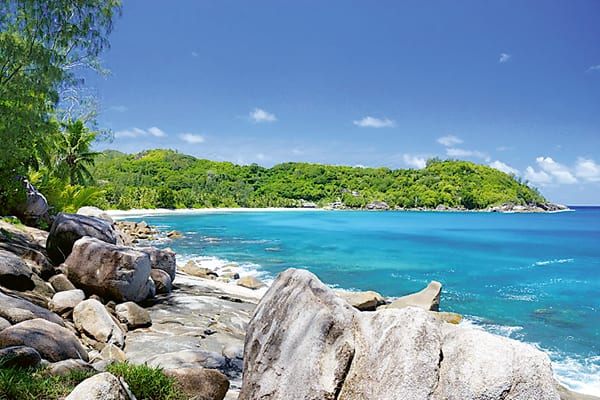 On Praslin island, enjoy the unique chance to encounter over forty thousand giant clams and to learn about their feeding and reproduction habitats at the Black Pearl Ocean Farm. Black pearls are also cultured here in the first and only pearl farm in the Indian Ocean region. With the temperature always remaining between 24 °C and 32 °C, the island nation can be visited at any time of the year. Top domestic and international airlines like Air Seychelles, Jet Airways, Etihad Airways, Emirates, and Ethiopian Airlines operate more than 150 flights to Seychelles from New Delhi every week. The airports at Mumbai, Kolkata and Chennai also operate regular flights to Seychelles.
El Nido, Philippines
While the spectacular views from the Airswift flight from Manila to El Nido, prepares a traveller to what lies ahead, island hopping on a traditional bangka boat is an exhilarating experience of discovering the natural beauty of the destination. There are stunning views all around as you pass through the rocky islands dotting the sea. The towering Cadlao island is the largest in El Nido, while Helicopter Island does look like a chopper has landed on water. The highlight is definitely the astoundingly beautiful small lagoon, which can only be accessed in a kayak because of its small entrance. The emerald green waters of the lagoon are surrounded by vegetation like cactus, wild orchid and vines. The big lagoon was earlier a cave, and the sights of stalactites and stalagmites are indicative of this. This area supports a lot of marine species and commercial fishing is not allowed. The Cathedral Cave is a highlight of island hopping in El Nido, and the cave gives one a feeling of a sacred space crafted by Mother Nature. The spectacular rock formations, look like spires of a cathedral and are a sight to behold. Visitors have to wade through waist deep waters and crawl through a small opening to enter the Cudugnon Cave. This was an ancient burial site and artefacts have been found here. This mysterious cave was also used by the locals to hide from Japanese during World War II. A popular destination for snorkelling is the Snake Island, which has a naturally L shaped sandbar.
Guests can take a break from island hopping and enjoy a picnic lunch at Entalula Beach Club. Waiting for the food to be served they can go for a swim, do snorkelling or just laze around on a hammock. El Nido is a great destination for minimum three nights and attracts repeat visitors because of its untouched natural beauty and many activities.
Santorini, Greece
The whole complex of the Santorini islands is still an active volcano and probably the only volcano in the world whose crater is in the sea called a Caldera. Also known as Thera in Greek, Santorini islands have a growing reputation as a "wedding destination" for couples not only from Greece but from all over the world. A trip to Santorini with the other half is a dream for anyone who has seen at least one photo of the island's famous Caldera!
Firá is the picturesque capital of the island; perched high up on the edge of the Caldera, it looks like a marvellous painting. Firá, together with Oia, Imerovígli and Firostefáni located high above on a cliff, make up the so-called "Caldera's eyebrow", the balcony of Santorini, which offers an amazing view of the volcano. Other famous smaller villages are Akrotíri and Méssa Vounó, with their famous archaeological sites, Pýrgos, Karterádes, Emporió, Ammoúdi, Finikiá, Períssa, Perívolos, Megalohóri, Kamári, Messariá and Monólithos: some of the villages are cosmopolitan some more peaceful; they are surrounded by vast vineyards; whitewashed cliff-top towns with castles affording amazing views out over the Aegean. Soaking up the villages' distinctive traditional atmosphere is a very rewarding experience.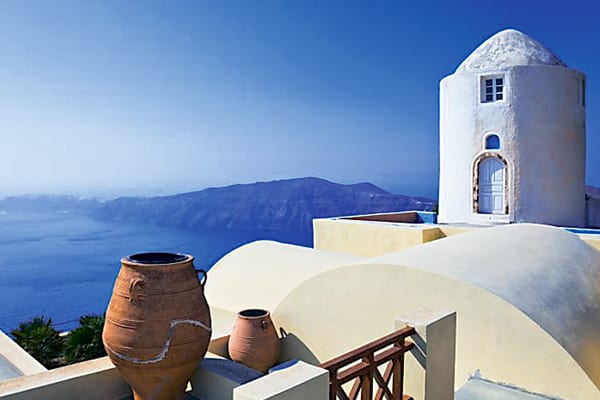 Treat your taste buds to some famous traditional products like cherry tomatoes, white egg plants, fava, caper and "hloró tyrí", a special kind of fresh goat cheese found on the island, or try some of the exceptional wines produced from grapes grown in the volcanic soil of the island.
Venture into Santorini's seaside treasures and enjoy deep blue waters and beaches with white, red or black sand or volcanic pebbles, spectacular rock formations and impressive lunar landscapes. Visitors can easily rent one or hop on a day cruise at Athinio, Gialos or Ammoudi, and take a tour around the Caldera. Discover the churches built into caves and the old stairs used for mining excavations along the cliffs. On the small island of Palia Kameni, if you dare, you can dive into the thermal waters that form a volcanic spa.
Bora Bora, French Polynesia
Bora Bora, is famous for its lagoon which resembles an artist's palette of bright blues and greens. The island has lush tropical slopes and valleys of Mount Otemanu that blossom with hibiscus, while palm-covered motu circle the illuminated lagoon like a delicate necklace. Bora Bora's perfect white-sand beaches give way to blue waters where tropical-colored fish animate the coral gardens and giant manta rays glide leisurely past.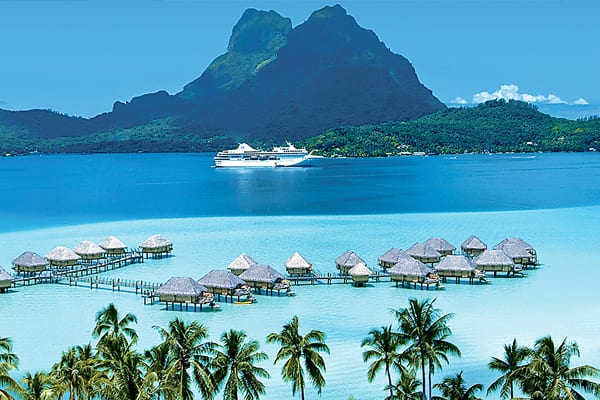 The overwater bungalow concept is a can't-miss element of Bora Bora. From rooms, suites of floating villas, lose yourself in the colours of the lagoon framed by unforgettable sunsets. Designed and built in traditional Tahitian style, these bungalows offer direct access to the lagoon. There are many opportunities to explore the lagoon, the motu, and the ocean while scuba diving, helmet diving or viewing from a glass-bottom boat. Other options include fishing, cruises, jet ski, kite boarding, paddle boarding, outrigger canoe rides and more. Or visitors can hire a four-wheeler, going for a hike or an unforgettable helicopter tour. Bora Bora is also known for world-renowned shopping for local and international original art, Tahitian pearls and precious wood handcrafts. The resort and island restaurants on Bora Bora are as famous as the island itself. Each of the resort and hotel restaurants offers world-class dining with magnificent lagoon views, while regular after-dinner Polynesian shows feature the island's best musicians and dancers.
Bora Bora is served by Air Tahiti with frequent 50-minute flights to Bora Bora from Papeete, or from Moorea, and daily 20-minute flights from Huahine and Raiatea.
Brac, Croatia
Brac is a Croatian island in the Adriatic Sea. It's best known for the white-pebble beach Zlatni Rat (Golden Cape), a favoured windsurfing site outside the resort town of Bol. Supetar, the island's main town, offers a horseshoe-shaped beach and ferries to and from Split. Brac is one of the easiest islands to get to from Split which is why visitors can even do it as a day trip from Split.
It is separated from the mainland by the Brac Channel, from the island of Solta by the so-called Splitska Vrata (Split Gate) and from the Island of Hvar by the Hvar Channel. The highest peak of the island, Vidova Gora (Vitus' Mount) (778 m), is also the highest peak of all Croatian islands. Brac also has an extensive and fascinating history as it has been inhabited since Neolithic times. Brac is most famous for its beautiful white building stone which has been exploited since ancient Rome. Diocletian's Palace in Split was built from Brac stone.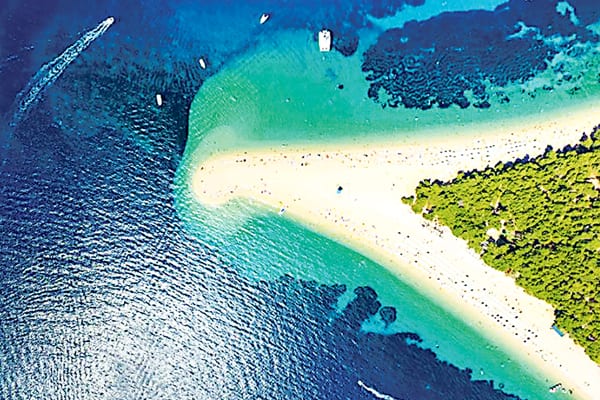 Brac is a relatively dry island; you won't find the lush vegetation of, say Korcula or Hvar, but there are some lovely spots along the rocky shores and great scuba diving from Lucice Bay. The olive oil in Brac is made from a rare variety called buhavica and there's over a half-million trees. Olive cultivation dates back to the Venetian years. Skrip is an easy walk or drive from Splitska and is a fascinating stop for history buffs. The medieval town center has prehistoric walls and an Island of Brac museum. Pustinja Blaca, once famous desert of monks, and later observatory, is situated on the east part of the valley on the south side of Brac island.