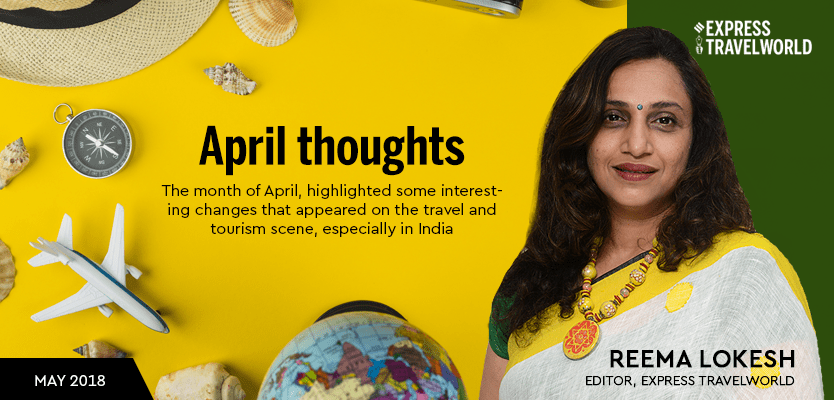 The month of April, highlighted some interesting changes that appeared on the travel and tourism scene, especially in India. From the much discussed 'Monument Mitras' (shortlisted for developing tourist friendly amenities at 95 monuments) to the recently conducted IATO elections, from Qatar Tourism making inroads in the India market, to airlines like flydubai who consider the Indian aviation scene robust for further growth, there have been few noticable changes and discussions in this service industry.
There is a lot written and said about the monument adoption plan, which is technically not a new concept. Corporate houses have stepped in and taken responsibility, but this time there was repeated analyses on the how's and why's of the plan. "There is just too much I have spoken and said about the Monument Mitra plan and I am glad you are speaking to me about few other things that are in the pipeline," said K J Alphons, tourism minister, in an exclusive conversation. The ministry of tourism is clear that it wishes to bring quality tourism into the country and is planning a focused tours road show in key cities of USA from June 17 to 22. China is yet another destination on the immediate radar. Alphons further added that, the ministry is working on promoting India as a strong storyline with focused themes. From Yoga to Ayurveda, the plan is to speak about India's beauty and potential through one minute videos.
On the international scene, Qatar Tourism has awakened to the India outbound opportunity. The country's national airline already has a strong presence in India and the trade looks at this development as promising especially for the MICE sector. Continuing the conversation on the airline sector, flydubai has expressed interest to further spread its wings in underserved routes. The North East sector of India is what the airline finds promising and it is all ready to support the Government of India in its UDAAN plan.
Our cover story this issue is on the potential of monsoon tourism in India. Tour operators can truly look at seasonal tourism closely and promote and project some unique itineraries for their clients to explore. Their hospitality counterparts would be only glad to assist I guess. So happy trekking…
Reema Lokesh
Editor