Investing in the heart of Incredible India
This year's Madhya Pradesh Travel Mart (MPTM) sought to promote the state as a year round destination and to attract private investors to invest in hotels and tourism amenities
The fourth edition of the Madhya Pradesh Travel Mart (MPTM) was held from October 27 to 29, 2017 at Hotel Lake View Ashok in Bhopal. Primary objective of the Mart was to market and promote Madhya Pradesh as a year round destination and also to drive investment to the state. The event was inaugurated by Surinder Patwa, minister of state with independent charges for culture, tourism, farmer welfare and agriculture development, Government of Madhya Pradesh. The event also saw the launch of a book titled, 'Tourism – Everyone's Business', authored by Gour Kanjilal. Over 200 national and international buyers and around 100 domestic exhibitors took part in the event, with B2B sessions scheduled over the two days.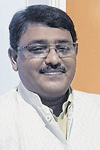 Madhya Pradesh, known popularly as the heart of Central India, is working hard to drive private investment into the state's tourism and hospitality sectors. Speaking on the sidelines of the fourth edition of MPTM, Hari Ranjan Rao, tourism secretary, Madhya Pradesh, said, "We made a humble beginning four years ago and now we are gathering steam. Madhya Pradesh has everything except the Himalayas and the sea coast. We have large backwaters as well as a dozen water bodies which we plan to bring into the tourism ambit. MP has  a rich diversity and the challenge for policy makers is to channelise this properly."
MP was the first state in India to set up a tourism cabinet. This is pathbreaking as it gives the tourism department ample freedom and a mandate to create the best possible destinations. The state was also the first to set up a separate Tourism Board with the chief minister as chairman and the tourism secretary as managing director. The Madhya Pradesh Tourism Development Corporation (MPTDC) has a new chairman, Chhavi Bhardwaj. It is the most dominant player in the tourism segment in MP with around 73 hotels, including jungle lodges,business hotels, etc.
MP Tourism has drafted a new policy for attracting private investment into the state. Rao said, "Land is the biggest cost of a new hotel project and since we have a lot of land, we are offering it at a very low reserve price. We have got very good response for this from around 22 to 30 hospitality brands. We are also offering our forts and palaces to private players to convert them into heritage hotels with a reserve price of only Rs 1 lakh. Our belief is that instead of charging them a high price, we want them to invest the money in refurbishing the property. This is a change in our approach and thinking."
Orange County's next property is coming up in Mandu. Mahindra Holidays and local brand Pugdundee also have upcoming hotels. The Grand Bhagwati group is also building a convention centre in Indore. The Oberoi group is also building a new property in Khajuraho.
The state has also worked on providing quality infrastructure. It has set up wayside amenities called Midway Treat which will be operated on the franchise model, the first state in the country to do so. Very soon the entire state will have these Midway Treat outlets, informed Rao.
"We are also inviting interest from water activity operators. The tourism department can now issue licences to water sports operators after due diligence is conducted. Around 30 operators have already applied for licences to start mini cruises, houseboats, etc," he stated. MPTDC's jetties, boathouses, houseboats, etc, will be offered to private players operating water activities. Sixteen large water bodies have already been identified for starting these activities. MP is also actively promoting itself overseas. This is the first time the state will be doing a roadshow in the USA, to San Francisco, Newark and two other American destinations.