The pursuit of a memorable gastronomical experience has given birth to culinary tourism across the world. With more travellers picking destinations based on their taste buds and cultural curiosity, this cover story explores how India's gastronomic experiences can attract the world traveller
Over 118 million real traveller reviews on Booking.com revealed that while choosing their next travel destination, the majority, 75 per cent of global travellers would likely travel somewhere known for its great food and drink. 79 per cent of travellers between the ages of 18 and 34, known as the millennials, consider travelling somewhere that's specifically known for its gastronomic delights. Almost one in 10, eight per cent people have travelled in the last year to fulfill their hobby of fine dining and seven per cent for their passion for wine. Millennials are most keen on seeking out food passions whilst travelling, with one in 10, i.e. 10 per cent combining their love of street food with travelling, compared to only four per cent of those travellers aged over 55. This validates the growing interest of travellers towards destinations which promise to be a foodie's delight.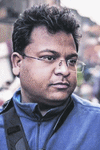 Speaking about the growing trend of culinary tourism, Rajeev Goyal, founder, India Food Tour, shares, "As per the old Indian mythological saying, you can understand people by their food and therefore it is the best way to explore a country. Moreover, food has always been the spine of the tourism industry but  only recently it has taken a front seat. Since it cannot be experienced virtually like other tourism widgets such as monuments, museums or historic sites, it has never been on the agenda for tourism promotion."
Among over 118 million real traveller reviews on Booking.com, food stood out as a clear passion for many. The data revealed that Asian and South American flavours feature highly in the top ten foodie favourite destinations with Greece, Australia and Spain on the list. Indian cities which attract maximum number of foodies are Amritsar, Hyderbad, Delhi, Mumbai and Bengaluru. Another research by TripAdvisor revealed that 74 per cent travellers have either planned or intend to plan a gastronomic getaway soon to a destination specifically to try the food it is famous for. 71 per cent have plans to visit a particular restaurant while 60 per cent of Indians intend to plan a gastronomic getaway in 2018. Goa (49 per cent), Kerala (35 per cent) and Lucknow (33 per cent) were voted the top domestic destinations that Indians would love to visit specifically for their cuisine.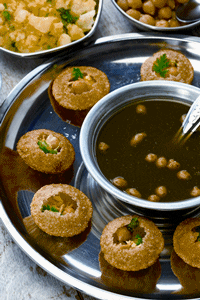 At a recent culinary event in New Delhi, Rashmi Verma, secretary, ministry of tourism, said, "Today's tourists are not interested in only sightseeing. They want to experience diverse cultures, variety of festivals and different cuisines of the country. We have the opportunity to make India the cuisine capital of the world as we have the maximum number of curries and cuisines." She added that 'Incredible India 2.0' is using cuisine as a niche product. As many more food festivals and road shows are held abroad, MoT would invite chefs to participate in the event and raise awareness about these cuisines.
India's culinary journey
Agra Walks promotes culinary tours and heritage walks. Speaking about what sets them apart, Megha Singh, director, Agra Walks, shares, "We offer everything from the very famous local Agra Chaat, a cuisine in itself to parathas, kebabs, chicken tikkas, rolls, bedhai with aloo ki sabzi (which is a staple breakfast in Agra) and sweets including the Agra ka Petha. As of now, we run our food tours in Agra, Delhi, Jaipur, Udaipur, Lucknow, Kerala, Chennai and Hyderabad. In fact, we started our very first food tour in Agra on recommendation on one of our travellers who wanted to experience the local cuisine of Agra. Now-a-days, travellers find it an important part to have culinary experiences as a part of their itineraries in order to understand the culture of the place better."
Goyal whose company India Food Tours provides customised food trips matched with adventure, sight seeing among other things, feels that talking about a single city of India is completely unfair. He states, "Each province in our country is rich with culinary diversity and history. India is truly the only country in the world with such diversity in food cultures and curators. But if one has to name a city, it has to be Delhi, the national capital region."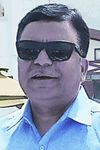 Speaking of Delhi as a culinary destination, Sudhir Sobti, chief manager, public relations and publicity, Delhi Tourism Development Corporation, shares, "Culinary tourism has become a crucial aspect in attracting tourists as many are now driven towards local cultures and food. Delhi being the capital city is a hub of many cultures and old traditions which has given rise to varied food habits which can be found on the streets of Old Delhi or hotels across the city. Food has always been an integral part of travel and it can be an important tool in attracting both domestic and international tourists. Delhi Tourism organises several events based on the food cultures over the year. Many locals gather to taste the Indian delicacies from across the country. The tourism board has also associated with Delhi Walks which offers special food tours covering Old and New Delhi areas. The Delhi Tourism website has a special segment for 'Eating Out' which elaborates where one can find the best food experience in the capital city." All these efforts showcase a destination for its food and help tourists undertake a unique journey.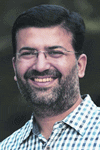 Similarly, Anubhav Sapra's hunt for authentic food and love for Indian culture gave birth to Delhi Food Walks in 2011. He has been organising specialised walks in such city corners that enable people to immerse in a local experience through the city's food. From a breakfast trail, discovering Old Delhi to a special cooking session in an Indian kitchen, he has slowly expanded the range of experiences without diluting the attention to his clients. Sapra mentions, "The world's curiosity about food is surely increasing over the years. My very first food walk in Paharganj gathered 30 people who were keen in experimenting the local food. Now we host guests from all across the globe who book tours in advance and never hesitate to try street food."
The walks are not restricted to eating at these restaurants but also extend to talking about the local culture, food origins, spices used and engaging with the community. Sapra makes sure that travellers are also made aware about the history of the shop and area in which it is located. "We also take them to the local markets. While visiting Khari Baoli, Asia' s largest spice market, many are excited to see some of the Indian spices for the first time," he adds.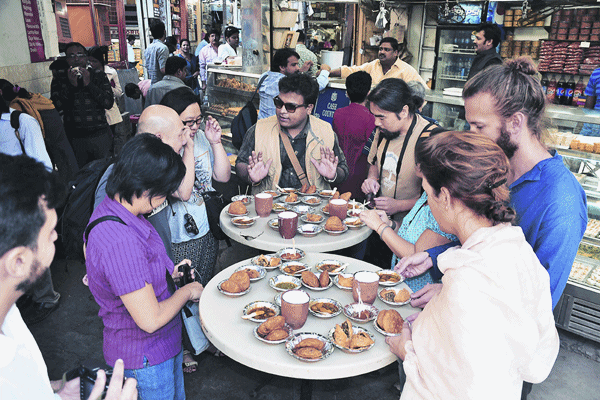 Singh also believes that the trend is now changing from 'wanting to eat at fancy five star hotels/ restaurants' to 'trying something at the roadside which is more local and authentic'. She adds, "India has such diversity cuisine wise that there can be just an entire itinerary for the different food experiences, which I am sure a lot of nations lack. Now a lot of travellers come with an open mind (mouth, as you may call it) to experience the food culture in Agra. Also given the fact that a lot of people now globally are following the fashion being a vegetarian or a vegan, for them India is the country to be in. It caters from vegetarians to hardcore non-vegetarians. It is a paradise for all categories, which isn't possible in any other country. So yes, it surely has an upper foot when compared to other nations."
Creating new experiences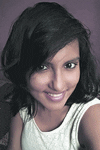 Traveling Spoon connects travellers with local, vetted hosts to share the joy of a homemade meal in their home and learn about their cultural and culinary traditions passed down through generations. The US company has been able to perform well in India as many international tourists want atleast one such unique experience while travelling to a new country. Neha Kuriakose, regional community lead, Traveling Spoon, states, "Connecting local authentic tour experiences is a fantastic way of understanding the cuisine and culture of a new place. These experiences give travellers a closer look into the local cultures through their home kitchens. Over time people have realised that Indian food is more than butter chicken and naan bread. They are curious to learn more about the everyday culture and food habits than just dine at fancy restaurants." The hosts serve authentic Indian cuisine, often cooking age old recipes which has been passed down by generations. Such cooking sessions are not only lively but also add more value to the experience of a foreign traveller. Many times the guests go back and experiment with Indian dishes that they learned here as many spices are already available in major parts of the world.
Goyal adds, "There is a large amount of audience who wants to explore the real India, the trend that we  notice emerging in the near future are tours with chefs, food tours, tea tasting, Indian cooking class, spice tours among others. We are are also working on Indian tea tasting and Indian wine tasting, Indian spice farm visits, farm stay to expand our experiences."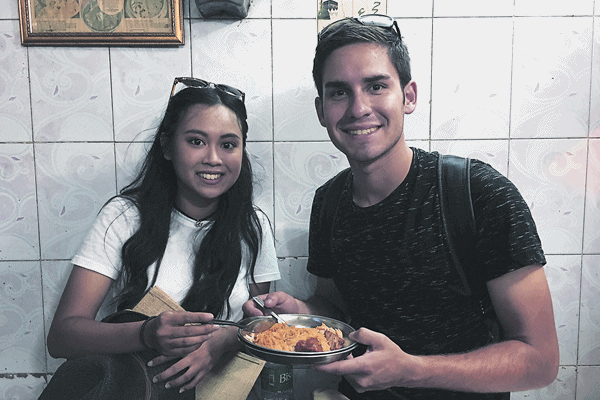 Be it food tours across cities or food walks in historic areas, the traveller continues to demand more in terms of experience. "Cooking classes are a growing trend and liked by our clients. One of our hosts in Mumbai knows 20 different cuisines, each distinct from one another and shares all kinds of stories of how she learned them. Another host in Kochi cooks seafood dishes in the backwaters in Tawara which is very popular among tourists. Often hosts prepare dishes that are cooked during celebrations to give the travellers a taste of Indian culture. This creates an immersive experience where they interact and learn more about India through these families. Our clients enjoy these experiences as it gives them a better outlook about the country," mentions Kuriakose.
Sapra has also created a special category called Mum's Kitchen where travellers get to cook along with his mother. He shares, "It is a very personalised experience as they see how the dishes are made and also lend a hand in the kitchen. The number of member is restricted from two to four so they are able to enjoy the process and also make a new memory."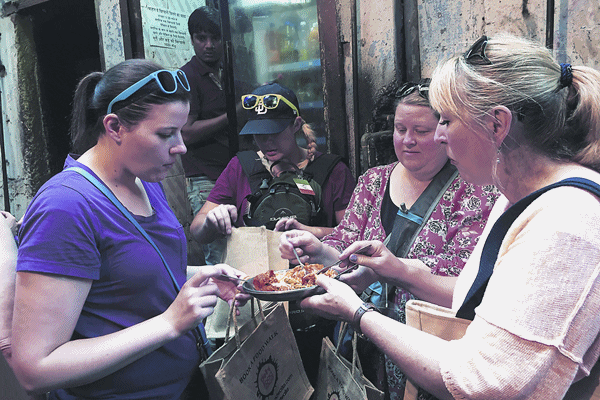 Festive feast
"During Ramzan, the entire Old Delhi area is lit up with places offering authentic cuisine. We took it as a great opportunity to explore the food during festive time and started Iftar walks. I hunted for vendors who specialised in festive dishes like kheema parantha, kebabs, etc, to give an authentic experience to the travellers. Now the walks are a massive hit and many locals also gather to try the food. I also tried a Sehri walk which started at 11 at night till four in the morning which was really appreciated by people," said Sapra. He specifies that one has to be very careful while catering to international clients. "Many people are not used to the water or local ingredients. Thus while picking vendors we had to be sure the food was not too spicy and made with fresh ingredients. There has never been an issue because all international clients are happy trying the food from local shops and always indulge in the experience," he added.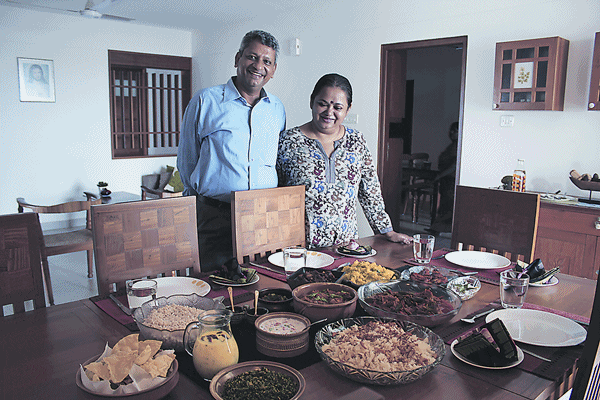 Growing demand
Traveling Spoon is present in 25 countries and people from all over visit India and book these sessions. Kuriakose elaborates, "Our major clientele is from the US, Europe and Australia. The US and Australia are matured markets where the travellers are looking for different experiences that take them to the depths of a country's culture."
Delhi, Mumbai, Goa, Kochi are some of the cities that are doing very well on Traveling Spoon. Kuriakose explains, "With some unique experiences in Kerala, Goa and Chennai we have seen more bookings come in. We have seen a trend where many Japanese travellers come to Chennai, learn the local cuisine and prepare these dishes back home. It shows how Indian food culture is spreading once the travellers are back in their home countries."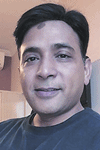 Ravi Gosain, MD, Erco Travels who handles multiple foreign tours says culinary tourism is not a huge segment in the India market. "We organise special cuisine tours in restaurants, cooking sessions at homes and even food walks around the city. Our tours take people to local market where they even source the ingredients of the food they will be preparing later. The tour takes about four to five hours and almost 90 per cent of the people thoroughly enjoy it. However, there has not been a huge demand from the sector." He says, "Our main markets are Europe and the US. The European travellers are from culturally rich countries like France and Spain. Therefore they are looking for such unique immersive experiences which tell them more about a culture."
While the tour operators are seeing limited demand, individual players are getting queries from across the world. Sapra who was listed on The New York Times says his major markets are the US, UK and Australia. His most famous Old Delhi Walks offers both breakfast and evening trails catering to different age groups.
Culinary tourism might still be a small chunk of the tourism pie in the country but it is slowly gaining the attention of international travellers. With individual players promoting specialised tours through the  digital medium, it is not difficult to find a unique experience. As the government plans to promote culinary tourism as part of its 'Incredible India 2.0' campaign the sector might gain more momentum in the coming years.