PHILINDEX 2014, has opened up new avenues for tour operators from Tier II and III cities in India. With Visit Philippines Year-2015 just around the corner, this event will boost the inflow of travellers from the Indian subcontinent By Akshay Kumar

For long, Philippines has been a destination which had not yet tapped the entire Indian market. Manila and Cebu have emerged as a MICE destination, but the rest of the unexplored destinations like Boracay, Davao city, Palawan are still not much popular amongst the Indian trade fraternity. The tour operators from the Tier II and III cities were not confident of selling the products. Mayank Maheshwari, director, Rainbow Vacations, a travel solution from Jaipur says, "In a market like Jaipur, people visit destinations which have been popular through word of mouth. Philippines is still not a destination which people are aware of in the leisure segment."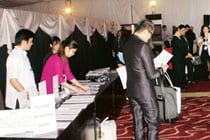 Department of Tourism (DOT) Philippines, recently hosted the fourth edition of Philippine India Exchange, 2014 (PHILINDEX 2014) to strengthen travel trade ties between both the nations. The event was hosted in Sofitel Philippine Plaza Manila on September 23, 2014 and also included a post fam tour for better understanding of the destination. The event witnessed participation from around 19 Indian buyers and 40 sellers from Philippines who came together for a focused one-on-one business prospects. The event witnessed buyers from all different parts of India, which also includes the Tier II and III cities like Amritsar, Jaipur, Nagpur, Thane, etc. Sandiip Srivastav, director, Youdian Business Solutions from Thane, said, "In my opinion, Philippines has the potential to give destinations like Hong Kong, Singapore, Malaysia and Thailand a run for their money. The country has little bit of everything for everyone, and the quality is excellent."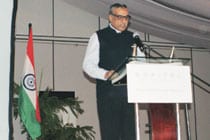 "This is my first PHILINDEX, I feel it has been very informative. The tourism department has carefully selected the sellers. I am looking into the luxury market, especially in Manila and the other islands. We cater to FIT's, HNI's and the high-end travellers. The destination seems to be very interesting and high on its quality. We will love to promote this destination," says Pankti B Trivedi, general manager, Sunday Pure Holidays.
JT Ramnani from Vensimal World Travel Agents, commented, "It was a unique experience well organised by Philippines Tourism. Our group was given an opportunity to visit Boracay Islands to get an onsite knowledge of the island along with visits to attractions, hotels and Indian restaurants and water activities."
Visit Philippines 2015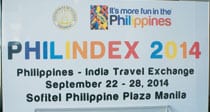 DOT, Philippines has also announced 2015 as 'Visit Philippines Year' (VPY 2015). Philippines has witnessed a positive trend in Indian tourist arrivals, with nine per cent growth in July 2014. The Indian market generated 29,981 tourists during January-June this year as against 28,124 during the same period in 2013, thus recording a growth of 6.60 per cent. With numerous major events lined up in 2015, Philippines includes India as one of its key markets.

Glen Agustin, chief tourism operations officer- market development group, DOT, Phillipines stated, "This is the fourth edition of Philippines India travel exchange, a very special edition for us. The event has come as an opportunity a,s next year we are celebrating the 'Visit Philippines Year- 2015'. Our event has a unique format, where buyers are seated and sellers have their scheduled appointments. With this format every buyer gets to meet each seller and have an effective meetings. PHILINDEX 2014 has more number of participants than the previous editions. We have also arranged a technical tour to the Pagsanjan waterfalls and also a post fam tour to Cebu, Boracay and Davao City for tour operators to understand the destination. We will surely see a major increase in the Indian tourist footfall in the coming year."

Speaking about VPY 2015, Maria Corazon G Jorda-Apo, officer-in-charge, market development group, DOT, says, "We see India as a potential market, as the population is huge. We are promoting luxury tourism and shopping tours for the Indian market as the number of HNIs in India is very large. 2015 is a big year for us as it is Visit Philippines Year. We have many major events happening in our country. In January 2015, Pope Francis will be visiting Philippines. We will be hosting the Asia Pacific Economic Cooperation (APEC) ministerial meetings and leaders' summit in November, which is one of the biggest MICE events in our list."
---
WHAT THEY SAID
Buyers
Povelraj K, manager-sales, Vactions Exotica, said, "We are looking at all possiblities to promote this beautiful destination. Earlier we were not much aware about most of the destinations in Philippines, now I feel we have more clarity. We are looking for a travel agent who can offer all the products under one roof."
Ashwini Kumar, managing partner, Dove Travels, said, "This is my first visit to PHILINDEX and I have learned a lot. This country is also affordable for the budget Indian traveller. I will recommend this destination for the luxury and the honeymoon segment as well and request the Philippines tourism board, India representatives to host a roadshow in my hometown Punjab."
Mayank Maheshwari, director, Rainbow Vacations, said, "PHILINDEX 2014 has been a good experience for me. The destination has a lot for everyone right from family, honeymooners, young travellers, etc. Rajasthan is a desert state and tourists from this state look for beach destinations, so it will be easy for me to promote."
Rishiraj Singh Anand, jt. managing director, Jagsons Travel , said, "We have been selling this destination from the last 15- 20 years, the demand has been growing. This country is also well equipped for MICE."
Sellers
Christine Shroff, marketing director, Shroff International Travel Care, said, "We are attending this event since the past four years. We get 60 per cent of our business from the India market. We have seen a 30 per cent increase in Indian travellers coming to Philippines and it is increasing."
Jagmohan Tamber, general manager, Tamber Travel and Tours, said, "We promote India as a tourist destination in Philippines. The hosted buyers were selected carefully, we had effective meetings with all the buyers."