India's culinary culture is as diverse as its cultural heritage. Exploring the finer nuances of India's food heritage would take a lifetime for any traveller. However, a visit to the cuisine capitals of the country would give them an insight to the best of India's rich and evolving food culture. While cities like New Delhi, Lucknow, Hyderabad, Kochi and Kolkata are popularly regarded as the country's cuisine capitals, every destination has its own food specialities that are distinctively their own. Many modern day chefs have added their own innovative touch to the traditional fare for the new age consumers.
In the north, the Kashmiri cuisine has evolved over hundreds of years, and strongly represents several influences such as Central Asian, Persia, and the north Indian plains. The most notable ingredient in Kashmir cuisine is mutton (lamb). Wazwan, a multi-course meal in Kashmiri cuisine and a matter of pride in Kashmiri culture and identity, includes dishes that are meat-based (lamb, chicken, fish). Amritsar is a great city to experience the best of Punjabi cuisine. Some favourites include stuffed paranthas and dairy products (in particular paneer), maa ki dal (lentil) and sarson da saag (mustard leaves). Uttar Pradesh has also been greatly influenced by Mughal (Mughlai cuisine) cooking techniques which are very popular worldwide. Lucknow is home to some of the best traditional chefs. Lucknawi biryani, Tundey kabab, kulcha nihari are the most famous dishes from the capital of UP that have attracted visitors to the city to experience the food in its traditional eateries. In recent years Awadhi cuisine has been the fastest growing popular cuisine in the country.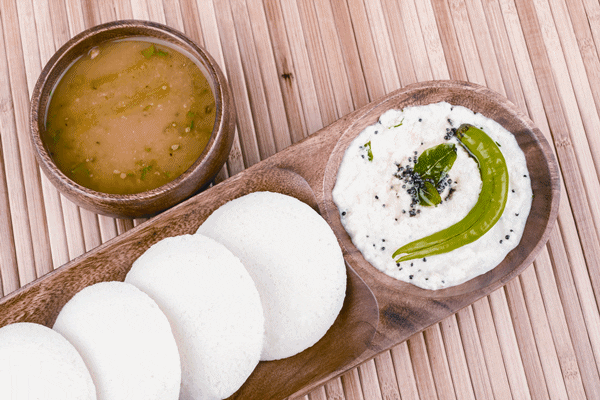 The cuisine of Madhya Pradesh is a confluence of tastes. True to its exquisiteness and taste, MP's cuisine has its influence from Rajasthani and Gujarati cuisines. It is observed that wheat and milk are the main ingredients in places like Indore and Gwalior, while in Bhopal, meat and fish dishes such as rogan josh, kheema, biryani pilaf, and kebabs which are spicy, are famous. Since the climate is dry throughout the year, typical snack of Malwa is bhutta ka kees and chakki ki shaak. The main appeal of Chattisgarh lies in its delectable sweets and namkeens that form an inseparable part of the cuisine. The food of Chattisgarh is primarily tribal cuisine, which varies with each tribe having its own distinct taste.
In the west, the cuisine of Maharashtra is widely influenced by seafood and coconut. The coastal region of Maharashtra boasts of Konkan cuisine, which is a combination of Malvani, Gaud Saraswat Brahmin and Goan cuisines, while the interior regions offer their own distinctive Varadi cuisine where dishes are made of besan (gram flour) and the non-vegetarian platter mainly consists of meat. Aurangabad offers rich and aromatic pulaos and biryanis cooked in mouth watering spices. In contrast, Pune which is the city of Peshwas and Brahmins serves delicately cooked Marathi food with low fat content. Mumbai is the food capital of the state and offers an entire range of Maharashtrian cuisine along with a harmonised combination of Christian, Mughal, Parsi and Gujarati cuisines. The sweet and spicy vegetarian fare of Gujarati cuisine is popular across the country. The traditional Gujarati Thali is the perfect example of the best in Gujarati cuisine. Goan cuisine offers a blend of the east and the west, from mouth-watering fish curry to the aroma of Feni, Goans have an assorted platter reflecting the traditional style of cooking.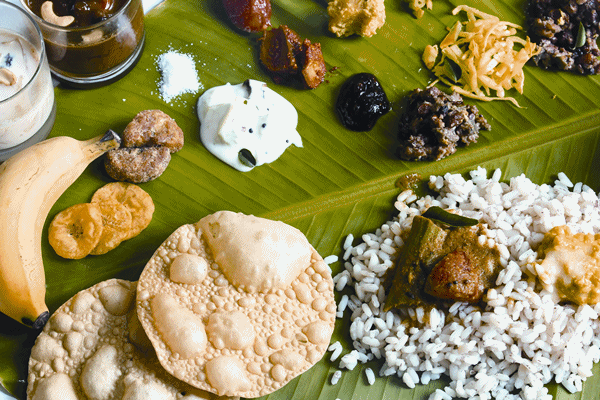 The southern states have a rich cuisine heritage. While Andhra Pradesh food is known for its heavy use of spices and chillies, Telugu cuisine has a distinctive identity of its own from Hyderabadi cuisine, the most famous of which is the Hyderabadi biryani. In Karnataka, masala dosa, rava idli, and medu vada are popular. Kerala cuisine has a wide range of dishes prepared using fish, poultry and meat. The traditional Kerala Sadhya, served on banana leaf is much liked by both locals and tourists. Appam, idiyappam and puttu are favourite breakfast dishes. In Tamil Nadu, sambhar, vathal kuzhambu, idli, dosa, uthappam and pongal are popular. Chettinad cuisine has a distinct taste of its own and is famous for its use of meat marinated in spices.
Bengali cuisine is well known for its fish preparations, which are cooked in various ways – steamed, stewed with vegetables, cooked in mustard/ poppy seed paste. Panchphoran (five spices) is a typical aspect of Bengali cuisine. Milk based Bengali desserts are also much savoured across the country, in particular rosogolla, rajbhog, ras malai, cham cham, etc. Oriya cuisine is not very different from Bengal , while dairy products are popular in Bihar.
The northeastern states have varied cuisine heritage that is constantly evolving. Khaar (a meat delicacy), duck meat curry and maasor tenga (tangy fish curry) are much relished. Boiled rice cakes wrapped in leaves is a favourite snack in Arunachal Pradesh, while in Meghalaya rice is combined with spicy meat and fish preparations. Mizoram's cuisine is a blend of Chinese and north Indian cuisines. Dried fish, prawns and ghost chilli are common ingredients of Naga cuisine, while Sikkim has its own unique dietary culture.