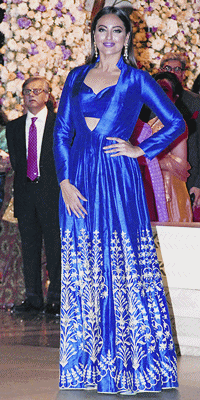 India's fashion scene is a kaleidoscope of colours, cultures and creativity. Each of India's state offers its own distinctive design spoken through a textile language, which is an integral part of the country's tourism offering. Since ancient times, textiles have been associated with important rituals and social occasions which has only evolved over the years. The country boasts of a handloom heritage through its fabrics, prints, techniques and patterns. These traditional methods and patterns have transformed in modern age creativity to offer a holistic fashion range to the world.
Majority of Indian designers have been using Indian handcrafts in all their work. Designers like Tarun Tahiliani, JJ Valaya or Abu Jani-Sandeep Khosla, Rohit Bal, Anita Dongre, Ritu Kumar of the senior cadre to Nachiket Barve, Rimzim Dadu, Dhruv Kapoor and Swati Kalsi among the younger brigade work with crafts to promote India's traditional fashion industry through their creations. These designers have successfully created beautiful embroideries, reinvented traditional styling, dyeing and printing techniques on handlooms to give it a new meaning.
Ritu Kumar, one of India's foremost designers is known to create clothing using ancient designs and traditional crafts. She works with fabrics like silk, cotton and leather to create stunning outfits rich in elegance filled with intricate embroideries. She had launched a campaign, 'Beautiful Hands' to encourage the purchase of garments with ethnic Indian style of embroidery. To match the campaign she launched a clothing line called 'The Revivalist' which integrates traditional Indian crafts into mainstream fashion.
Similarly Anita Dongre's brand 'Grassroots' is a sustainable luxury brand born to revive, sustain and empower India's crafts and artisans. They translate village art into design for the globetrotting woman, and showcase the handcrafted traditions of India in contemporary tales. She strongly believes that it will be a colossal loss of India's rich textile and craft heritage to disappear. She has been successfully able to establish the brand in the international market.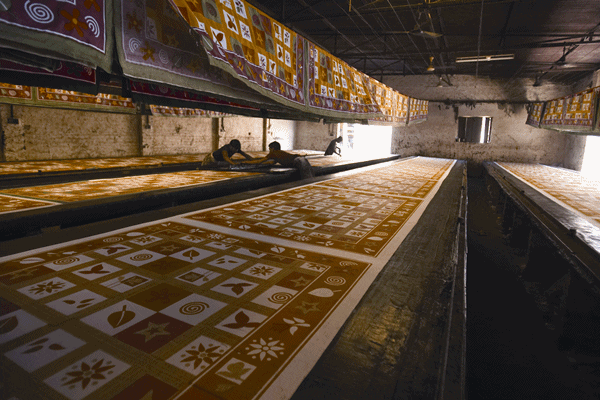 Delicate and intricate needlework on fabrics is able to express bold and passionate designs when models walk international runways. From simple gold and or red border sarees to everyday khadi wear, there have been multiple attempts to transform these handloom fabrics in affordable luxury. Keeping the tradition alive many new designers have come up with their own small stores across the capital city. Brands like Amrich, Kardo, Dhruv Kapoor, Rara Avis, Tokree, Eka, Soham Dave, Bodice, Raw Mango are all making a conscious effort to support India's crafts and craftsmanship.
Wendell Rodricks was one of the few designers to introduce eco friendly minimal design aesthetics in the fashion scene. He is known for his efforts to revive the long-forgotten tribal Goan Kunbi saree. Similarly Sabyasachi Mukherji continues to use traditional cotton, khadi, banarasi and handwoven fabrics in his designs. His 'Save the Saree' campaign once again brought forward the saree designs from across the states into the limelight. The entire proceeds go to the weavers of Murshidabad which showcases the commitments of India's fashion to India's fabric.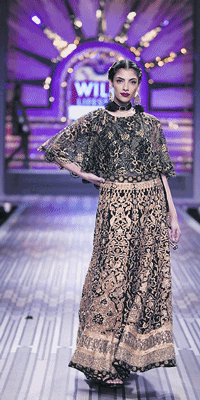 Another famous Indian designer who has been known to use several hand woven textiles in her designs is Neeta Lulla. Over years she has highlighted some very unique and traditional techniques in her work with recent one being Paithani. It is an ancient Maratha technique that creates beautiful silk pieces women with multiple threads of colors while incorporating gold and silver. In another example, Rohit Bal has shown extensive use of Khadi in his designs used internationally which proves as a proud movement for India's fashion industry.
Many other designers like David Abraham and Rakesh Thakore, Aneetha Arora, Rahul Mishra, Gaurang Shah, Paromita Banerjee, Shruti Sancheti, Shravan Kumar Ramaswamy specialise in handloom designs and consider it their creative responsibility to showcase India's fabrics. They have enjoyed working with handwoven textiles like Kanjeevaram, Khadi, Uppada, Paithani, Patan Patola, Benarasi, Kota, Maheshwari and Bengal weaves to create unique products.
Thew new age designers are enabling the fashion industry to walk hand in hand with traditional fabrics. They are seen engaging with rural artisans and understand the craft to fully imbibe it in new age fashion. Designers have given a new version to Indian fashion by fully retaining the traditional craft and skill of authentic designs.