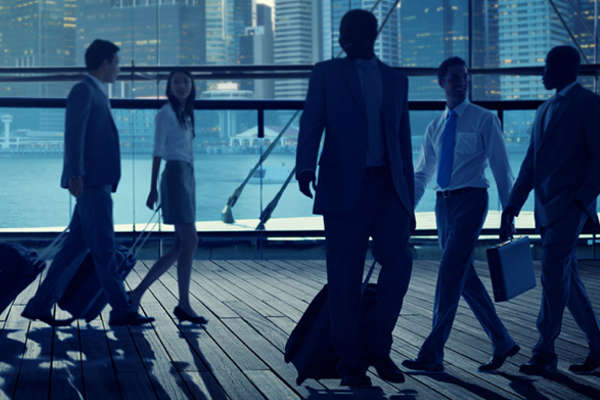 Booking.com for Business reveals business travel as 'the secret to professional success'
Business travel is valuable, if not essential, to achieving professional success today, not only because of its positive impact on businesses but also for the opportunities it offers employees to expand their horizons and reach their fullest potential. Six in 10 (60 per cent) working professionals globally say experiencing new cultures and destinations adds value to their job, a sentiment echoed most by those in the travel and tourism (69 per cent), management consultancy (68 per cent) and architecture and design (65 per cent) sectors.
These are among the top findings of new research from Booking.com for business. Conducted with more than 17,000 working professionals from 24 countries, the research reveals the extent to which they view business travel as essential to professional growth and business success, including key differences across professions.
Employees use business travel as opportunities for professional growth
When asked what they most hope to achieve when travelling for business, nearly half (46 per cent) of working professionals cite growing their company's business. But delving further into individual professions reveals a series of personal and professional growth ambitions:
Social and welfare (45 per cent), arts and culture (43 per cent), education (41 per cent) and communications and media (41 per cent) professionals wish to gain inspiration to apply to their work (vs 37 per cent professional average)
Half (50 per cent) of charity and NGO employees seek to spend time with colleagues or clients and strengthen professional relationships (vs 36 per cent professional average)
The top goal for armed forces and education professionals (41 per cent each) is to learn a new skill they can apply to their job (vs 36 per cent professional average)
Understanding a new culture and its business impact is the top goal for travel and tourism professionals (39 per cent), and also an aspiration for management consultants (37 per cent) and architects and designers (36 per cent vs 30 per cent professional average)
Across professions, travel also has a broader impact on business success
Half of working professionals (51 per cent) say that being able to take a few off-the-clock hours during a business trip to enjoy the destination improves their performance in business meetings, a sentiment echoed most by management consultants (58 per cent), and architects and designers (57 per cent).
Despite the benefits of modern technology and real-time communications, a real business case for in-person meetings still exists. Globally, two-thirds (66 per cent) of working professionals agree that travelling to meet clients or colleagues face-to-face is essential to business success, rising in importance for those in management consultancy (78 per cent), manufacturing (71 per cent), construction and engineering (70 per cent) and agriculture and farming (70 per cent).
Business-ready accommodation is key to boosting business trip potential
Choosing the right accommodation plays a critical role in maximising the potential of a business trip. Six in 10 professionals (60 per cent) agree that travel and accommodation options that cater specifically to the business traveller are no longer optional, but essential.
A comfortable bed and strong Wi-Fi signal top the list of business accommodation must-haves (52 per cent each), followed by a hearty breakfast (38 per cent) and free transportation or shuttle service (27 per cent). The choice of accommodation is also strongly driven by location, with convenient access to meetings (47 per cent) and placement in the city centre (29 per cent) identified as top priorities for overnight stays. With Booking.com for business, properties that have been favourably reviewed by prior business travellers and tick the boxes for these important business travel essentials are surfaced with priority in the search results.
When it comes to the most-booked business stay types across professions:
Architects and designers are more likely to choose a boutique hotel (23 per cent vs 13 per cent professional average) or a hi-tech, gadget-filled place to stay (24 per cent vs 18 per cent average)
Perhaps due to increased scrutiny over corporate travel budgets, only 20 per cent opt for 'high end, luxury' accommodation, driven by management consultants (26) and banking and finance professionals (24 per cent)
Those in agriculture and farming are more likely to opt for a place that exhibits 'local charm' (19 per cent vs 13 per cent average)
"Experiencing different cultures and destinations and gaining new perspectives through travel is becoming increasingly important to professional success, particularly in today's hyper-connected and globalised business world. Regardless of profession, today's business travellers are savvier about the value up for grabs, both for their companies and for themselves. Where they choose to stay is crucial in realising that value, with today's business travellers seeking places that align with their specific, priority needs when it comes to location, flexibility and certain amenities," said Ripsy Bandourian, senior director – product development, Booking.com for Business.
"Looking at our data and millions of business traveller reviews, we make it easier to find those stays recommended by other business travellers, without compromising on choice. Corporate travellers can enjoy flexibility and freedom to personalise and maximise a business stay experience, all while still working within a company's policy," added Bandourian.