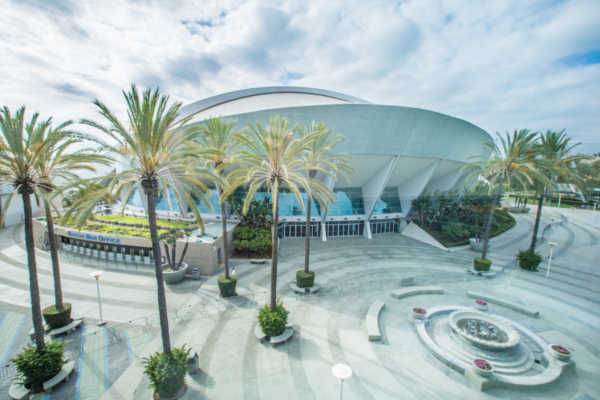 Anaheim Convention Center adds 200,00 sq ft of MICE space
The Anaheim Convention Center (ACC) in California has unveiled the largest and most significant expansion in nearly two decades – ACC North. The seventh expansion adds 200,000 sq ft of flexible meeting space, allowing for a variety of event uses under one roof in one of the nation's premier destinations.
The new building cements the Anaheim Convention Center as the largest convention centre on the West Coast and allows the centre to grow with its largest shows as well as meet the needs of today's diverse and dynamic meetings and conventions. Designed in conjunction with Populous architectural firm and Turner Construction Company, the ACC North's design enables today's meeting professionals to craft a customisable experience for attendees including, education sessions, workshops, galas, marketplace connections and networking events.
"This is a transformative event for the Anaheim Convention Center. Not only is this our largest expansion since 2,000, it is one of the most significant in terms of the features and innovation it brings to Anaheim," said Tom Morton, executive director, Anaheim's Convention Sports & Entertainment Department.
ACC North's exterior along Katella Avenue features a 10,000-sq-ft balcony overlooking the Disneyland Resort, lined with a wall of windows letting the Southern California sunshine flow through the interior space.
"This is a historical moment for the Anaheim Convention Center and the City of Anaheim. ACC North delivers on the vision we had to build a modern, expansive space that can be completely customisable for a variety of industries and meeting planner needs. This beautiful new space considerably adds to our client offerings and ability to attract more groups to choose Anaheim," said Jay Burress, president and CEO, Visit Anaheim.
Anaheim Convention Center currently hosts an average of nearly one million attendees a year. ACC North has already had 75 definite meetings and conventions bookings. The first groups include American Heart Association, Oncology Nursing Society, Society for Science & the Public and International Society for Technology in Education. With the addition of the new building, Anaheim Convention Center will officially join the 'one million-square-foot-club', becoming the 11th largest convention center in the US.
The latest expansion enlarges the entire Anaheim Convention Center to 1.8 million sq ft, with more than one million sq ft of exhibit space. Meetings and events utilising ACC North will yield approximately one million room nights for the destination, welcoming 1.1 million an estimated attendees to Anaheim and Orange County.