We want to bring more classified homestays under one roof
The Homestays & Rural Tourism Travel Meet 2017 will be held from September 15-17 at Bolgatty, Palace Convention Centre, Kochi. M P Sivadattan, director – Kerala HATS (Homestay and Tourism Society) spoke about the future roadmap for HATS
What is the main purpose behind holding this Meet?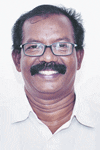 The main objective of the three day Travel Meet -2017 is to be prepare the tourism industry to understand the value and importance of rural tourism and homestays and offer a rare opportunity to exchange marketing ideas between buyers and exhibitors.
How many exhibitors do you expect at this Meet?
In the last edition, 250 plus exhibitors and 300 plus buyers participated. This year we are expecting over 400 exhibitors and more than 600 buyers.
Do you think a classification system will help in rooting out spurious players?
Certainly. Kerala Touirsm has issued a directive with regard to the homestay classification in 2006. The three types of classification are Class A (Diamond House), Class B (Gold House) and Class C (Silver House).
What is the role of Kerala HATS?
Kerala HATS is an NGO registered in 2008 under the charitable act of Kerala. The society has been formed basically to serve as a consortium of tourism activities in Kerala and also to ensure qualitative and competitive services and to help homestays in promoting the local culture, ethnic homely food, family oriented hospitality and service.
What is the future roadmap for Kerala HATS?
We want to bring more classified homestays and serviced villas under one roof and to sort out the difficulties this industry faces from different departments in our country.