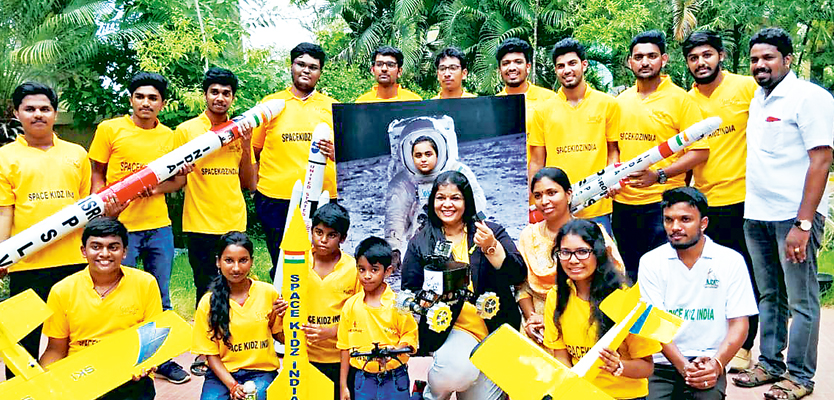 Visiting India on education tourism is an absolutely economical preposition for anybody living in Europe or United States: Dr Srimathy Kesan
Dr Srimathy Kesan, founder and CEO, Space Kidz India, speaks about the relevance of education tourism and the work of the company in the promotion of space education tourism.
Dr Srimathy Kesan, founder and CEO, Space Kidz India, speaks about the relevance of education tourism and the work of the company in the promotion of space education tourism.
What is the potential of education tourism as a niche business?
It can be an astronomical tour, it could be an art and culture where students can go and learn different kinds of arts and culture of other countries. It does happen because from India there are lot of children going abroad to various countries to learn their culture and sports tourism. Sports tourism is also a part of educational tourism I feel, because the Children of ages between 10-15 go to Barcelona to learn football. So there is a kind of learning in that too. Hence, I feel anything to do with learning across the globe is educational tourism and India has got rich cultural heritage and diversity in regards to history, languages food and everything.. "you name it India has got everything".. The only hitch is we are not really developing our educational tourism and i really feel concerned about it.
What are the challenges and opportunities you visualise in your space?
Well the challenges, initially faced as the first ambassador for the NASA space camps was tremendous because, very seldom children are permitted as young as 12 yrs old to cross oceans, fly and go to different land to learn something for a week. So, parents were really skeptical to send their children with a total stranger and hence, I had to work really hard to convince them and I should say by the grace of god it really worked and today I can proudly say I was able to take about 1500 children of all age groups between 12-22 yrs across the Country to United States, Canada, and to Russia, now currently being the ambassador to the Russian Space center i have taken enough and more children to Gagarin Cosmonaut training center, Moscow and also being the ambassador for the Aero festival – "MAKS, Russia". I was able to take children there too. At MAKS the children are awarded for their creativity their presentation, and model making with regards to Aerospace. We actually had the opportunity to meet the President Putin, though we did not go very close to him but yes, of course we had an opportunity to meet him and we also had an opportunity to meet and interact with the Science and Education Minister of Russia. So it was a great treat i should say. Well, the opportunities are huge as now the parents have understood the importance of sending their children abroad for educational tourism because it's not only that they spend their valuable time on one particular thing for example, when I take children to NASA or to Russia i not only take them to the Space Center but also to a couple of University'z there to give them hands-on experience and an awareness on what discipline are available across the globe and that apart, of course, a cultural tour and a cultural performance at the senate, Universities etc.. is an add on. During the Olympics at London, 2012 I did have the opportunity to take first ever contingent of children (about 100 of them), to perform at the London Olympics. I consider that as an education by itself as children learnt the culture and history of not only London but various Countries who had flown there to participate in the Olympics. The interactions definitely paves way to many unique and new ideas. Well, on the contrary I am working hard with all the Governments of all the States in India and also knocking at the doors of the Central Government continuously showcasing the importance of having a Space research centre here in India. Ofcourse, we have ISRO, but ISRO is a governmental organisation with lot of restrictions to get into the lab facilities etc. It would be nice if we're able to build up a mock just like the Kennedy space center and the GCTC here in India. It is a huge revenue generating model and I am very very sure that across Asia and the Middle East we will be the number one country to have this set up and that will not only develop the space enthusiasm among children,but, economics too. I always have this itch in my mind, we are promoting two different Countries and spending huge money and visiting them instead have one built here, we should be working hard to create revenue for our Country, "Space",being the craze for children across the globe and i am very very sure that it will be a successful model if we have one here in India and in fact it's my dream and I have already named it as "Bharatiya Antariksh Kendra"..
Any critical observation you have of the industry
Visiting India is an absolutely economical preposition for anybody living in Europe or United States because of their currency exchange strength. In India not many Institutions or Organisations have any structured programs for overseas students and also now in the recent past because of the security being great issue not many parents are really willing to send female children to India which is really sad. India has so much to offer for the people across the World, one Country though called a sub continent has everything equivalent to a huge Continent and unfortunately, we are unable to flourish in the tourism sector, due to certain miscreants. I hope things will settle down and we are able to raise our tourism inflow.
What are the milestones that space kidz india has achieved over the years?
Milestones of Space Kidz India have been amazing from the start as we are travelling in the unique path creating different opportunities and continuously updating our goals and programs to go ahead. SKI is the one and only organization in the world to launch *7 BallonSats, 2 Sub-orbital satellites one being launched from NASA i.e, KALAMSAT on 22nd June 2017 and another Satellite – SKISAT launched from a private Aerospace company in the United States and also 1 Orbital satellite i.e, KALAMSAT V2 which we built in 6 days and was launched by ISRO on 24th Jan 2019. We had started with taking studentz to the Space camps to NASA, ESA & Russian Space center being the first ambassador from India for such programs. Until date we have had the opportunity to take 2000 students to such educational camps and transformed many lives and now into launching satellites and so on… we have also taken children to perform Indian art and Culture across the globe, as we are very passionate towards showcasing Indian art and culture. Hence, we are very proud to say that we had taken a contingent of 100 children to perform at the London Olympics and also we do not leave a room for any such opportunities even during the Space Camps. Also we have created many records with these amazing projects such as : First ever 3D printed and world's lightest satellite – KALAMSAT in 2017 SKISAT launched in 2018 with most number of sensors launched in a reusable rocket which was captured by "Fox News", New York city. The Limca book of records for being the first pri ate organisation in India to launch balloon satellite in 2015. Asia book of records, India book of records, URF world record and many more… for First ever 3D printed and world's lightest satellite – KALAMSAT in 2017 also this news was published in more than 900+ media including international media houses. India book of records for the balloon satellite for reaching the highest altitude ever i.e, 1,22,000 ft which was launched from Bikaner, Rajasthan, India. India book of records and Asia book of Records for the first ever biography to be printed near space at an altitude of 1,22,000 ft. The biography which was printed near space was Dr. A.P.J Abdul kalam and Honourable CM of Rajasthan Ms. Vasundhara Raje in 2018. Also the first ever organization to create a Human rocket formation and create an "Asia book of Record".
What's the future perspective like?
Current project – Educrypt – It is the first in the world to introduce Blockchain technology to store educational transcripts as there have been lots of students who have suffered with the loss of certificates. This method of storage will keep the Certificates safe forever and also the verification process will be quick and easy, hence, this will also make the process for higher education and jobs eazy and mundane free. This is truly a milestone project of ours which we will be launching soon and that apart we are also coming up with a basic "mini PC " ( SKI Mango Plus) to teach coding for children from the ages of 7 years until 22 years because coding is something which is found to be very difficult and not intricately taught in the schools and colleges hence,we thought probably we should fill in that gap and we should be making the children's life easy by teaching them using online coding methodology. Also, we have a number of Space projects for coming years starting with our next Satellite "VIKRAM SAT", which we are planning to launch this August on the occasion of the Centenary celebration of our Father of Space Technology- Dr. Vikram Sarabhai, and then to manufacture and launch a "reusable rocket", with latest technologies and then moving on to one of our dream project to land a "Rover on the Moon". The above said are all the projects in the pipeline of SKI.