Singapore's Passion Made Possible brand targets young Indian travellers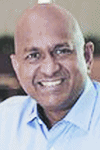 G B Srithar, regional director, South Asia, Middle East and Africa, discusses the growth of tourism in Singapore and the upcoming campaigns Singapore Tourism has in mind when it comes to attracting more Indian tourists arrivals to Singapore.
Srithar says, "Speaking about cruises in particular, Singapore has noted 127,000 of Indian tourists travelling on luxury lines, 25% more growth than the previous numbers. I think the main reason for this is the increased awareness of cruises as a fun-filled vacation among the Indian travellers. Speaking about the Indian MICE market, Singapore has always pushed for world-class amenities and customised packages to increase the arrivals of business and incentive travellers to the country."
To maintain this steady growth and double the numbers in the coming years, Srithar unveils the new campaigns that Singapore has in store for the India market. "We are focussing on sending the right message across to the India market so that it is able to connect with our brand. 'Passion Made Possible' is one such initiative which gives importance to the passions each traveller has. It can be adventure based, meditation and healing, art and craft anything under the sun. Also Singapore is inviting tourists by sharing heartfelt stories of Singaporeans already living there. This gives a completely different connect and will give the traveller all the more reason to visit Singapore," he comments.
He also mentions about how these travellers will be part of passion tribes and that Singapore's main objectives will be to strengthen the existing collaborations and formulate new ones that will take the country's brand image to the next level. He further adds," We want to deepen and expand our portfolio and we will also be looking at secondary cities in India. Our message 'With Passion, Forging new Possibilities', we hope to see many young Indian travellers be a part of our quality brand. Through various artworks, performances and installations in cities, for eg. At Sassoon Docks in Mumbai, we are spreading more and more awareness about the country's belief in fulfilling one's passion."