ScoutMyTrip: Driven by community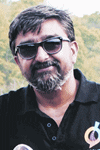 Travel tech startup ScoutMyTrip, was launched by Deepak Ananth and Vineet Rajan, to help travellers plan their road trips in the best possible way, across India. The platform today has a 25,000 strong community that provides real-time information to users, free of cost. "People want to take road trips, but there is lack of structured information. Google shows you the map and how to get there. Tripadvisor tells what you can do when you get to the place, and multitudes of hotel aggregators provide the accomodation options. We bring all this information on a single platform," said Deepak Ananth, CEO, ScoutMyTrip.
Pointing out that roadtrips have always been a part of our lives, Ananth stated, "At every destination you always have to take a car to explore the place. That's the journey we want to be a part of. It does not have to be a journey of 5000 km, it can be 150-200 km. We want you to explore the countryside a little bit more better and efficiently and make it safer for you, by giving you all the information at ScoutMyTrip."
The system is built on a robust technology platform, which picks up where a traveller is at that time, and shows the routes and condition of the roads. From night halts to things to do (trekking, temples, lakes, waterfalls, beaches, haunted places, etc) along the highway at 15 km radius is shown. Toilets, petrol pumps, places to eat (including type of food) are all highlighted. "All the information is given by travellers, we have tapped into the community that we are part of because of the amount of travel we have done," remarked Ananth. The information and usage is free, the charge is only when services are booked on the platform, for example hotel rooms, car bookings, insurance and other ancillary services, like camera rentals, etc. OYO Rooms is a partner which has in fact given a call centre number for personalised highway related rooms. ScoutMytrip also connects brands with consumers , like it recently organised the highest blogger meet at Khardung La pass in Ladakh – a brand activity with OYO Rooms. A similar activity was done when OYO Rooms was launched in Nepal. "We did a cashless roadtrip when demonetisation came in with Kotak," said Ananth, pointing out that they are also doing curated trips.