IHM's trade and food fair exhibits Thai, Japanese, Lebanese cuisines
Since last year, the students, faculty and staff at IHM Mumbai have been hosting the event 'Cornucopia' which is a food and trade fair. Held on March 16 and 17, the food fair witnessed a variety of cuisines all prepared by the college students themselves. Having over 15 food stalls this time with five dishes each, cooking totally over 7000 portions in a day the fair included Thai, Japanese, Lebanese, Indian food as well as bakery products.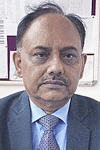 A K Singh, principal, IHM Mumbai, He said, "From last three decades, the students have been planning and organising this fair. But it's only been two to three years since we have given the name Cornucopia to it which means celebration and keeping in mind this thought, we exhibit the several skills and talents the students possess. We only support and guide them while they market the fair to the public and food and hospitality fraternity. The students form various teams like entertainment team, social media team, etc and execute tasks accordingly."
He emphasies on how this teaches and trains the students so that when they leave college and apply for jobs, they have knowledge of what is expected of them. "This year we have also associated with the Consulate General of Ecuador and we have associated with the Food Bloggers Association,India and it is organising a food blogger meet here at Cornucopia where celebrity chef Ranveer Brar will be speaking. Last time we had 3300 footfall in the first day and 4500 on the second day. We are hoping for similar footfalls this year too. We also partner with NGOs and we give the left over food to the underpriviledged kids."
The event was inaugarated by VK Gautam, principal secretary (Information Technology), Government of India and the chairman of IHM, Mumbai. Several dignitaries were present at the event along with representatives of Maharashtra Tourism who is the event's main sponsorer. It's a no profit event and the profits that are made are kept for the next year's IHM trade and food fair.