Cruising is one of the most developing forms of holiday
Highlighting the many accolades and awards received by Star Cruises, Naresh Rawal, VP, sales, Genting Cruise Lines speaks about how an increasing number of Indians are taking cruise holidays and celebrating their special moments abroad a luxury liner
Star Cruises has been one of the first to make strong inroads in the India market. How has the business panned out from then to now?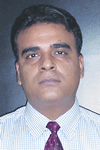 Star Cruises has been operating its fleet since 1993, taking on the bold initiative to grow the region as an international cruise destination with a fleet of six vessels including SuperStar Virgo, SuperStar Libra, SuperStar Gemini, SuperStar Aquarius, Star Pisces and The Taipan.
Star Cruises' commitment in offering best-in-class services and facilities is reflected in a host of recognitions and accolades received over the years. Along with all the accolades the group company Genting Hong Kong expanded its wings and  launched the first-ever Asian luxury cruise line, Dream Cruises' two new vessels Genting Dream (launched 2016) and World Dream (launching late 2017) that will deliver the highest level of guest service and spacious comfort in the region. To capitalise the growing market demand Genting Hong Kong also acquired Crystal Cruises.  In 2015, Crystal embarked on the most significant brand expansion in the history of luxury travel and hospitality, which introduced two new classes of cruising – Crystal Yacht Cruises and Crystal River Cruises – and reached new heights with Crystal Luxury Air and Crystal AirCruises.
What were the elements that were re-looked and redefined with time?
Our parent company, Genting Hong Kong today showcases an impressive portfolio of cruise brands, each catering to the three major cruise market segments, which include the founding cruise brand – Star Cruises for the Asian contemporary segment; luxury Asian cruise line – Dream Cruises for the high-end segment in Asia; and the most awarded luxury cruise line – Crystal Cruises for the global luxury segment.
Teambuilding activities are making a comeback, multiple venues, which are offering creative options for teambuilding activities are in demand. For instance venues with options offering golfing lessons, Aqua Zumba, Bollywood theme cruises are attracting more meeting planners.
What is the primary target market for the company and what are strategies ear-marked to meet the target?
Cruising is one of the most developing forms of holiday from the Asian subcontinent. More and more Indians are adopting themselves to take a cruise holiday. Today a cruise ship can cater to all kinds of holiday makers, which may be from families with children, senior citizens, honeymooners and the MICE market which is the most evolving segment. More and more people are choosing cruises because it is an all-inclusive package which not only takes care of the stay but also includes meals, entertainment and covers various destinations at the same price.
It is hard to plan a land based holiday which has a mixture of all of these at an affordable price. I see a paradigm shift today, cruise passengers have evolved from the regular two nights itinerary to longer seven nights itineraries and are now with high demand for Balcony and Suite cabins.
How do you see business possibilities from emerging markets of India? Which are the new product upgradations that have happened in the recent times?
At Genting Cruise Lines we are optimistic of this steady growth as cruising today is fast reaching the wider leisure market in India, especially with the emergence of new visible trends in the local cruise tourism market. Indian vacationers no longer take long annual holidays, they prefer two or three short holidays throughout. The guests are spoilt for choice hence we see a upward graph wherein guests are also choosing longer cruise itineraries, i.e five nights and seven nights.
Year on year we are finding an increase in the number of guests celebrating their special moments; cruise weddings are getting very popular and making a niche in the market. Themed cruises are also getting very popular.