Club7 Holidays charts out robust growth strategy for 2018-19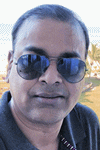 The travel industry is a high touch industry and the one who can deliver value for money quality service can never go out of fashion – this is the firm belief of the CEO and MD, Club7 Holidays, Sriram Rajmohan. Club7 has a clear focus for the coming year – one is to increase its pan India presence, secondly to reach out to both the B2B and the B2C industry with robust and path breaking tour itineraries both national and international and to strengthen its NRI stronghold further. The company has witnessed a positive growth in the leisure segment since the previous year and is aiming to close the year with a turnover of around Rs 250 crore by March 2018.
The company has within its fold, key industry experts on its board and boasts a strong network and connect with product suppliers across globe. The company considers its client testimonials as key performance boosters and lays heavy emphasis on it. It also takes up client complaints and feedbacks as a positive opportunity towards growth and puts into place the required mechanisms to rectify and improve the products accordingly.
The company is also focused on the MICE market and investing heavily to strengthen its presence in the online space. As part of its business strategy, the company will also be entering into some key tie-ups in the retail space to further increase their brand presence in India.