Hailing from a Rajput family with an army background, Bhim Singh aspired to become a scientist. But fate had other plans. Today, he is a visionary in the travel industry and as the founder and chairman of Rajasthan Tours, Singh at the age of 77 years, is still enthusiastic about promoting Rajasthan's diverse tourism offerings By Kahini Chakraborty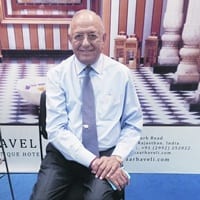 Having a fondness for chemistry as a subject, and holding an aspiration to become a scientist, Bhim Singh, founder and chairman of Rajasthan Tours had a different calling for him. Entering the travel industry at the age of 22, when he was still a student, Singh established the company in 1959.
Elaborating on the inception of the family-owned travel company, Rajasthan Tours, Singh says, "I had invested Rs 200 for opening the account and my mother became my partner and started the company through a partnership model which later became a private limited company. When I started my company, I had just completed my post graduation in marine economics and did my BSc from Bikaner University. I never had the inclination towards starting a travel company. But when I was still a student, I changed my direction of focus as the vice chancellor, a mathematician who changed his line of subject and taught English literature, had told me that if I wanted I could too change my subject stream, whether in arts or commerce."
Earning huge amounts of money was never a priority for Singh, as he believes that he has a much bigger responsibility of promoting the varied tourism offerings of Rajasthan and providing the best services for tourists visiting the destinations. Finding it difficult to recollect his first earnings, Singh highlights, "We opened our first office in Rambagh Palace, Jaipur almost 50 years ago and now have branch offices in all major cities of Rajasthan – Udaipur, Jodhpur, Jaisalmer, Bikaner, besides associates throughout India and abroad." He adds, "In 1959, there were not many travellers and palaces. Rambagh Palace was the first palace to be converted into a hotel. Slowly tourism began to evolve and develop and other palace hotels came into existence. With all of this publicity, tourism to the destination began to increase. This was the period when the Golden Triangle circuit tour became popular. The travel and tourism industry then saw a lull due to war and other calamities. These were some of the ups and downs of the travel industry."
Recognised by the department of tourism, Government of India, Rajasthan Tours handles over 75 per cent of all tourist traffic to Rajasthan. The company provides individual travellers, or group, with complete services, inclusive of land and air travel, hotel accommodation, special itineraries, entertainment, including gala dinners and barbeques at their family farm, elephant, camels and boat rides, horse, jeep and camel safaris, expert multi-lingual guides and all travel related requirements. "I started my company with just two people and now I have 170 employees working across our eight offices. In the 80s I started with one coach and now have about 30-40 coaches and a fleet of about 100 paid vehicles. I believe in investing in manpower, and hence my staff members have been working with me for the last 30 years," he points out.
Flowing with the tide
Braving through the storm of working in an unpredictable industry, Singh changed his focus from initially catering to only inbound tourists to domestic tourism. Reminiscing about those times, he says "I had no training or course for gaining expertise in the travel and tourism industry. Even in bad days when there were no tourists, I had to continue with my basic earnings. There were times during my 50 years of career in the travel industry, when I was contemplating on backing out from this industry when tourism witnessed a slowdown. Earlier inbound tourism opportunities were booming and we had good clientele, and likewise infrastructure in India was developing to cater to this demand. But suddenly due to the financial crisis in Europe and America, inbound tourism decreased in India."
He continues, "Then there was a mushrooming of small travel agents and big travel companies, and the market started becoming more competitive which gave rise to the cost war, bringing down the standards of the tourism industry. During this period, we evaluated the scenario and turned our focus to domestic tourism, which came to our rescue. In the last five years, Rajasthan witnessed 33 million domestic tourists and we are looking to attract 50 million by 2018."
Singh signs off by saying, "Tourism is a very different business and I have learnt and still follow this rule that 'the customer is always right'. That is how I have survived in this industry for so long."