Want to enjoy a local meal? Try Authenticook
In 2014, six friends who were in Ladakh for a short holiday never thought that one meal would become a life changing experience. Reminiscing on that moment, Ameya Deshpande, co-founder, Authenticook, says, "We (six friends including Aneesh, Priyanka and myself) noticed that most of the food places in Leh market were serving pizzas, burgers and pastas and there was very little local food available. It was then that we thought to ourselves – what if we had an opportunity to just sit with a local family and have an authentic, traditional meal with them? It could have been the simplest of meals but there is so much we would have known about their way of life just by interacting with them and eating the food that they would normally eat."
And thus was born Authenticook. The Mumbai-based company helps travellers get a taste of authentic homemade cuisine and that too, in the chef's homes. Deshpande adds, "India is blessed with a very rich cultural diversity and we believe this diversity can best be experienced through the medium of food. Imagine coming to Mumbai and enjoying a food experience with the original inhabitants of Mumbai, the Kolis (fisherfolk community) or going to Fort Kochi in Kerala and enjoying a cooking class with a local family in their 80 year-old beautiful, heritage home. We believe that the culinary diversity in India is unmatched and we want to introduce India on the global culinary map."
The concept was the challenge
The road however was not easy. The biggest challenge was at the very concept level. "Since nothing like our business existed on a fairly large scale, people were not aware of a concept like ours. We often got asked if we were a restaurant, and still do! We also had to create a lot of awareness of the various cuisines in India and the uniqueness of each of these. While this was a challenge, it also became an opportunity and opened up an entire local customer base for us in large cosmopolitan cities," he said.
Also, they were about to launch a food travel business which would be run on a tech platform but none of them had much of a tech background and hence didn't know how to code websites. But luckily there were some really good digital agencies out there who helped them in building a website.
Another major challenge they faced was finding home-chefs to host diners at their homes. Deshpande recalls, "There was this initial tentativeness to host strangers at home. But as more and more people started coming on-board to host, the confidence in the concept started growing and today most of our host enquiries are in-bound."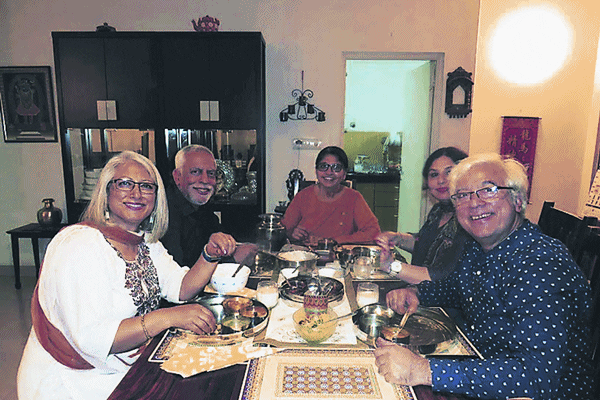 Authenticook is currently present in 20+ cities including Mumbai, Pune, Kochi, Jaipur, Goa, Delhi, Chennai, Kolkata, Bengaluru, Lucknow, etc. It has almost 250 hosts on its platform, most of whom are women homemakers in the age group of 40-60 years old. Deshpande adds, "They love cooking and most of all enjoy meeting new people and their love and warmth comes through in their food as well. Our diners consist of both tourists as well as Indians (in their own cities as well as tourists). Most of our diners are young adults and families."
Commenting on how the company chooses its home chefs, Deshpande informs, "We get a lot of inbound enquiries through social media and references. As a host, the primary requirement is a passion for meeting new people and cooking and sharing stories around your food. We do not have any professional cooking qualification requirements. On the contrary, most (almost 98 per cent) of our home-chefs are not professional chefs, many of them have been cooking and hosting family and friends for numerous years. In terms of how we select our hosts, each of our hosts has been on-boarded on our platform, which basically means we or our representatives/partners have met them personally, tasted their food and visited their homes. We have a fairly exhaustive on-boarding checklist including parameters like ease of commute, their willingness to share food stories etc."
Local spread
Authenticook is seeing a steady growth in tourist numbers for the dining experiences. Today, most tourists come to India to experience the rich cultures that exist here and as Deshpande reiterated earlier, the best way to experience these cultures is through the food and an interaction with a local. He proudly states, "We are ranked #1 in Mumbai for classes on TripAdvisor and have received very heartening feedback from tourists for our hosts and the food experiences."
Deshpande is also very focused on social media. "We are very active on social media platforms like Facebook and Instagram. Our strategy is to keep focusing on them and use content as a means of creating awareness," he informs.
In terms of regional focus, Authenticook's immediate future plans are to focus on India and be a pan-India experience provider. "We are working towards launching other forms of local experiences related to local art-forms, heritage walks, etc. We are also looking to expand our existing partnerships with restaurants, something which has already started in Pune and Mumbai. In these cases we do restaurant pop-ups, celebrating regional cuisines of India whereby our home-chefs along with the kitchen staff of the restaurant will curate a menu and provide a unique dining experience. This would form our focus for the next 12 months and then we may look at launching international operations for the experiences vertical," reveals Deshpande. And his advice to new entrepreneurs? "Patience is the key. Stick to your core principal for the business, for us it was authenticity of the food and the experience around it. Be open to taking expert advice but build the business on the back of your own vision," he sums up.