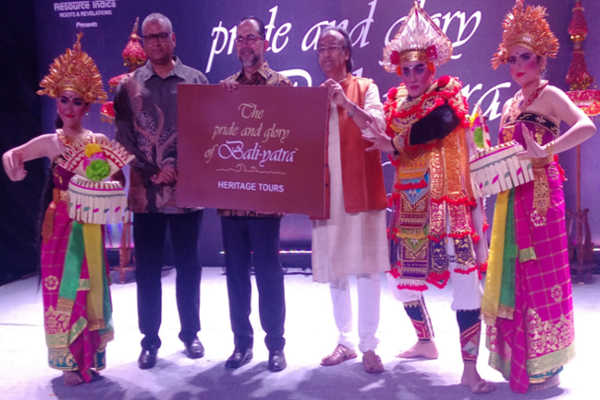 'The Pride and Glory Of Bali Yatra' project hopes to boost South-East Asian tourism
'Rediscovering India International Of Yore', an initiative of Resource Indica and Embassy of the Republic of Indonesia, New Delhi, jointly organised 'The Pride And Glory Of Bali-yatra' launch event at embassy of the Republic of Indonesia on March 7th 2018. A coffee table book and a documentary film on 'The Pride and Glory of Bali Yatra' were also released at the launch event by Sidharto Suryodipuro, ambassador of the Republic of Indonesia and Sudip Sen, director, Resource Indica.
Narrating India-Indonesia's history as trade and cultural allies, Suryodipuro said, "Of all the theories stating the advent of India-Indonesia relations, I personally feel that the attractiveness and uniqueness of Indian culture is the main rationale behind this bond. This initiative will allow people from India and other countries to have a closer look towards how Indian culture is practiced in Indonesia. I am happy to present this unique project that highlights Indian cultural influence in Indonesia- a name that literally means 'Indian Islands', and will naturally interest Indians at large."
Sen, during the launch, informed that previous editions in Odisha and Kolkata were organised in association with Odisha State Maritime Museum, ICCR (Indian Council for Cultural Relations), INTACH (Indian National Trust For Cultural Heritage), Asiatic Society, Alliance Francaise and Indonesia Tourism.
Addressing the audience at the launch event, Sen narrated his experience and motive behind the launch of Rediscovering India International Of Yore' first multimedia project, 'The Pride and Glory Of Bali Yatra'. He said, "This project highlights the maritime history of India along with influences of Indian cultures across South-East Asia. 'Bali Yatra', meaning voyage to Bali, is a popular festival, in Odisha, that commemorates a traditional farewell to the brave sea-farers of yore on the eve of their annual voyage to Bali. Our company is organising 'Heritage Tours' in association with Indonesia Tourism and partner destination management companies and tour operators through which this project will be extended to South-East Asia.
Heritage Tours will retrace old trade routes and offer great travel experiences to visitors visiting Indonesia and South-East Asia. "We have plans to offer exclusive itineraries with extra add-ons along with the routine tour packages to grab the interest of tourists and travellers", added Sen.
The event also witnessed the congregation of tour and travel operators and destination management company representatives who were later, asked to extend their support and join this initiative so as to provide a boost to the South-East Asian tourism. Indonesia's traditional Balinese dance and Indonesian cuisine were also some of the major attractions at the event.
By Shivasheesh Srivastava