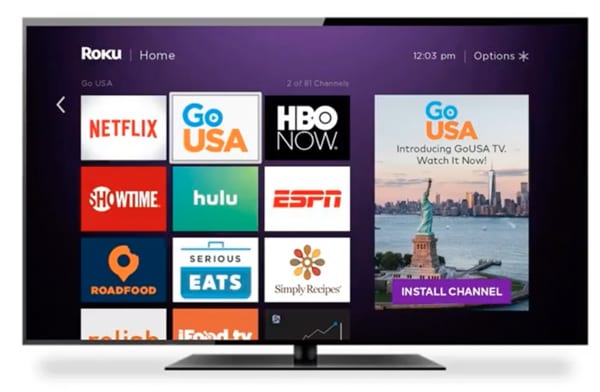 GoUSA TV launches streaming video app to deliver premium travel content to smartphone users
The GoUSA TV app is now available for download on iOS and Android devices around the world. The app harnesses the power of entertainment to inspire overseas travelers to consider a U.S. destination. A first-of-its-kind connected TV network, GoUSA TV is the definitive source to find real, authentic, and on-demand video content about travel experiences in the USA. The app launch is an extension of Brand USA's strategy to immerse audiences in an entertainment-led point of view of the USA and includes two new programmes:
*Ask A Local takes viewers across the United States and its territories, with local residents in each destination sharing travel tips. Whether it's the most rewarding hiking and fishing in Minnesota or the most thrilling rodeos in Texas, "Ask a Local" provides the inspiration travelers can only get by talking with someone who really knows the destination.
*SORTEDfood: Lost and Hungry is a series from SORTEDfood, a popular group of British mates looking for exceptional experiences in food. "Lost and Hungry" is a series where they travel across the United States living by two simple rules – they can't go anywhere or eat anything unless it has been recommended to them.
As GoUSA TV's global audience grows, the app will enable Brand USA to continue strategically curating and distributing video content across categories that currently include the Great Outdoors, Road Trips, Food & Drink, and Culture & Events.
"Bringing best-in-class travel video to smartphone users around the world is a huge opportunity to engage with audiences in a way no other destination marketing organisation ever has. Audiences today are more engaged than ever before and expect the content they love to be readily available on screens large and small alike. Streaming our content to millions of travellers through just a few taps of their finger is an exciting evolution of our strategy to deliver real, authentic storytelling that can inspire travel to the USA," said Tom Garzilli, chief marketing officer, Brand USA.
GoUSA TV is the premier travel entertainment channel available at viewers' fingertips where travellers can watch full episodes, documentaries, and films told from the diverse perspectives of real people with no subscription, fees, or logins required. Over the next few months, the app will sample GoUSA TV content through multiple touch points including sponsorships, consumer and trade public relations, and paid social media advertising. New programmes and episodes will be uploaded weekly and GoUSA TV plans to expand its library to feature more themes and formats, including series, films, and live videos.
Important features of the GoUSA TV app include the ability to:
Watch full episodes and films from the various categories and channels of GoUSA TV
Share videos with friends, family, or colleagues
Cast videos to other screens using Google Chromecast and
Tap the star icon to keep a running list of favourite videos.
This fall, GoUSA TV was at the center of Brand USA's annual partnership with the National Football League (NFL) UK, sponsoring the London Games Kickoff Concert headlined by Grammy Award-winning singer-songwriter Jess Glynne at Wembley Stadium and hosting a day-long fan fest in Piccadilly Square in September.
The channel's launch in March 2018 followed the unprecedented success of Brand USA's giant screen documentaries, "National Parks Adventure" and "America's Musical Journey" – in driving storytelling that is relevant, engaging, and real. Brand USA's multi-screen strategy will continue through the end of the year with ongoing premieres and launches of "America's Musical Journey" in additional markets around the world.