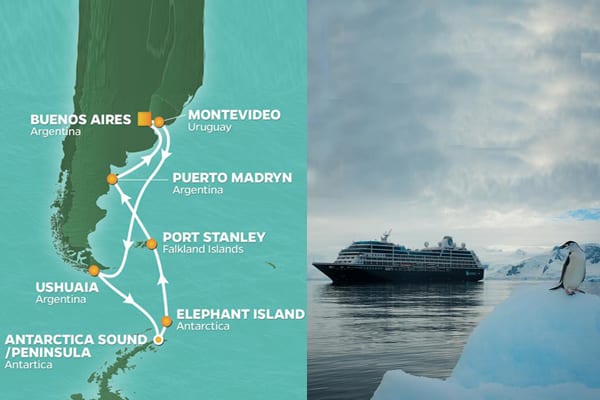 Celebrity Cruises and Azamara Club Cruises offer two sailings to Antarctica in 2019
TIRUN Travel Marketing, the exclusive India representative of Celebrity Cruises and Azamara Club Cruises, is offering a once-in-a-lifetime cruising experience via two sailings to Antarctica in 2019. For the first time, curious travellers will get a chance to experience the last-discovered land on earth onboard premium cruise ships Celebrity Eclipse and Azamara Pursuit SM that offer complete comfort, amazing entertainment and unheard of experiences to the most exotic destinations in Antarctica.
Antarctica has an extremely cold, dry and windy environment with the world's highest average elevation. This has meant that only small expedition ships with limited arrangements in terms of comfort and food options have travelled to the interiors of the 'Ice continent'. Travellers have, thus, had to face a fair share of challenges due to limited availability of food, extreme weather conditions and a lack of comfort. To cater to this need gap, Celebrity Cruises and Azamara Club Cruises are offering discerning Indian and global cruise enthusiasts a chance to experience the vast and pristine beauty of the Earth's southernmost continent from the comfort and safety of a luxury cruise ship, that too at substantially lesser prices than the usual costs of cruising to the remote region.
Celebrity Cruises is offering two sailings to Antarctica, on January 20 and February 3, 2019, aboard the award-winning Celebrity Eclipse, the largest ship to sail to Antarctica. This 14-night long cruise package is being offered at an unparalleled US$ 3000 per person which is almost half the cost of other cruises sailing across this region. Whichever itinerary one chooses, Celebrity Cruises offers an assortment of amenities including an extraordinary choice of dining options along with Indian food on request, wide-ranging entertainment, contemporary décor as well as on-board activities that will substantially add on to the variety of memorable experiences a cruise to Antarctica brings along with it.
Azamara Club Cruises, on the other hand, is offering an immersive 17-night Antarctica voyage aboard Azamara Pursuit SM , the newest cruise ship in the world to visit Antarctica. Departing on January 6, 2019, this promises to be an all-inclusive luxury experience that will take you through a world of gorgeous blue icebergs, penguins, seals, and blue whales. While you sail to the mesmerising locations in Antarctica, you can bask in the luxurious and elegant dining options at the specialty restaurants that are a hallmark of Azamara Club Cruises. Azamara Pursuit also offers beautiful accommodations with a large number of staterooms and verandas. You could simply watch the world go by with a drink at the poolside or truly unwind at the state-of-the art Sanctum Spa onboard as well.
Setting sail through Buenos Aires, called the 'Paris of South America', cruise ships from Celebrity Cruises as well as Azamara Club Cruises visit ports of calls in Argentina (Buenos Aires, Ushuaia and Puerto Madryn), the Falkland Islands (Port Stanley), Chile (Cape Horn), Gerlache Straight in South America and Uruguay (Montevideo) in addition to cruising through the breath-taking Antarctic Peninsula. The cruise ships sail through various channels and Islands located within and near the Antarctic Peninsula, such as the Schollart Channel, Paradise Bay, and the legendary Elephant Island, which allow one to witness exquisite colonies of birds, whales, penguins and leopard seals along with spectacular mountains, windswept landscapes, and massive ice flows. One is certain to go home with everlasting memories and pictures of humpback whales feeding in the rich ecosystem and sights of waddling penguins socialising in their natural habitat!
Commenting on the cruise announcements, Ratna Chadha, chief executive of TIRUN Travel Marketing said, "This enriching cruising experience offered by both premium cruise brands covers a series of exquisite destinations ranging from South American beaches to the icebergs of Antarctica, which provides holistic experiential value to guests. An extremely rich and differentiated experience as compared to the conventional, austere expeditions carried out to the continent, the cruising experience promised by Celebrity Cruises and Azamara Club Cruises is invigorating and culturally-rich. Guests will have a chance to enjoy up-close-and-personal the marine life encounters and scenic horizons within the secretive White Continent."