Brand USA organises India Travel Mission for the seventh consecutive year
Brand USA, the destination marketing organisation for the United States, concluded its seventh annual India Travel Mission recently. This year's mission was the largest to date with 64 delegates from 42 US tourism organisations participating. The delegation included representatives from tourism boards, hotels, receptive operators, tourist attractions, and other services. Delegates visited Bengaluru, Mumbai, and New Delhi, and received an overwhelming response from the Indian travel trade with more than 830 people in attendance.
Starting in Bengaluru, the subsequent six days included B2B sessions, panel discussions, and networking dinners that provided the opportunity for visiting US delegates to closely interact with Indian business partners. One-on-one meetings with key stakeholders allowed both sides to renew or forge new business relationships through interactive dialogue. Indian attendees also enhanced their knowledge of US products and destinations, as delegates comprehensively updated travel professionals on the unique tourism infrastructure and possibilities available in the USA.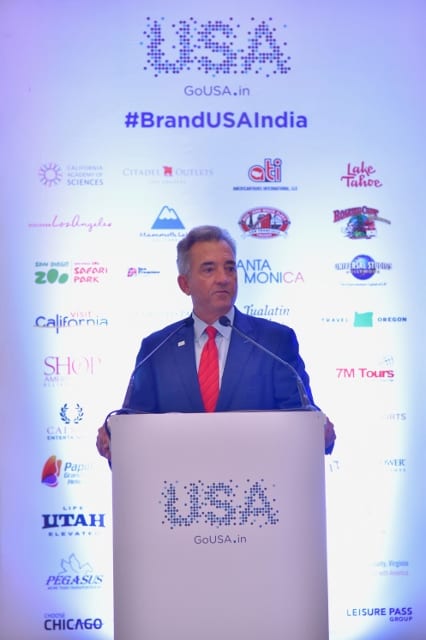 Christopher L. Thompson, president and CEO, Brand USA, said, "We are delighted to announce that visitation by Indian travellers to the United States has been growing consistently year–on–year. With 1.29 million visitors in 2017, India was the 11th highest ranked country by arrival numbers and ranked sixth in terms of visitor spends to the US. This sustained rise in tourist arrivals from India has been made possible through a range of focused in-market trade and consumer initiatives by Brand USA and certainly the annual India Mission that always has a positive response from our Indian partners each year. Looking ahead, we are confident in continuing the momentum of welcoming more Indian visitors to the USA."
Sheema Vohra, managing director, Brand USA in India added, "The 2018 Brand USA India Mission has been a success, with the engagement in each city generating noteworthy opportunities and opening up avenues for future business with our Indian partners. I'm pleased to share that this year's tremendous turnout promises further enhances the USA as one of the most preferred destination offering a diverse range of immersive experiences. India holds vast potential for increased tourism to the US and we anticipate significant growth in future, in line with our endeavour to effectively promote the destination across the country."
The Indian invitees to the Mission included major stakeholders from the travel trade, airline representatives, hospitality and service professionals and operators. The mission concluded with a dedicated media day, organised in New Delhi, where leading travel trade and consumer media were invited to interact with the visiting US delegation.