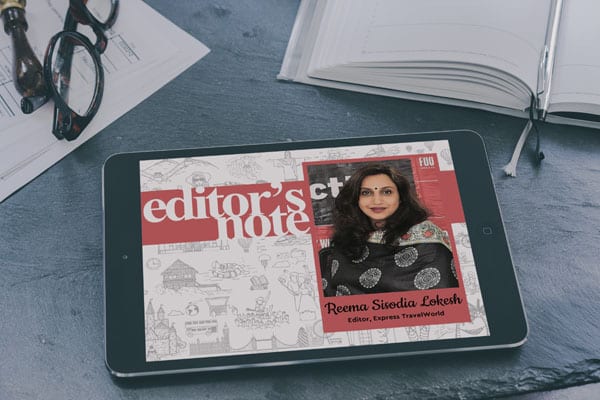 Make in India, Travel in India too

India has a story to narrate, which is both classic and contemporary, alive and abstract. Paeans have been written about her grace and grandeur. Every year state tourism boards follow a certain norm to travel overseas to rope in the inbound traveller. I wonder if this brings in the desired results. The feedback received from inbound tour operators states a different story – that of a dwindling population of global travellers who aren't taking the great India journey. This response has been rather consistent in nature over the past few years. However, though the inbound inflow witnessed a dip, domestic tourism responded well by displaying encouraging growth.
I have always rather emphatically echoed the fact that the real power of tourism in India rests in domestic tourism. It is certainly India Tourism's mainstay, resilient and responsive. Our cover story this issue celebrates some unique elements of this country. The Four Fabulous Facets of India need to be understood rather closely and carefully. From fashion and fabrics to flora and fauna, from festivals to food, the true magnificence of the country resides in these niche tourism journeys. We are proud to dedicate this issue to the spirit of domestic tourism in sync with the ADTOI Convention in Vizag. It's encouraging to note that the convention is being held in a place, which can be rightfully called a new kid on the tourism block. Strategically placed on the eastern coast of India, Vizag has its own tourism story to narrate, be it in the MICE or leisure space.
It is time the country is well understood by its own people who should venture on a India journey, not just as tourists but as travellers with a curious mind. Youth mobilisation and tourism education programmes are vital to revive tourism knowledge, as in the coming years the tourism business will be dependent on its citizens.
I was rather shocked and saddened to note on my recent work trip to the island jewel of our country, the Andamans, that there are educated Indians who still feel one needs a passport to enter these islands. The shock did not stop there. I was further informed by a tourism official that there is a common misconception that the Andaman Express (an Indian railway network) brings people to the island region by rail! Is it our education, lack of awareness or just general pure ignorance, I wonder. For me a two-day work trip, planted me in the heart of history and heroism, the Cellular Jail, where the walls still echo the undeterred spirit of grit and glory, only if we care to listen. We need to wake up to the power of domestic tourism and speak to the citizens on both facts and fables, that keep the intriguing and inspiring nature of the country alive.
Reema Lokesh
Editor