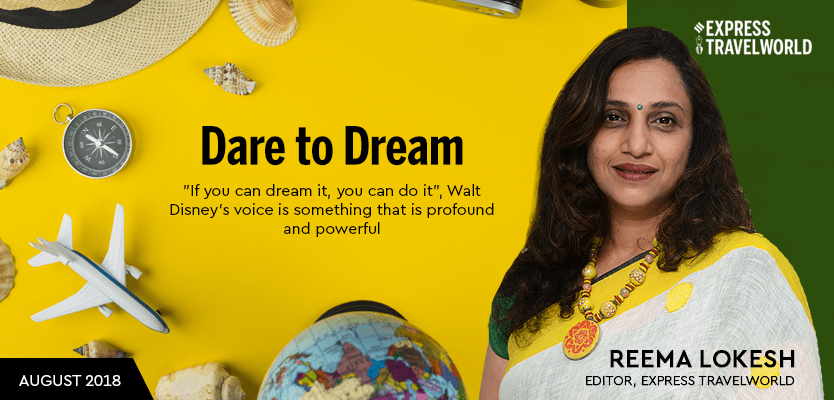 Dare to Dream
"If you can dream it, you can do it", Walt Disney's voice is something that is profound and powerful
"If you can dream it, you can do it", Walt Disney's voice is something that is profound and powerful. The dream of freedom is also what our erstwhile freedom flighters saw and they did achieve their dream 71 years ago. We have certainly come a long way since, doing both well and not so well in some aspects. The dream was also to make the new free India a symbol of progress and prosperity with a deep sense of national pride and character both, amidst its leaders and the common citizen.
Our policy makers and constitution writers were women and men who were intellectuals (not necessarily armchair ones) and gave thought to what became the hallmark of the country's ethos. Development coupled with social welfare across sectors, was the primary goal.
However with time, intellectuals became more like the armchair ones and the story of India's development, be it socio-cultural, economic and political underwent a change. Conflicts, corruption and character assassination, took its toll on the common man. Lethargy seeped in somewhere somehow. Being an eternal optimist, I feel we have definitely achieved many milestones, however we could have done so much better at the grassroots level. Tourism is one such sector, if invested into with utmost political will and plan, and with timely implemention could have worked wonders for the country. Though tourism is still not considered a priority sector, the benefits it generates is well established. From poverty elimination and employment generation to bringing in the foreign exchange through inbound tourism, the opportunities for growth are endless. The forthcoming IATO convention scheduled to be held in Vizag in September aims to address this very dream once again expressed by the government, 'Mission 20 Million Tourists – Challenges & Possibilities'. The private sector is hoping to decode this dream and once again hoping that the government works with the sector and its vision statement in all seriousness.
There is yet another event this year, OTOAI's annual convention, interestingly being held in South Africa, a country which has a strong connect with freedom and non-violence, a place where the Father of our Nation started his Satyagraha movement.